Cohort-friendly protocol for the determination of two urinary biomarkers of exposure to pyrethroids and neonicotinoids using gas chromatography-triple quadrupole mass spectrometry
Abstract
Neonicotinoids (NEOs) and synthetic pyrethroids (PYRs) are active ingredients of commercial pesticides and/or insecticides with extensive indoor and outdoor applications, worldwide. Improved exposure metrics are warranted for NEOs and PYRs, if we are to better understand their human health effects. A cohort-friendly protocol for determining non-specific biomarkers of exposure to NEOs and PYRs, e.g. 6-chloronicotinic acid (6-CN) and 3-phenoxybenzoic acid (3-PBA), respectively, in human urine voids was proposed. A series of optimization experiments were conducted to validate the bioanalytical protocol using gas chromatography coupled with triple quadrupole mass spectrometry (GC-QqQ-MS/MS) in MRM mode. The method reached low detection limits for both analytes (0.075 μg L−1 for 6-CN and 0.050 μg L−1 for 3-PBA) in a short preparation and analysis time. The method used small initial urine sample volume (2 mL), short extraction time (≈ 240 min for the batches of 32 samples) and instrumental analysis time (≈ 14 min) for both pesticide metabolites in a single run. This protocol could facilitate the assessment of population exposure metrics for these pesticides and their inclusion in health risk assessment.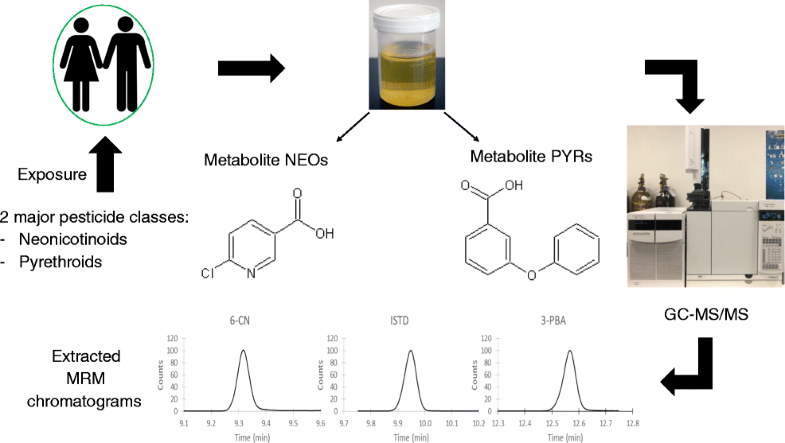 Keywords
6-Chloronicotinic acid 
3-Phenoxybenzoic acid 
Pesticides 
Neonicotinoids 
Pyrethroids 
Metabolites 
Exposure 
Cohorts 
Abbreviations
2-PBA

2-Phenoxybenzoic acid

3-PBA

3-Phenoxybenzoic acid

6-CN

6-Chloronicotinic acid

FMU

First morning void urine

GC-QqQ-MS/MS

Gas chromatography coupled with triple quadrupole mass spectrometry

MRM

Multi-reaction monitoring

NEOs

Neonicotinoids

PYRs

Pyrethroids
Notes
Acknowledgements
The authors wish to thank the European Commission and the LIFE+ programme for funding the ORGANIKO LIFE+ project awarded to KC Makris. We thank Dr. Kalliopi Fotopoulou for preparing Fig. 1
Compliance with ethical standards
Conflict of interest
The authors declare that they have no conflict of interest.
Research involving human participants
It has been conducted following strict bioethics guidelines and it was approved by the Cyprus National Bioethics Committee (ΕΕΒΚ/ΕΠ/2016/25).
All study participants signed an informed consent.
Copyright information
© Springer-Verlag GmbH Germany, part of Springer Nature 2019