Rapid determination of lambda-cyhalothrin using a fluorescent probe based on ionic-liquid-sensitized carbon dots coated with molecularly imprinted polymers
Abstract
A highly selective and sensitive fluorescent probe for optosensing lambda-cyhalothrin (LC) was prepared. The probe was based on sulfur-doped carbon dots (CDs) coated with molecularly imprinted polymers (MIPs). Doping the CDs with sulfur and modifying the surfaces of the CDs with an ionic liquid enhanced the performance of the fluorescent probe. The selectivity of the probe was improved through the application of molecular imprinting technology utilizing acrylamide and 1-vinyl-3-butylimidazolium tetrafluoroborate [VBIm][BF4] as functional monomers. The resulting probe was used to detect LC, which is a pesticide residue, in vegetables and tea. Under optimal detection conditions, the linear range of the probe was found to be 1–150 μg kg−1 and the limit of detection to be 0.5 μg kg−1 by analyzing excitation/emission maxima at 350/450 nm. The developed method was successfully used to determine LC in vegetables and tea, yielding recoveries of 98.90–116.93%. These results suggest that this fluorescent probe based on MIP-coated, room-temperature ionic-liquid-sensitized, sulfur-doped carbon dots has great potential to be utilized for the precise detection of LC in complex samples.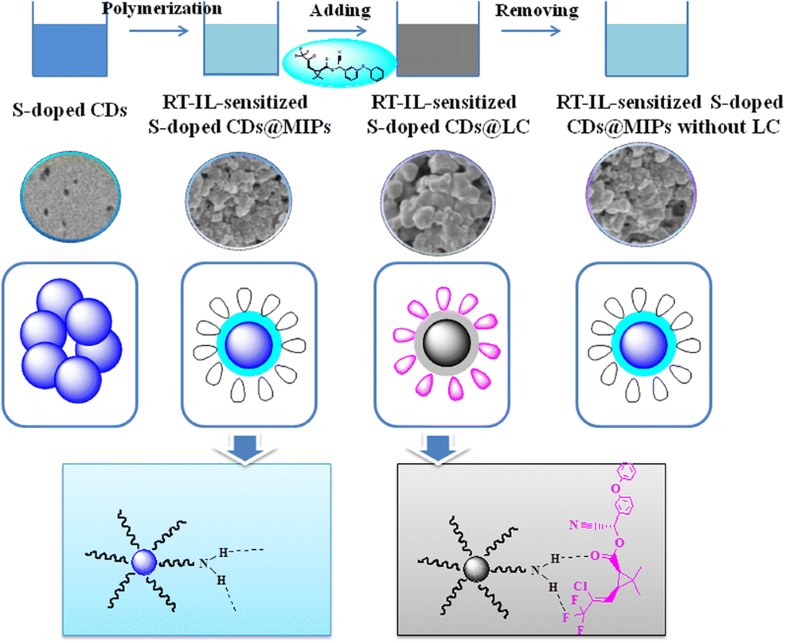 Keywords
Lambda-cyhalothrin 
Carbon dots 
Room-temperature ionic liquid 
Fluorescent probe 
Molecularly imprinted polymers 
Notes
Acknowledgements
This work was supported by the National Key R&D Program of China (no. 2018YFC1602300), the National Natural Science Foundation of China (no. 31822040), the Young Top-Notch Talent of High-Level Innovation and Entrepreneurs Support Program (no. 2017000026833ZK28), and the fundamental research funds of 2019 (no. PXM2019_014213_000007).
Compliance with ethical standards
Conflict of interest
The authors declare that they have no competing interests.
Copyright information
© Springer-Verlag GmbH Germany, part of Springer Nature 2019