The management of haemoglobin interference for the MALDI-MSI proteomics analysis of thyroid fine needle aspiration biopsies
Abstract
MALDI-MSI represents an ideal tool to explore the spatial distribution of proteins directly in situ, integrating molecular and cytomorphological information, enabling the discovery of potential diagnostic markers in thyroid cytopathology. However, red cells present in the fine needle aspiration biopsy (FNAB) specimens caused ion suppression of other proteins during the MALDI-MSI analysis due to large amount of haemoglobin. Aim of this study was to set up a sample preparation workflow able to manage this haemoglobin interference. Three protocols were compared using ex vivo cytological samples collected from fresh thyroid nodules of 9 patients who underwent thyroidectomy: (A) conventional air-dried smears, (B) cytological smears immediately fixed in ethanol, and (C) ThinPrep liquid-based preparation. Protocols C and A were also evaluated using real FNABs. Results show that protocol C markedly decreased the amount of haemoglobin, with respect to protocols A and B. Protein profiles obtained with protocols A and B were characterised by high inter-patient variability, probably related to the abundance of the haemoglobin, whereas similar spectra were observed for protocol C, where haemoglobin contents were lower. Our findings suggest protocol C as the sample preparation method for MALDI-MSI analysis.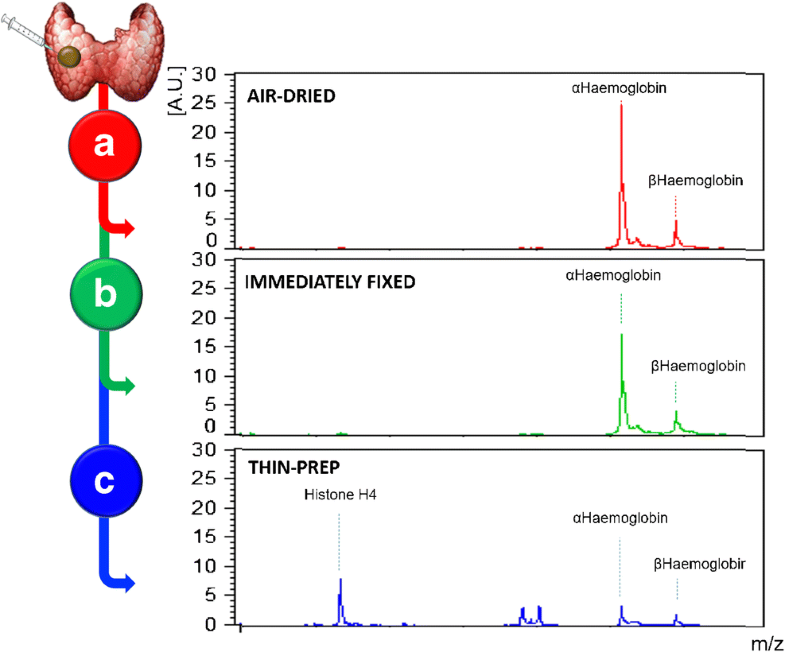 Keywords
Fine needle aspiration 
MALDI mass spectrometry imaging 
Proteomics 
Haemoglobin interference 
Thyroid 
ThinPrep 
Abbreviations
FNAB

Fine needle aspiration biopsies

Hb

Haemoglobin

H&E

Haematoxylin and eosin

ITO

Indium tin oxide

LBP

Liquid-based preparation

MALDI

Matrix-assisted laser desorption/ionisation

MSI

Mass spectrometry imaging

ROI

Region of interest

S/N

Signal to noise

TIC

Total ion current
Notes
Acknowledgements
This work was funded by AIRC (Associazione Italiana per la Ricerca sul Cancro) MFAG GRANT 2016 - Id. 18445, and partially supported by the Italian Ministry of University and Research (MIUR) - Department of Excellence project PREMIA (PREcision MedIcine Approach: bringing biomarker research to clinic).
Compliance with ethical standards
The study was approved by the local Ethical Board – San Gerardo Hospital – AIRC-MFAG 18/11/2016. Signed informed consent of all individual participant samples was obtained.
Conflict of interest
The authors declare that they have no conflict of interest.
Copyright information
© Springer-Verlag GmbH Germany, part of Springer Nature 2019