An ultrasensitive electrochemiluminescence immunosensor for alpha-fetoprotein based on a poly(aniline-luminol)/graphene oxide nanocomposite
Abstract
An ultrasensitive electrochemiluminescence (ECL) immunosensor for alpha-fetoprotein (AFP) detection based on a poly(aniline-luminol)/graphene oxide nanocomposite was developed. The nanocomposite, which was prepared using a fast and simple chemical oxidation strategy for the first time, showed excellent ECL performance. This outstanding ECL performance is due to the formation of poly(aniline-luminol) on the graphene oxide (GO) surface and the excellent electron-transfer properties of GO. Moreover, the poly(aniline-luminol)/graphene oxide nanocomposite has abundant amino groups at its surface, making it a good platform for biomacromolecule labeling. Using the nanocomposite, a novel ECL immunosensor for the determination of AFP was successfully developed. Anti-AFP was immobilized on the surface of a poly(aniline-luminol)/graphene oxide nanocomposite-modified electrode using a glutaraldehyde crosslinking method to form the ECL immunosensor. The AFP was then captured at the modified electrode surface through an antigen–antibody immunoreaction. When the AFP was captured by its antibody, the ECL intensity decreased. This ECL immunosensor for the detection of AFP exhibited a linear range of 1.7 × 10−12 to 1.7 × 10−8 mg mL−1 and a detection limit of 5 × 10−13 mg mL−1, indicating high sensitivity and linearity across a wide concentration range. Furthermore, the immunosensor was successfully applied to determine AFP in a real-world human serum sample.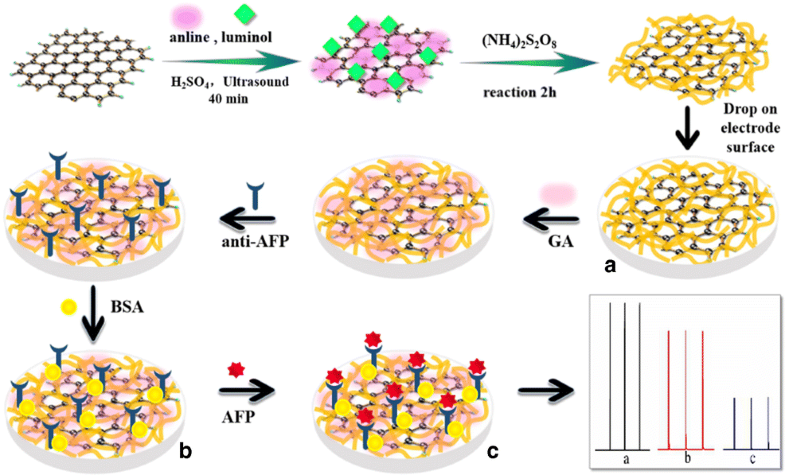 Keywords
Alpha-fetoprotein 
Electrochemiluminescence 
Immunosensor 
Chemical oxidation 
Poly(aniline-luminol)/graphene oxide nanocomposite 
Notes
Acknowledgements
This research was financially supported by the National Natural Science Foundation of China (no. 21665025), the Outstanding Young Science and Technology Personnel Training Project of the Xinjiang Uyghur Autonomous Region (no. QN2016YX0306), and Key Projects of the Engineering Research Center of Electrochemical Technology and Application of Xinjiang Normal Universitly (XJNUGCZX122017A01); all of this support is gratefully acknowledged.
Compliance with ethical standards
Ethics approval and consent to participate
All procedures performed in this study involving human participants were in accordance with the ethical standards of the 1964 Declaration of Helsinki and its later amendments, and were approved by the Ethical Committee of Xinjiang Normal University. All blood samples were from healthy persons, and informed consent was obtained from all individual participants included in the study.
Human and animal rights
No violation of human or animal rights occurred during this investigation.
Conflict of interest
The authors declare that there is no conflict of interest.
Copyright information
© Springer-Verlag GmbH Germany, part of Springer Nature 2019