Simultaneous determination of multiclass antibiotics and their metabolites in four types of field-grown vegetables
Abstract
The developed method was evaluated for the determination of 10 antibiotics belonging to four chemical classes (fluoroquinolones, sulfonamides, lincosamides, and metoxybenzylpyrimidines) and six of their metabolites in four vegetable matrices (lettuce, tomato, cauliflower, and broad beans). The reported method detection limits were sufficiently low (0.1–5.8 ng/g dry weight) to detect target compounds in vegetables under real agricultural practices. Absolute and relative recovery values ranged from 40 to 118% and from 70 to 118%, respectively, for all targeted compounds at the spike level of 100 ng/g dry weight. Regarding method precision, the highest relative standard deviation (RSD) was obtained for enrofloxacin in lettuce (20%), while for the rest of the compounds in all matrices, the RSD values were below 20% for the same spike level. Matrix effects, due to electrospray ionization, ranged from − 26 to 29% for 85% of all estimated values. In a field study, four of the 10 targeted antibiotics were detected in tested vegetables. For the first time, antibiotic metabolites were quantified in vegetables grown under real field conditions. More specifically, decarboxyl ofloxacin and TMP304 were detected in tomato fruits (1.5 ng/g dry weight) and lettuce leaves (21.0–23.1 ng/g dry weight), respectively. It is important to remark that the concentration of TMP304 was five times higher than that from the parental compound, emphasizing the importance of metabolite analysis in monitoring studies. Therefore, the method provided a robust, reliable, and simple-to-use tool that could prove useful for routine multiclass analysis of antibiotics and their metabolites in vegetable samples.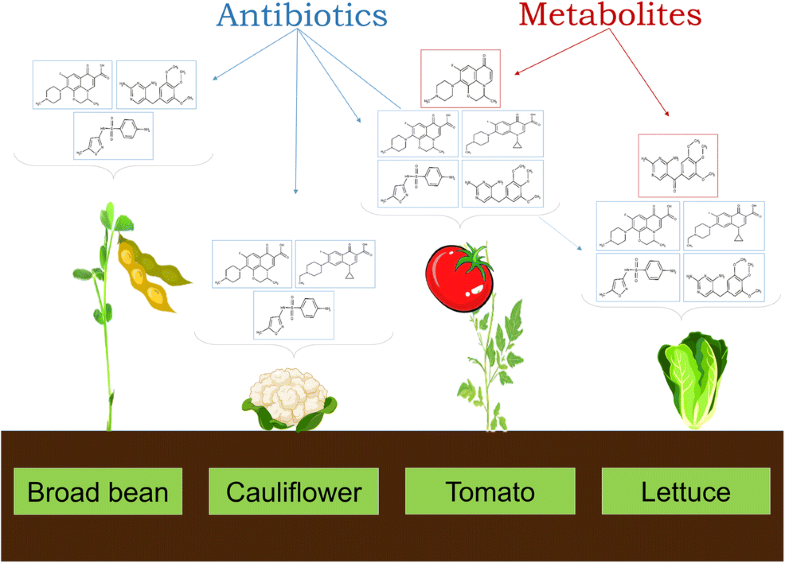 Keywords
Vegetables 
Antibiotics 
Metabolites 
LC-ESI-MS/MS 
Ultrasound-assisted extraction 
Notes
Acknowledgments
The work presented in this paper is part of a project that has received funding from the European Union's Horizon 2020 research and innovation program under the Marie Skłodowska-Curie grant agreement no. 675530. The authors also gratefully acknowledge the financial support of the Spanish Ministry of Economy, Industry, and Competitiveness (MEIC) through Project AGL2014-59353-R.
Funding
This study was funded by H2020 MSCA grant agreement 675530 and the MEIC project nr. AGL2014-59353-R.
Compliance with ethical standards
Conflict of interest
The authors declare that they have no conflict of interest.
Disclaimer
The content of this article reflects only the authors' views, and the Research Executive Agency is not responsible for any use that may be made of the information it contains.
Copyright information
© Springer-Verlag GmbH Germany, part of Springer Nature 2019