Dopamine-functionalized cyclodextrins: modification of reduced graphene oxide based electrodes and sensing of folic acid in human serum
Abstract
A mandatory step in any sensor fabrication is the introduction of analyte-specific recognition elements to the transducer surface. In this study, the possibility to anchor β-cyclodextrin-modified dopamine to a reduced graphene oxide based electrochemical transducer for the sensitive and selective sensing of folic acid is demonstrated. The sensor displays good electrocatalytic activity toward the oxidation of folic acid. The strong affinity of the surface-confined β-cyclodextrin for folic acid, together with favorable electron transfer characteristics, resulted in a sensor with a detection limit of 1 nM for folic acid and a linear response up to 10 μM. Testing of the sensor on serum samples from healthy individuals and patients diagnosed with folic acid deficiency validated the sensing capability.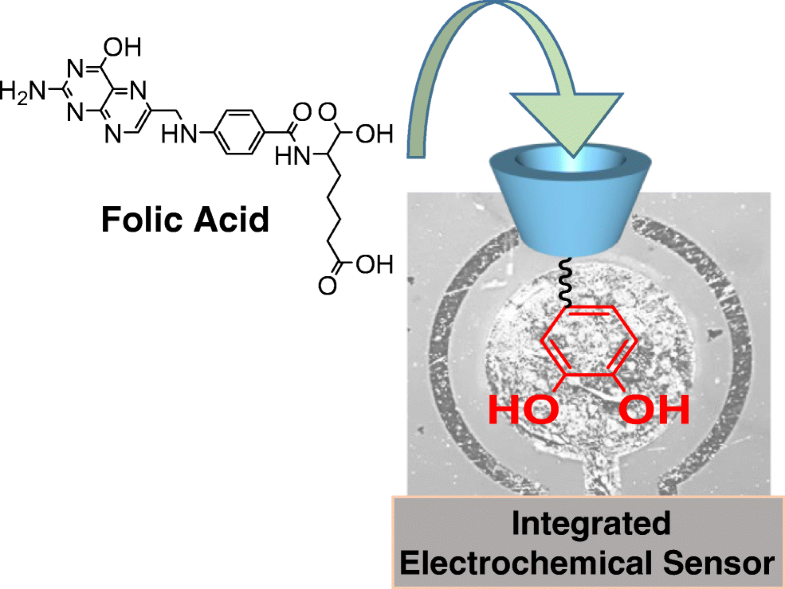 Keywords
β-Cyclodextrin 
Reduced graphene oxide 
Electrophoretic deposition 
Folic acid 
Electrochemical sensor 
Notes
Acknowledgements
Financial support from the Centre National de la Recherche Scientifique, the University of Lille, the Hauts-de-France region, the CPER "Photonics for Society," and the Agence Nationale de la Recherche through the FLAG-ERA JTC 2015-Graphtivity project is acknowledged. We are grateful to the Walloon Region for financial support in the frame of the "BATWAL" project - "Programme d'Excellence". Work at UCLouvain has been carried out within the project LUMINOPTEX (avec le soutien du Fonds Européen de Développement Régional / met steun van het Europees Fonds voor Regionale Ontwikkeling - INTERREG V France-Wallonie-Vlaanderen). The work was supported by the Belgian F.R.S. - FNRS in the frame of the research conventions no. R 50.02.16.F and no. T.0106.16.
Compliance with ethical standards
Conflict of interest
The authors declare that they have no competing interests.
Copyright information
© Springer-Verlag GmbH Germany, part of Springer Nature 2019