Quantitative non-destructive analysis of paper fillers using ATR-FT-IR spectroscopy with PLS method
Abstract
A quantitative non-destructive express method of determining fillers —kaolin and chalk— in paper was created using attenuated total reflectance Fourier transform infrared (ATR-FT-IR) spectroscopy in the mid-IR and far-IR region (3800–245 cm−1) combined with partial least squares (PLS) data analysis. Altogether, 30 two-component (cellulose pulp + kaolin and cellulose pulp + chalk) reference paper samples with known different filler concentrations and one reference paper sample without any fillers were prepared for calibration and validation. The reference values of filler concentrations in the prepared papers were determined by gravimetric analysis via dry ashing (for establishing accurate concentrations of fillers in paper) and ATR-FT-IR microspectroscopy (for evaluating homogeneity of the papers). Two-component (cellulose pulp + kaolin or cellulose pulp + chalk) PLS models were created with papers of different cellulose types and containing different amounts of fillers. The best model had root mean square errors of prediction (RMSEP) for determining the kaolin or chalk content in the two-component papers of 2.0 and 2.1 g/100 g, respectively. The performance indices were 90.4% and 92.9%, respectively. As a demonstration of practical applicability of the method, different papers from books, journals, etc. were analysed. It was concluded that the developed quantitative method is suitable for non-destructive express analysis of kaolin or chalk in paper.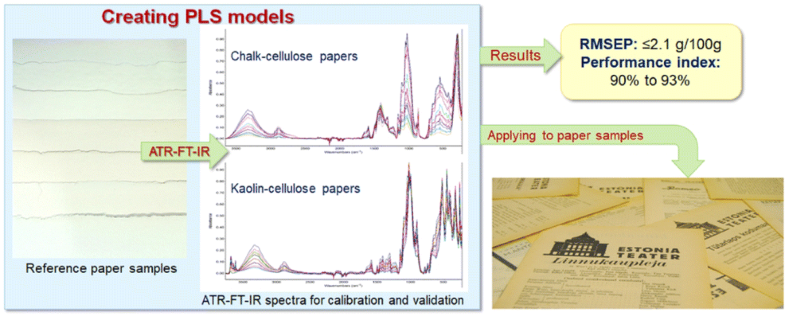 Keywords
Paper 
Kaolin 
Chalk 
ATR-FT-IR spectroscopy 
Partial least squares 
Principal component analysis 
Notes
Acknowledgements
This work has been supported by the Personal Research Funding PUT1521 from the Estonian Research Council and by the EU through the European Regional Development Fund (TK141 "Advanced materials and high-technology devices for energy recuperation systems"). This work was carried out using the instrumentation of the Estonian Center of Analytical Chemistry (www.akki.ee). Reference papers were prepared with the help of paper conservator Küllike Pihkva from the National Archives of Estonia to whom we are indebted. The authors thank Mr. Jaan Aruväli from the Department of Geology, University of Tartu (Estonia), for helping with the analysis; Mrs. Kersti Lužkov from Estonian Cell AS for donating their cellulose pulps; and Mrs. Merike Kiipus from Estonian Literary Museum for donating archival-quality material.
Compliance with ethical standards
Conflict of interest
The authors declare that they have no conflict of interest.
Research involving human participants and/or animals
The authors declare that no human participants and/or animals were involved in this research.
Copyright information
© Springer-Verlag GmbH Germany, part of Springer Nature 2019