Facile one-step solvothermal synthesis of a luminescent europium metal-organic framework for rapid and selective sensing of uranyl ions
Part of the following topical collections:
Abstract
A simple, cost-effective, and portable uranium sensory material with adequate selectivity is increasingly urgent and would be of great importance in environmental monitoring of radionuclides. Herein, we report a novel luminescent europium metal-organic framework (Eu-MOF) with plenty of Lewis basic sites for binding uranyl ions (UO22+), the most common form of uranium in solution, through a facile one-step solvothermal synthetic route. The mesoporous structure consists of europium nodes and flexible nitrogen-containing ligands with a 29.2 × 20.5 Å2 channel along the c-axis. Furthermore, the obtained material displays characteristic fluorescence of trivalent Eu3+ and could be applied as a turn-off sensory probe targeting UO22+ in solution. Differential fluorescent quenching occurred upon a series of potential interfering ions compared to UO22+ and the detection limit as low as 0.9 μM was achieved with a rapid response.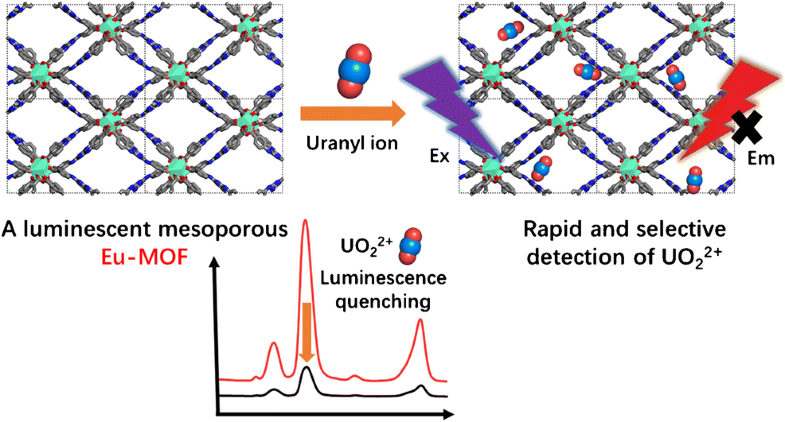 Keywords
Metal-organic framework 
Europium 
Luminescent sensing 
Uranyl ions 
Notes
Funding information
This work was financially supported by the Collaboration Program of Institute of Materials, China Academy of Engineering Physics, the National Natural Science Foundation of China (Grant numbers, 21775008), and the Shanghai Sailing Program (19YF1448800).
Compliance with ethical standards
Conflict of interest
The authors declare that they have no conflict of interest.
Copyright information
© Springer-Verlag GmbH Germany, part of Springer Nature 2019