A new colorimetric assay for amylase based on starch-supported Cu/Au nanocluster peroxidase-like activity
Abstract
In this paper, we present a new colorimetric technique as a novel assay for the easy and direct detection of α-amylase activity. This detection system utilizes the interaction of α-amylase with starch that is supporting copper/gold (Cu/Au) nanoclusters. The Cu/Au nanoclusters are synthesized using starch as a stabilizing agent at room temperature. These nanoclusters show robust peroxidase-like activity and are able to catalyze the oxidation of TMB (3,3,5,5-tetramethylbenzidine) in the presence of hydrogen peroxide (H2O2), leading to the generation of a blue-colored solution. The α-amylase detection mechanism is based on the digestion of the starch by α-amylase, which results in nanocluster aggregation, leading to increased nanoparticle size and thus decreased peroxidase-like activity of the Cu/Au NCs. Experiments showed that the gradual addition of α-amylase causes the peroxidase activity to decrease step by step in a linear fashion. Using this method, colorimetric sensing of α-amylase was achieved with a detection limit (LOD) of 0.04 U/mL and a linear range of 0.1–10 U/mL. This method is significantly selective for α-amylase and could be affordably and conveniently applied to the detection of α-amylase in blood serum.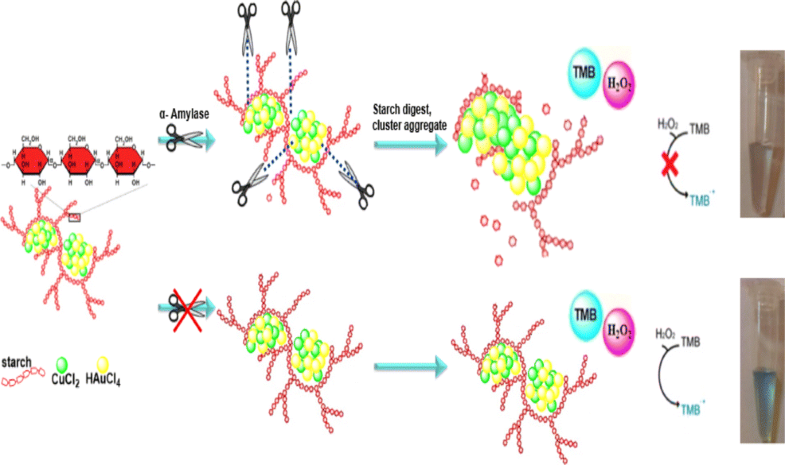 Keywords
Copper/gold 
Nanocluster 
Peroxidase-like activity 
α-Amylase 
Notes
Acknowledgements
This research was sponsored by the research council of the University of Tehran, and the authors are grateful for their commercial support.
Funding
Financial support was provided by the Faculty of New Sciences and Technologies, Tehran University, Tehran (Iran).
Compliance with ethical standards
Conflict of interest
Zahra Dehghani, Morteza Hosseini, and Javad Mohammadnejad declare no conflict of interest.
Human plasma samples were obtained from the Emam Khomeini Hospital (Tehran, Iran). All experiments on the human plasma samples were performed in accordance with the Declaration of Helsinki and approved by the ethics committee at the University of Tehran.
Informed consent
Not applicable.
Copyright information
© Springer-Verlag GmbH Germany, part of Springer Nature 2019