Unraveling altered RNA metabolism in pancreatic cancer cells by liquid-chromatography coupling to ion mobility mass spectrometry
Part of the following topical collections:
Abstract
Ion mobility coupling to mass spectrometry facilitates enhanced identification certitude. Further coupling to liquid chromatography results in multi-dimensional analytical methods, especially suitable for complex matrices with structurally similar compounds. Modified nucleosides represent a large group of very similar members linked to aberrant proliferation. Besides basal production under physiological conditions, they are increasingly excreted by transformed cells and subsequently discussed as putative biomarkers for various cancer types. Here, we report a method for modified nucleosides covering 37 species. We determined collisional cross-sections with high reproducibility from pure analytical standards. For sample purification, we applied an optimized phenylboronic acid solid-phase extraction on media obtained from four different pancreatic cancer cell lines. Our analysis could discriminate different subtypes of pancreatic cancer cell lines. Importantly, they could clearly be separated from a pancreatic control cell line as well as blank medium. m1A, m27G, and Asm were the most important features discriminating cancer cell lines derived from well-differentiated and poorly differentiated cancers. Eventually, we suggest the analytical method reported here for future tumor-marker identification studies.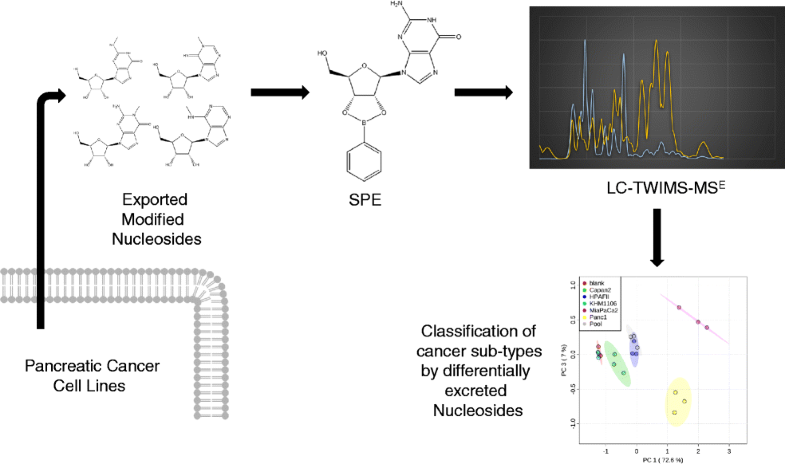 Keywords
Modified nucleosides 
Ion mobility mass spectrometry 
TWIMS 
Pancreatic cancer 
Biomarker 
Notes
Acknowledgements
This work was supported by Project B01 of the collaborative research initiative (SFB 1140 - KIDGEM) to M.S. and B.K. by the German Research Foundation (DFG).
Author contribution
Simon Lagies, Manuel Schlimpert, Lukas M. Braun, Thalia Erbes, Uwe A. Wittel, and Bernd Kammerer designed the study. Simon Lagies, Manuel Schlimpert, Lukas M. Braun, and Michel Kather performed the experiments and data analysis. Johannes Plagge aided in data processing and image creation. Simon Lagies, Lukas M. Braun, and Manuel Schlimpert wrote the manuscript.
Compliance with ethical standards
Informed consent
Informed consent was obtained for KHM1106 cell line usage and approved by the local Ethics Committee Freiburg (126/17 and 371/14) and registered at the German Clinical Trials Register (DRKS-ID DRKS00007561).
Conflict of interest
The authors declare that they have no conflict of interest.
Copyright information
© Springer-Verlag GmbH Germany, part of Springer Nature 2019