Quantitative and rapid detection of amantadine and chloramphenicol based on various quantum dots with the same excitations
Abstract
Herein, we developed a sensitive and quantitative flow assay for simultaneous detection of amantadine (AMD) and chloramphenicol (CAP) in chicken samples based on different CdSe/ZnS quantum dots (QDs). In contrast to other reports, the QDs could be excited by the same excitations that lowered the requirements for the matching instruments. Under the optimal conditions, the strategy permitted sensitive detection of AMD and CAP in a linear range of 0.23 to 1.02 ng/g and 0.02 to 0.66 ng/g. The limits of detection were 0.18 ng/g and 0.016 ng/g, respectively. Moreover, the whole detection process could be completed within 20 min with no additional sophisticated instruments and complicated operations. Spiked samples were analyzed using both QD-based lateral flow immunoassay (QD-LFIA) and commercial ELISA kits with good correlation (R2 = 0.96). Moreover, this study laid the foundation and simplified the development of the requisite instrument.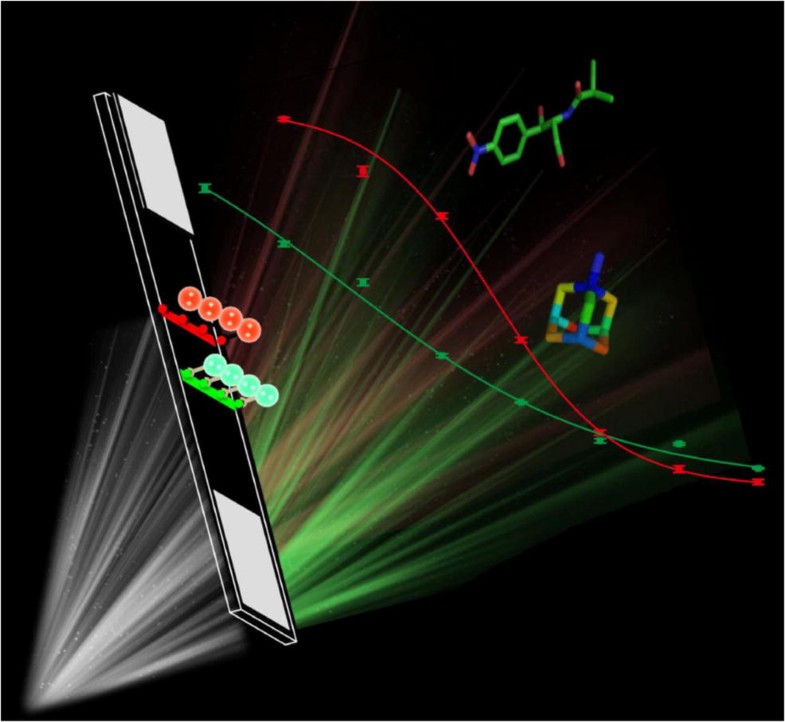 Keywords
Simultaneous detection 
Multiplex LFIA 
Quantum dots 
Fluorescence 
Notes
Funding information
This research was supported by the National Natural Science Foundation of China (Nos. 31672600 and 31472236).
Compliance with ethical standards
Conflict of interest
The authors declare that they have no conflict of interest.
Human and/or animal participation
This article does not contain any studies with human participants performed by any of the authors.
Copyright information
© Springer-Verlag GmbH Germany, part of Springer Nature 2019