Rapid determination of isocitrate dehydrogenase mutation status of human gliomas by extraction nanoelectrospray using a miniature mass spectrometer
Abstract
Isocitrate dehydrogenase (IDH) I and II mutations in gliomas cause an abnormal accumulation of 2-hydroxyglutarate (2-HG) in these tumor cells. These mutations have potential prognostic value in that knowledge of the mutation status can lead to improved surgical resection. Information on mutation status obtained by immunohistochemistry or genomic analysis is not available during surgery. We report a rapid extraction nanoelectrospray ionization (nESI) method of determining 2-HG. This should allow the determination of IDH mutation status to be performed intraoperatively, within minutes, using a miniature mass spectrometer. This study demonstrates that the combination of tandem mass spectrometry with low-resolution mass spectrometry allows this analysis to be performed with confidence.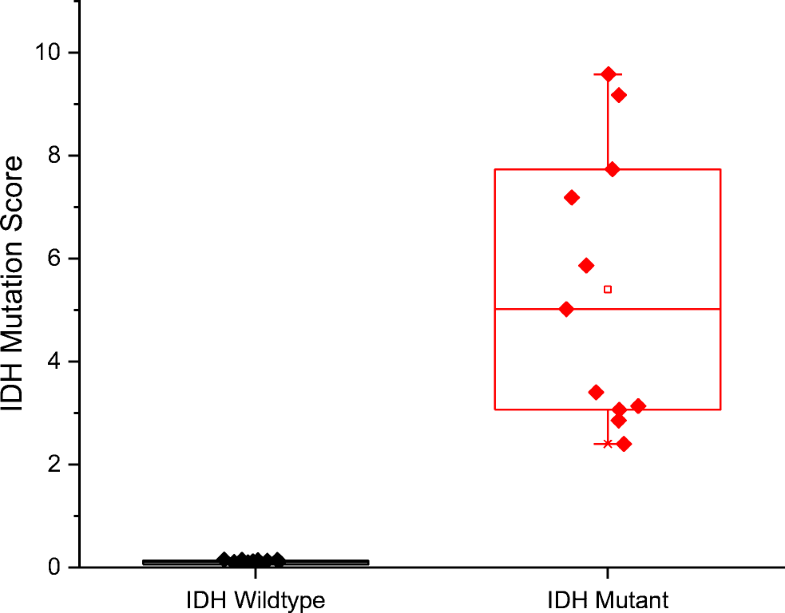 Keywords
2-Hydroxyglutarate 
Glutamate 
IDH mutation 
Tandem mass spectrometry 
Clinical analysis 
Notes
Acknowledgements
The authors thank Dr. Mahua Dey, Dr. Charles Kulwin, Dr. James Miller, Dr. Troy Payner, Dr. Mitesh Shah, Dr. Scott Shapiro, and Dr. Aaron A. Cohen-Gadol at Goodman Campbell Brain and Spine (Indianapolis, IN) for providing tissue samples, and Dr. Eyas M. Hattab at the University of Louisville for pathology analysis. PURSPEC Technologies Inc. is acknowledged for providing the miniature mass spectrometry system and for technical support. Support from the Purdue University Center, Cancer Research Small Grants Program, is gratefully acknowledged.
Funding information
This study received funding from Grant No. UL1TR002529 (A. Shekhar, PI) from the National Institutes of Health, National Center for Advancing Translational Sciences, Clinical and Translational Sciences Award; from the National Institute of Biomedical Imaging and Bioengineering, NIH Grant R21EB015722; from the National Institute of Allergy And Infectious Diseases, NIH Grant R01AI122298; and from the Purdue University Center for Cancer Research Small Grants Program.
Compliance with ethical standards
Banked tissue samples were obtained from the Methodist Research Institute Biorepository in Indianapolis in accordance with approved Institutional Review Board (IRB) protocols at Indiana University School of Medicine (IUSM) (IRB No. 1410015344). Tissues for bulk tissue analysis were prospectively obtained from human subjects undergoing tumor resection for suspected glioma at Indiana University Department of Neurosurgery, Goodman Campbell Brain and Spine Institute, after they had provided written informed consent to participate in the research study, following an IUSM IRB approved protocol (IRB No. 1410342262).
Conflict of interest
Zheng Ouyang is the founder of PURSPEC Technologies Inc.
Copyright information
© Springer-Verlag GmbH Germany, part of Springer Nature 2019