A new boronic acid reagent for the simultaneous determination of C27-, C28-, and C29-brassinosteroids in plant tissues by chemical labeling-assisted liquid chromatography-mass spectrometry
Abstract
Brassinosteroids (BRs) are endogenous plant growth-promoting hormones affecting growth and development during the entire life cycle of plants. Naturally occurring BRs can be classified into C27-, C28-, or C29-BRs based on the nature of the alkyl groups occupying the C-24 position in the side chain of the 5a-cholestane carbon skeleton. However, while C27-BRs exhibit similar bioactivities to C28- and C29-BRs, the biosynthetic pathways of C27-BRs in plants have not yet been clearly characterized. In addition to a lack of biochemical and enzymatic evidence regarding the biosynthetic pathways of C27-BRs, even most of the intermediate compounds on their pathways have not been explored and identified due to the lower endogenous levels of C27-BRs. Therefore, the development of highly sensitive analytical methods is essential for studying the biosynthetic pathways and physiological functions of C27-BRs. Accordingly, this study establishes qualitative and quantitative methods for identifying and detecting C27-, C28-, and C29-BRs using a newly synthesized boronic acid reagent denoted as 2-methyl-4-phenylaminomethylphenylboronic acid (2-methyl-4-PAMBA) in conjunction with liquid chromatography-mass spectrometry (LC-MS). Labeling with 2-methyl-4-PAMBA provides derivatives with excellent stability, and the detection sensitivities of BRs, particularly for C27-BRs, are dramatically improved. The limits of detection (with a signal-to-noise ratio of 3) for six BRs, including 2 C27-BRs (28-norCS and 28-norBL), 3 C28-BRs (CS, BL, and TY), and a single C29-BR (28-homoBL), are found to be 0.10–1.68 pg/mL after labeling with 2-methyl-4-PAMBA. Finally, the proposed analytical method is successfully applied for the detection of endogenous BRs in small mass samples of Oryza sativa seedlings, Rape flowers, Arabidopsis shoots, and Arabidopsis flowers. In addition, a method for profiling potential BRs in plants is also developed using LC-MS in multiple reaction monitoring scan mode assisted by 2-methyl-4-PAMBA and 2-methyl-4-PAMBA-d5 labeling. The developed method is able to identify 10 potential BRs in a Rape flower extract. The proposed quantitative and qualitative methods established by 2-methyl-4-PAMBA labeling are helpful for facilitating an understanding of the physiological functions and biosynthetic pathways of BRs, particularly for C27-BRs.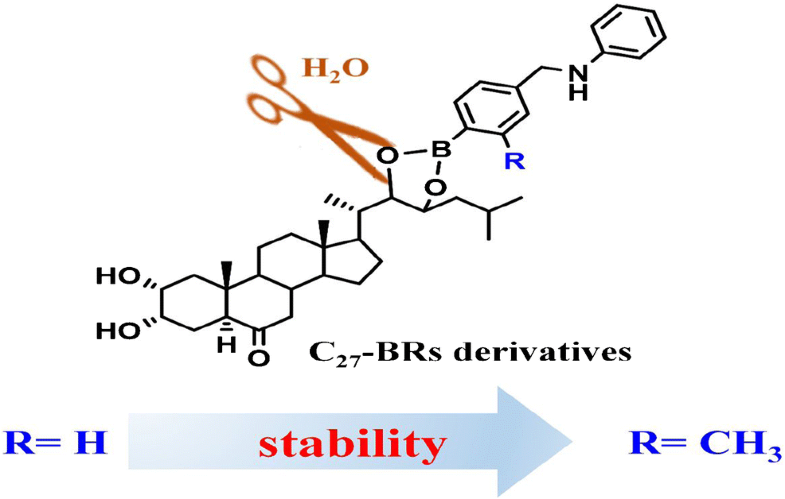 Keywords
Brassinosteroid 
2-methyl-4-phenylaminomethylphenylboronic acid 
Chemical labeling 
LC-MS 
Notes
Funding information
The work is supported by the National Key R&D Program of China (Grant 2017YFC0906800), the National Natural Science Foundation of China (Grants 21475098, 21635006, and 31670373) and the Postdoctoral Science Foundation of China (Grant 2017M612493).
Compliance with ethical standards
Conflict of interest
The author declares that there are no conflicts of interest.
Copyright information
© Springer-Verlag GmbH Germany, part of Springer Nature 2019