Graphene-modified electrodes for sensing doxorubicin hydrochloride in human plasma
Abstract
Doxorubicin (DOX), an anthracycline molecule, is currently one of the most widely used anticancer drugs in clinics. Systematic treatment of patients with DOX is known to be accompanied by several unpleasant side effects due to the toxicity of the drug. Thus, monitoring of DOX concentration in serum samples has become increasingly important to avoid side effects and ensure therapeutic efficiency. In this study, we discuss the construction of a disposable electrochemical sensor for the direct monitoring of DOX in clinical blood samples. The sensor is based on coating a gold electrode in a flexible integrated electrode construct formed on polyimide sheets using photolithography, with nitrogen-doped reduced graphene oxide (N-rGO) suspended in chitosan. Under optimized conditions, a linear relationship between the oxidative peak current and the concentration of DOX in the range of 0.010–15 μM with a detection limit of 10 nM could be achieved. The sensor was adapted to monitor DOX in serum samples of patients under anticancer treatment.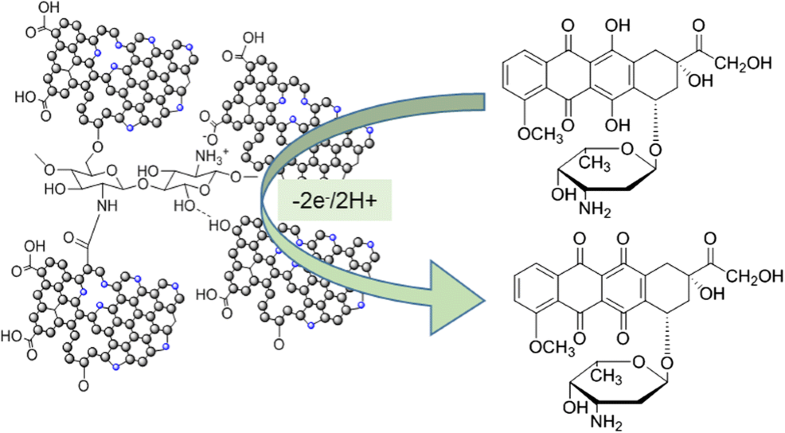 Keywords
Nitrogen-doped reduced graphene oxide 
Disposable electrodes 
Doxorubicin 
Serum 
Notes
Funding information
Financial supports from the Centre National de la Recherche Scientifique (CNRS), the University of Lille, the Hauts-de-France region, the CPER "Photonics for Society", and the joint support of Agence Nationale de la Recherche (ANR) and the Belgian F.R.S. - FNRS through FLAG-ERA JTC 2015-Graphtivity project are acknowledged.
Compliance with ethical standards
Human serum samples, obtained from venous blood collected from a peripheral vein, were kindly provided by the CHU Lille with consent of all individual participants, and approved by the Hospital's Ethics Committee.
Conflict of interest
The authors declare that they have no conflict of interest.
Copyright information
© Springer-Verlag GmbH Germany, part of Springer Nature 2019