The behavior of a bipedal DNA walker moving on the surface of magnet microparticles and its application in DNA detection
Part of the following topical collections:
Abstract
In this work, a three-dimensional DNA machine based on the isothermal strand-displacement polymerase reaction (ISDPR) has been constructed. The walking behavior of a DNA walker on the obstructive surface of magnetic beads has also been studied by adding different nucleic acid blocks. The "leg" of the DNA walker could hybridize with a hairpin structure DNA named H1 and lead to the opening of it. And the newly exposed stem would interact with a primer. A strand exchange has happened with the assistance of polymerase and dNTPs, so that the "leg" has been displaced and the DNA walker could be pushed to move on the surface. But the nucleic acid blocks could increase steric hindrance and obstruct this process, which is similar to the behavior of human beings walking on craggy paths. Through changing these blocks, such as the structure, the amount, and the length of blocks, the movement of the DNA walker has been controlled. What's more, the results of its application for DNA detection are satisfactory. The limit of detection is 21.6 pM. Also, this method has been successfully applied in complex biological samples.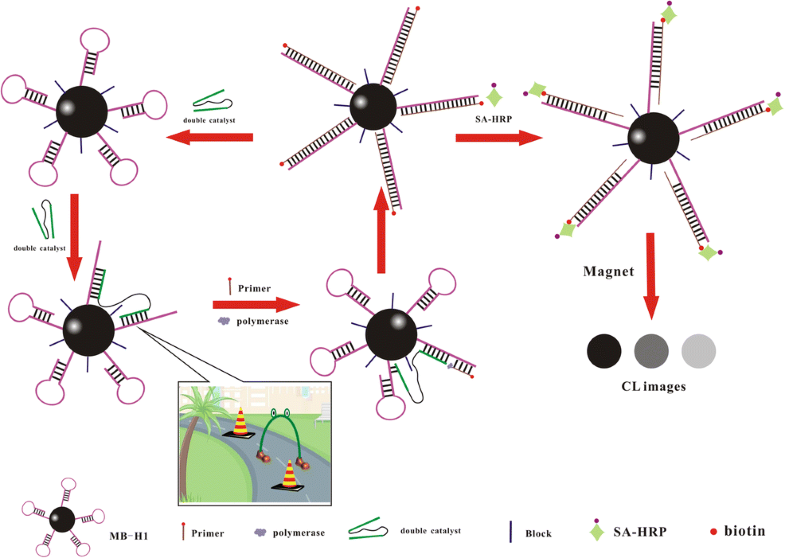 Keywords
DNA walker 
Chemiluminescence 
Magnet microparticles 
DNA detection 
Notes
Funding
This work was supported by the National Natural Science Foundation of China (21675119) and National Major Science and Technology Projects (2018ZX10301405).
Compliance with ethical standards
Human serum from healthy volunteers was collected from Zhongnan Hospital of Wuhan University with the approval of the Institutional Review Board. Written informed consent was obtained from all participants.
Conflict of interest
The authors declare that they have no conflict of interest.
Copyright information
© Springer-Verlag GmbH Germany, part of Springer Nature 2019