A multichannel microchip containing 16 chambers packed with antibody-functionalized beads for immunofluorescence assay
Abstract
A multichannel chip containing 16 microchambers was developed for fast and sensitive immunoassays. In each chamber, antibody-functionalized nonmagnetic beads were applied as the solid phase to capture target antigens. Four types of IgGs (human, rabbit, chicken, and mouse) could be detected simultaneously by our combining this microchip with a sandwich immunoassay technique. A three-layer chip structure was investigated for integration of multiple processes, including washing, immune reaction, and detection, in one microchip. Moreover, the proposed chip design could improve batch-to-batch repeatability and avoid interferences between different channels without the preparation of complex microvalves. The total operation time of this system was less than 30 min, with a desirable detection limit of 0.2 pg/mL. The results indicate that the microfluidic platform is promising for the immunoassay of multiple clinical biomarkers.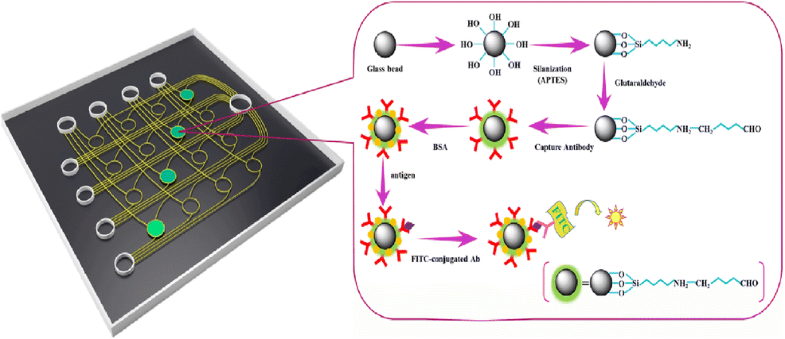 Keywords
Antibody 
Microchip 
Point-of-care testing 
Immunoassay 
Notes
Acknowledgements
We are grateful for funds provided by the National Natural Science Foundation of China (nos 81202378, 81311140268, 81300204, and 81803495) and the Fundamental Research Funds for the Central Universities of Central South University (no. 2018zzts860).
Compliance with ethical standards
Written informed consent was obtained from patients for use of samples in the study. The study was approved by the Ethics Committee of Xiangya Medical College, Central South University (no. 2018051).
Conflict of interest
The authors declare that they have no competing interests.
Copyright information
© Springer-Verlag GmbH Germany, part of Springer Nature 2019