Go with the flow: advances and trends in magnetic flow cytometry
Part of the following topical collections:
Abstract
The growing need for biological information at the single cell level has driven the development of improved cytometry technologies. Flow cytometry is a particularly powerful method that has evolved over the past few decades. Flow cytometers have become essential instruments in biomedical research and routine clinical tests for disease diagnosis, prognosis, and treatment monitoring. However, the increasing number of cellular parameters unveiled by genomic, proteomic, and metabolomic data platforms demands an augmented multiplexability. Also, the need for identification and quantification of relevant biomarkers at low levels requires outstanding analytical sensitivity and reliability. In addition, growing awareness of the advantages associated with miniaturization of analytical devices is pushing forward the progress in integrated and compact, microfluidic-based devices at the point-of-care. In this context, novel types of flow cytometers are emerging during the search to tackle these challenges. Notwithstanding the relevance of other promising alternatives to standard optical flow cytometry (e.g., mass cytometry, various optical and electrical microcytometers), this report focuses on a recent microcytometric technology based on magnetic sensors and magnetic particles integrated into microfluidic structures for dynamic bioanalysis of fluid samples—magnetic flow cytometry. Its concept, main developments, targeted applications, as well as the challenges and trends behind this technology are presented and discussed.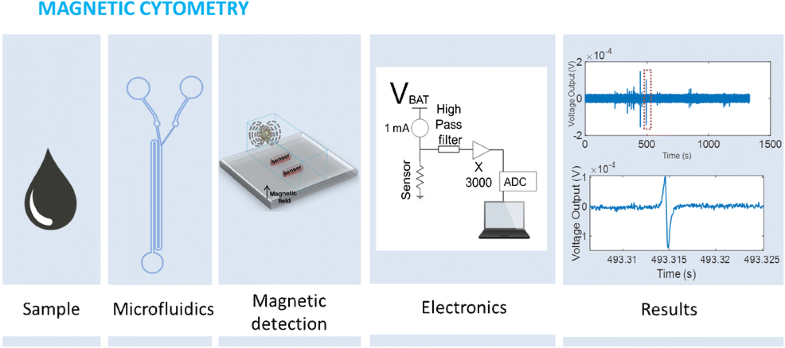 Keywords
Magnetic flow cytometry 
Magnetic sensors 
Magnetic particles 
Microfluidics 
Point-of-care 
Abbreviations
ADC

Analog to digital converter

AMR

Anisotropic magnetoresistance

FM

Ferromagnetic

GMI

Giant magneto impedance

GMR

Giant magnetoresistance

M

Metallic

MACS

Magnetically assisted cell sorting

MFC

Magnetic flow cytometry

MNPs

Magnetic nanoparticles

MR

Magnetoresistance

MRI

Magnetic resonance imaging

MTJ

Magnetic tunnel junctions

PHE

Planar Hall effect

PMTs

Photomultiplier tubes

PoC

Point-of-care

S

Sensitivity

SERF

Spin-exchange relaxation-free

SNR

Signal-to-noise ratio

SV

Spin valve

TMR

Tunneling magnetoresistance

TOF

Time-of-flight
Notes
Acknowledgements
This work has received funding from European Structural & Investment Funds through the COMPETE Program and from National Funds through FCT – Fundação para a Ciência e a Tecnologia under the grants SAICTPAC/0019/2015, MUSIC-PESSOA 2017-38027RF and MagScopy4IHC- LISBOA-01-0145-FEDER-031200. The authors acknowledge funding from the European Union through the project MAGNAMED- H2020-MSCA-RISE-2016 grant n. 734801. The authors R. Soares, D. M. Caetano and P. H. Fonseca, acknowledge their PhD grants, PD/BD/128205 /2016, PD/BD/128208/2016, PD/BD/135272/2017, respectively, funded through the Advanced Integrated Microsystems (AIM) doctoral program.
Compliance with ethical standards
No experiments involving human participants and/or animals have been conducted for this publication.
Conflict of interest
The authors declare that they have no conflict of interest.
Copyright information
© Springer-Verlag GmbH Germany, part of Springer Nature 2019