Simultaneous detection of fumonisin B1 and ochratoxin A using dual-color, time-resolved luminescent nanoparticles (NaYF4: Ce, Tb and NH2-Eu/DPA@SiO2) as labels
Abstract
A rapid and highly sensitive time-resolved fluorescence (TRF)-based aptasensor for simultaneous recognition of mycotoxins ochratoxin A (OTA) and fumonisin B1 (FB1) was developed using multi-color, Ln3+-doped time-resolved fluorescence nanoparticles (TRF-NPs) (NaYF4: Ce, Tb and NH2-Eu/DPA@SiO2 NPs) coupled with complementary strand DNA (cDNA) as luminescence probe and aptamers-conjugated amine-functionalized Fe3O4 magnetic nanoparticles (MNPs) act as a capture probe. Under the optimized conditions, the time-resolved fluorescence intensities at 544 and 618 nm corresponded with Tb3+ and Eu3+, respectively, were used to measure FB1 (Y = 19,177.1 + (− 12,054.4)x, R2 = 0.9917) and OTA (Y = 4138.8 + (− 11,182.6)x, R2 = 0.9924), respectively. The limits of detection (LODs) for FB1 and OTA were 0.019 pg mL−1 and 0.015 pg mL−1, respectively, which were much lower than previously described methods for simultaneous recognition of mycotoxins OTA and FB1 while detection range varied from 0.0001–0.5 ng mL−1. This aptasensor was effectively applied to quantity FB1 and OTA in maize samples and results were compared with ELISA method. This is the first reported time-resolved fluorescence (TRF)-based aptasensor to detect two agriculturally important toxins in the maize. The developed aptasensor has potential to be used for detection of toxins in food safety fields.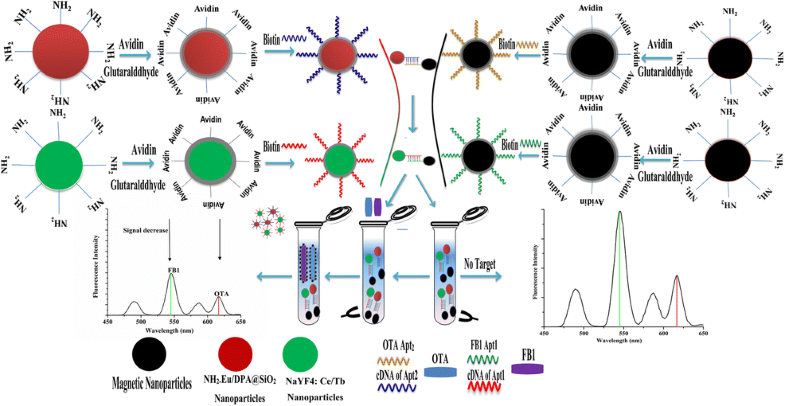 Keywords
Time-resolved fluorescence nanoparticles 
Aptamer 
Mycotoxins 
Simultaneous detection 
Notes
Funding information
This work was partly funded by the National Natural Science Foundation of China (31871881), Jiangsu Agriculture Science and Technology Innovation Fund (JASTIF) (CX(18)2025), S&T Support Program of Jiangsu Province (BE2017623), the National First-class Discipline Program of Food Science and Technology (JUFSTR20180303), JUSRP51714B, and the Distinguished Professor Program of Jiangsu Province.
Compliance with ethical standards
Conflict of interest
The authors declare no conflict/competing interest and manuscript is approved by all authors for publication.
Copyright information
© Springer-Verlag GmbH Germany, part of Springer Nature 2019