Clinical determination of folates: recent analytical strategies and challenges
Part of the following topical collections:
Abstract
Since the introduction of liquid chromatography tandem mass spectrometry in clinical laboratories, folate analysis has shifted from microbiological or protein-binding assays to chromatographic methods. Now, it is possible to sensitively and selectively determine several folate species in clinical samples where only a total folate content could be quantified using a microbiological or a binding assay. Although several chromatographic methods have been developed, validated, and published, interlaboratory variability limits the comparability of the results. In this review, we provide an overview of the latest strategies for sampling, sample treatment, and analysis and how these may influence the final analytical result. Among the variables covered are the effect of pH, temperature, and storage and the use of antioxidants and anticoagulants on analyte stability. In addition, we highlight the importance of correct assay calibration and the use of (labeled) certified reference materials in order to obtain correct and comparable results among different laboratories.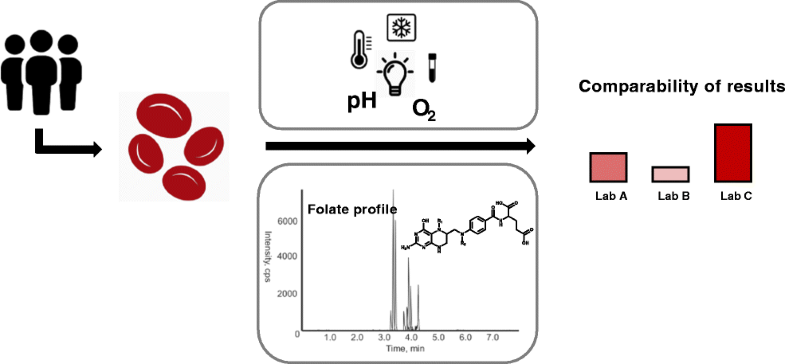 Keywords
Folate 
Plasma 
Serum 
Red blood cell 
Chromatography 
Mass spectrometry 
Notes
Funding information
The folate research of the authors was supported by GOA 01G00409 and BOF18/GOA/042 (Bijzonder Onderzoeksfonds UGent), IWT.141529 (Agentschap voor Innovatie door Wetenschap en Technologie), and 1S61617N (Fonds voor Wetenschappelijk Onderzoek - Vlaanderen).
Compliance with ethical standards
Conflict of interest
The authors declare that they have no conflict of interest.
Copyright information
© Springer-Verlag GmbH Germany, part of Springer Nature 2019