Proton-controlled synthesis of red-emitting carbon dots and application for hematin detection in human erythrocytes
Abstract
The Red-emitting nitrogen-doped carbon dots (N-CDs) are synthesized using o-phenylenediamine by a one-step method, and can serve as a fluorescent probe for "turn off" detection of hematin in human red cells. The red-emitting N-CDs can be obtained only in acidic conditions and the emission of the red-emitting N-CDs is pH-dependent, indicating proton-controlled synthesis and emission. The red-emitting N-CDs are 2.7 nm in mean size and have a uniform dispersion and exhibit a high quantum yield (12.8%) and great optical properties. The developed sensing system for hematin displays a linear response from 0.4 to 32 μM with a detection limit of 0.18 μM. Importantly, this fluorescent probe demonstrates a good potential practicability for the quantitative detection of hematin in complex matrixes.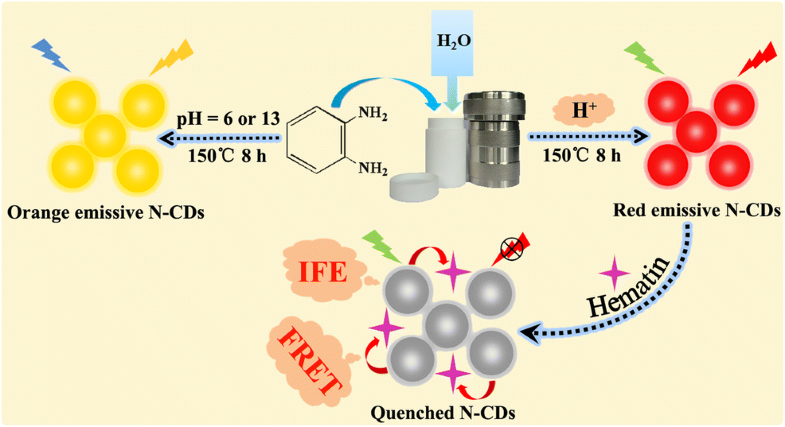 Keywords
N-Doped carbon dots 
Red emission 
Proton-controlled synthesis 
Hematin detection 
Human erythrocytes 
Notes
Funding information
This study received financial support from the National Natural Science Foundation of China (No. 21675131) and the Innovation Foundation of Chongqing City for Postgraduate (CYB 16053).
Compliance with ethical standards
The study was approved by the Ethics Committee of Southwest University, and written informed consent was obtained from all individuals participating in the study prior to the collection of the human blood samples.
Conflict of interest
The authors declare that they have no competing interests.
Copyright information
© Springer-Verlag GmbH Germany, part of Springer Nature 2019