Potassium triiodide-quenched gold nanocluster as a fluorescent turn-on probe for sensing cysteine/homocysteine in human serum
Abstract
A fluorescent sensing platform using KI3-quenched bovine serum albumin stabilized gold nanoclusters has been designed and used as a fluorescent probe for the turn-on detection of homocysteine/cysteine (Cys/Hcy). The fluorescence of gold nanoclusters was quenched by iodine. The fluorescence of quenched gold nanoclusters was effectively switched on by Cys/Hcy devoid of the interference of glutathione. The transmission electron microscopy image, X-ray photoelectron spectroscopy analysis, time-correlated single photon counting analysis, and dynamic light scattering data confirmed the aggregation-induced quenching of fluorescence of gold nanoclusters by iodine. The turn-on response of Cys/Hcy shows two linear ranges from 0.0057 to 5 μM and from 8 to 25 μM, with a limit of detection of 9 nM for cysteine and 12 nM for homocysteine. Real samples were analyzed to monitor Cys/Hcy added to human serum. The fluorescence turn-on response of the probe on a paper strip in the presence of Cys/Hcy was studied.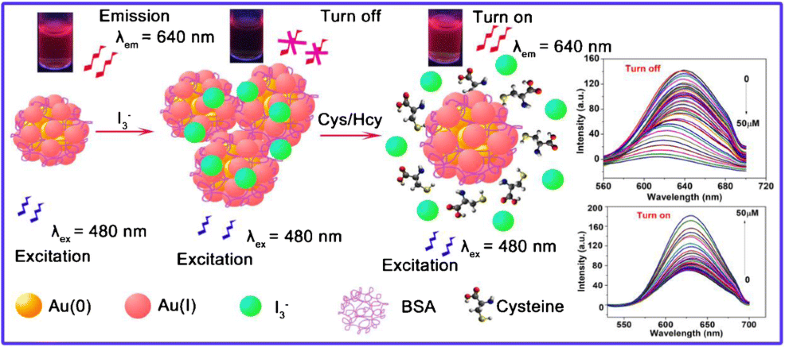 Keywords
Gold nanocluster 
Fluorescence turn on 
Cysteine 
Homocysteine 
Bovine serum albumin 
Iodine 
Notes
Acknowledgements
The authors thank the head of the Department of Chemistry, University of Kerala, Kariavattom campus, Thiruvananthapuram, for providing the platform to conduct the research. The authors also thank the director of the SICC, University of Kerala, Kariavattom campus, Thiruvananthapuram, the director of SAIF-STIC-CUSAT, Kochi, RGCB, Thiruvananthapuram, and DST-SAIF, M.G. University, Kottayam. N.J. acknowledges support for this work by the University Grants Commission, Bangalore, India, through a teacher fellowship (F.No.FIP/12th plan/KLMG035, TF: 03) under the faculty development program during the 12th plan period.
Compliance with ethical standards
All biological experiments were performed with the approval of the Human Ethics Committee, University of Kerala, Kerala. Informed consent was obtained from all individual participants included in the study
Conflict of interest
The authors declare that they have no competing interests.
Copyright information
© Springer-Verlag GmbH Germany, part of Springer Nature 2019