Rapid cancer diagnosis by highly fluorescent carbon nanodots-based imaging
Abstract
Carbon dots (Cdots) with bright green fluorescence were applied to the rapid and selective cell imaging for a variety of cell lines. Different labeling distributions of hepatoma cells (HepG2) and normal human liver cells (LO2) were achieved using Cdots as imaging agents. For HepG2 cells, the Cdots could rapidly permeate the cell membrane and diffuse into the cytoplasm and nucleus within 3 min, and retained their location in the targets for 24 h. However, the Cdots exhibited bright fluorescence only in the cytoplasm of LO2 cell lines. Moreover, the Cdots were almost non-cytotoxic and exhibited superior photostability over a wide range of pH. Therefore, these Cdots have great potential for rapid, luminous and selective bioimaging applications, and are expected to be used as a nucleus-staining agent in cancer diagnosis.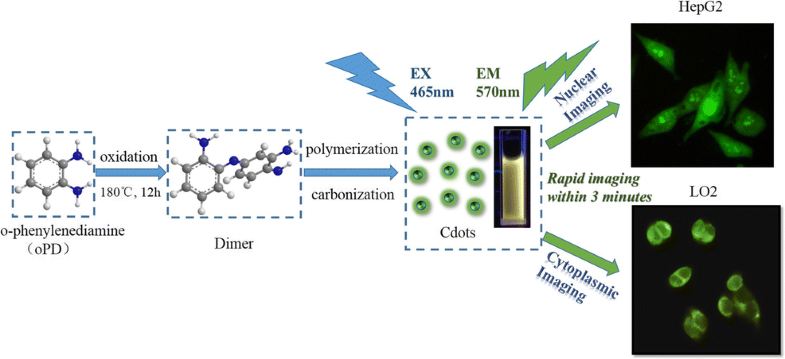 Keywords
Carbon dots 
Selective fluorescence imaging 
Rapid nuclear targeting 
Notes
Acknowledgements
This work was supported by the Natural Science Foundation of China (Grant No. 51505324, 81602506, 61471255, 61474079), Basic Research Program of Shanxi for Youths (201701D221111, 201701D221110), research professor program of Korea University (141594) and China Postdoctoral Science Foundation (2017 M621664).
Compliance with ethical standards
Conflict of interest
The authors declare that they have no conflict of interest.
Copyright information
© Springer-Verlag GmbH Germany, part of Springer Nature 2019