Online extraction and cleanup–quadrupole time-of-flight tandem mass spectrometry for rapid analysis of bioactive components in natural products
Abstract
The challenges in direct analysis of a complex system (e.g., natural product, food, biological samples) by mass spectrometry (MS) are the sophisticated sample preparation methods and ionization suppression by matrix interferences. Consequently, a novel online extraction and cleanup–quadrupole time-of-flight tandem mass spectrometry (OLEC–QTOF–MS/MS) system was developed for rapid, efficient, and sensitive analysis of flavonoids in Citri Reticulatae Pericarpium (CRP). For the OLEC strategy, a guard column packed with solid CRP (0.5 mg) and C18 gel was positioned on a manual injection valve, in which interferences with large polarities were online removed by methanol–0.1% formic acid (25:75, v/v) for 3 min, while target flavonoids were online extracted by methanol–0.1% formic acid (70:30, v/v) for 10 min for the subsequent QTOF–MS/MS analysis. The method was validated using official marker, hesperidin, by external standard method. Excellent linear ranges from 0.02 to 52.0 μg L−1 (R2, 0.9935) with a limit of detection (LOD) of 0.006 μg were obtained. Acceptable reproducibility (RSD 8.1 and 9.6% for intra- and inter-day variations) and recoveries (from 99.5 to 112.0%) were also attained. In addition, 20 flavonoids in CRP were identified according to their exact mass and fragmentation ions in MS/MS spectra, and five of them were reported for the first time. Obviously, OLEC–QTOF–MS/MS presented several advantages, such as simple operation and high sensitivity, which provided new perspectives for rapid analysis of bioactive components in complex natural products.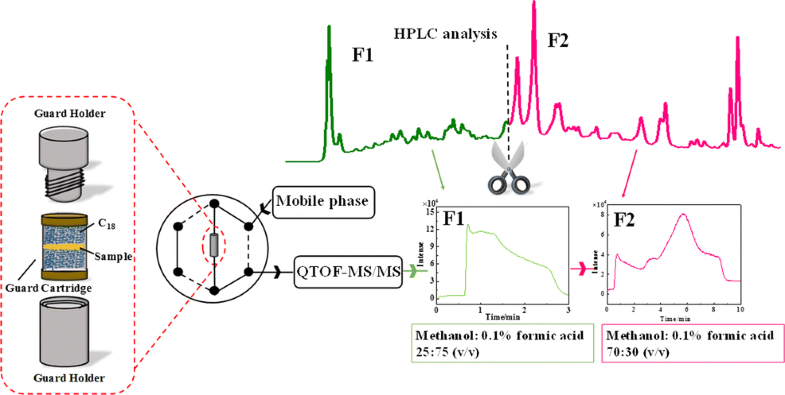 Keywords
Online extraction and cleanup 
Mass spectrometry 
Rapid analysis 
Flavonoid 
Natural product 
Notes
Acknowledgements
The authors wish to thank Yuge Liu for her technical support.
Funding information
This work received financial support from the National Natural Science Foundation of China (31660181), Provincial Natural Science Foundation of Hunan (2018JJ1043), and Key Laboratory of Hunan Province for Water Environment and Agriculture Product Safety (2018TP1003).
Compliance with ethical standards
Conflict of interest
The authors declare that they have no conflict of interest.
Copyright information
© Springer-Verlag GmbH Germany, part of Springer Nature 2018