Evolution of reference materials for the determination of organic nutrients in food and dietary supplements—a critical review
Abstract
For over 40 years, food-matrix certified reference materials (CRMs) have been available for determination of trace element content, and a wide variety of materials are available from most producers of CRMs. However, the availability of food-matrix CRMs for organic nutrients has been more limited. The European Commission (EC) Bureau Communautaire de Référence (BCR) and the National Institute of Standards and Technology (NIST) introduced food-matrix CRMs with values assigned for vitamins and other organic nutrients such as fatty acids and carotenoids in the 1990s. The number of organic nutrients for which values were assigned has increased significantly in the past decade, and the approach and analytical methods used for assignment of the certified values have also evolved. Recently, dietary supplement-matrix CRMs such as multivitamin tablets with values assigned for vitamins and carotenoids, and fish and plant oils with values assigned for fatty acids have appeared. The development, evolution, and improvement of food- and dietary supplement-matrix CRMs for determination of vitamins, carotenoids, and fatty acids are described, with emphasis on CRMs made available in the past 10 years. Recent food and dietary supplement CRMs for the determination of organic nutrients include infant formula, multivitamin tablets, milk and egg powders, breakfast cereal, meat homogenate, blueberries, soy flour, fish and plant oils, dry cat food, and protein drink powder. Many of these food- and supplement-matrix CRMs have values assigned for over 80 organic and inorganic nutrients, toxic elements, proximates, and contaminants. The review provides a critical assessment of the challenges and evolving improvements in the production and the analytical methods used for value assignment of these CRMs. The current status and future needs for additional food- and dietary supplement-matrix CRMs for organic nutrients are also discussed.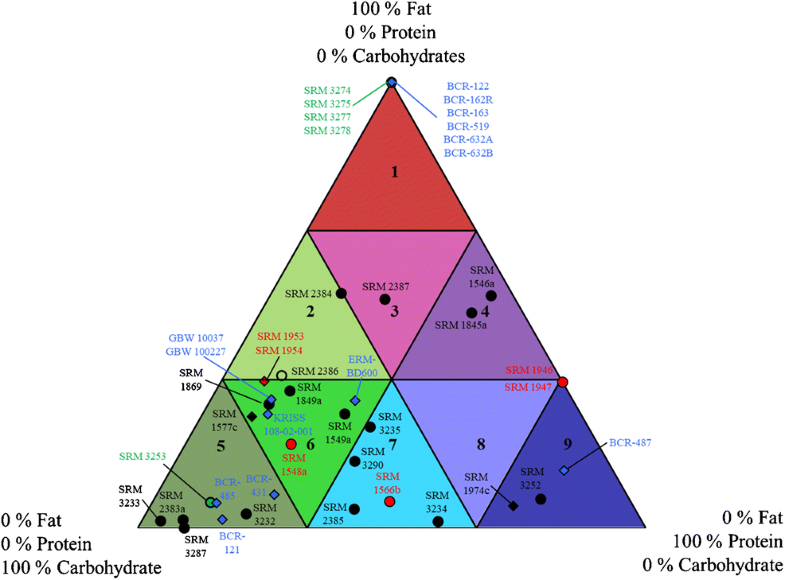 Keywords
Certified reference materials (CRMs) 
Cholesterol 
Dietary supplements 
Fatty acids 
Nutrients 
Standard reference materials (SRMs) 
Vitamins 
Notes
Acknowledgements
The authors acknowledge Zhang Qinghe of NIMC and Byungjoo Kim of KRISS for providing valuable information regarding their CRMs and Thomas Linsinger, Håkan Emteborg, and Marta Dabrio (JRC) for useful input regarding the JRC food-matrix CRMs. Katherine E. Sharpless (NIST) and Lane C. Sander (NIST) are acknowledged for their contributions in the coordination of the development of many of the NIST food- and dietary supplement-matrix SRMs. Joseph M. Betz, Director of the Analytical Methods and Reference Materials (AMRM) Program at the Office of Dietary Supplements, National Institutes of Health, is acknowledged for his guidance and leadership in the development of dietary supplement SRMs. The contributions of the numerous analysts at NIST, JRC, NIMC, and KRISS who have provided measurements used in the certification of organic nutrients in the CRMs discussed in this review are also acknowledged.
Compliance with ethical standards
Conflict of interest
The authors declare that they have no conflict of interest.
Copyright information
© This is a U.S. Government work and not under copyright protection in the US; foreign copyright protection may apply 2018