Towards metrologically traceable and comparable results in GM quantification
Abstract
The GM content in a food or feed product produced from or containing genetically modified organisms (GMO) has to be expressed in Europe in the form of a GM mass fraction. However, the most widely used quantification methods, based on PCR, are basically counting PCR-amplifiable DNA fragments in a sample extract. This paper outlines the requirements for obtaining comparable measurement results which are fit for regulatory decision-making. It introduces the concept of a reference measurement system which enables GMO analysis laboratories to relate their results to a universally accessible reference, thus establishing metrological traceability to a unique reference point. The conversion factors required for transforming data from one measurement unit into the other have to carry a minimum uncertainty and are anchored to specified certified reference materials. The establishment of such conversion factors and related calibration approaches to achieve comparable GM quantification results are sketched.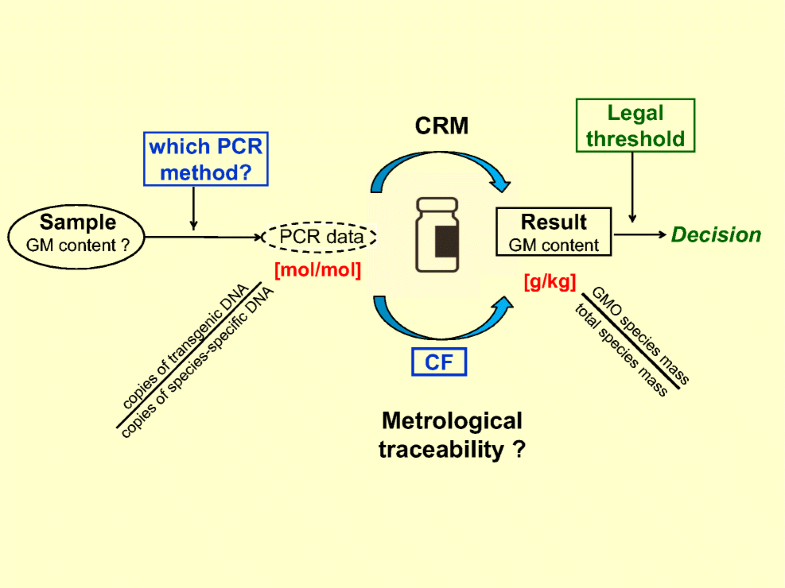 Keywords
Genetically modified organism 
Unit of measurement 
PCR 
Traceability 
Quantification 
Conversion factor 
Notes
Compliance with ethical standards
Conflict of interest
The authors declare that they have no conflict of interest.
Copyright information
© The Author(s) 2018
Open Access This article is distributed under the terms of the Creative Commons Attribution 4.0 International License (http://creativecommons.org/licenses/by/4.0/), which permits unrestricted use, distribution, and reproduction in any medium, provided you give appropriate credit to the original author(s) and the source, provide a link to the Creative Commons license, and indicate if changes were made.