Label-free targeted LC-ESI-MS2 analysis of human milk oligosaccharides (HMOS) and related human milk groups with enhanced structural selectivity
Abstract
Human milk (HM) supports the healthy development of neonates and exerts many of its beneficial effects via contained free human milk oligosaccharides (HMOS). These HMOS exhibit a complexity and structural diversity that pose a significant analytical challenge. A detailed characterization of HMOS is essential as every individual structure may have a different function/activity. Certain HMOS isomers may even fundamentally differ in their biological function, and especially their characterization by LC or LC-MS is often impaired by co-elution phenomena. Thus, more efficient analytical methodologies with enhanced structural selectivity are required. Therefore, we developed a negative ion mode LC-ESI-MS2 approach featuring straightforward sample preparation, environmentally friendly EtOH gradient elution, and enhanced, semiquantitative characterization of distinct native HMOS by multiple reaction monitoring (MRM). Our MRM-LC-MS setup takes advantage of highly selective, glycan configuration-dependent collision-induced dissociation (CID) fragments to identify individual neutral and acidic HMOS. Notably, many human milk oligosaccharide isomers could be distinguished in a retention time-independent manner. This contrasts with other contemporary MRM approaches relying on rather unspecific MRM transitions. Our method was used to determine the most abundant human milk tri-, tetra-, penta-, and hexaoses semiquantitatively in a single LC-MS assay. Detected HMO structures included fucosyllactoses (e.g., 2′-FL), lacto-N-difucotetraose (LDFT), lacto-N-tetraoses (LNTs), lacto-N-fucopentaoses (e.g., LNFP I, LNFP II and III), lacto-N-difucohexaoses (LNDFHs) as well as sialyllactoses (SLs) and tentatively assigned blood group A and B tetrasaccharides from which correct human milk type assignment could be also demonstrated. Correctness of milk typing was validated for milk groups I–IV by high pressure anion exchange chromatography (HPAEC) coupled to pulsed amperometric detection (HPAEC-PAD).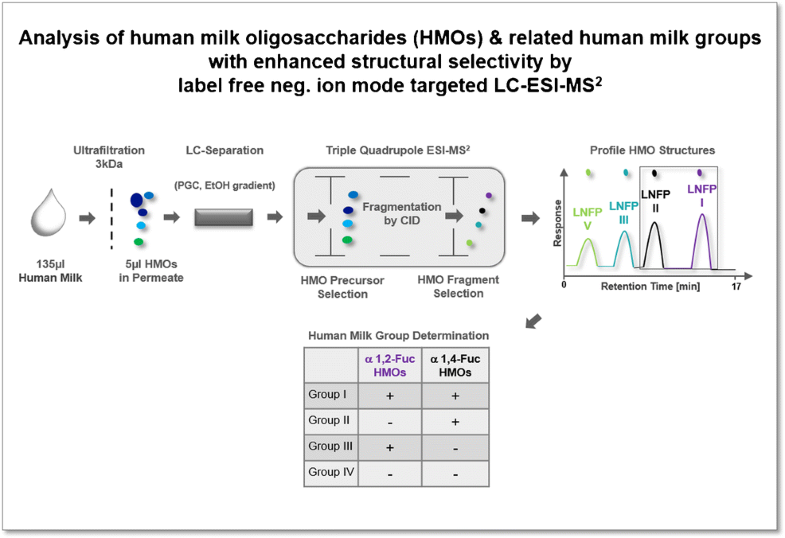 Keywords
Human milk oligosaccharides (HMOS) 
Structural identification 
Milk typing 
Targeted LC-MS2 
MRM 
Label-free relative quantitation 
Notes
Acknowledgements
We would like to thank C. Pabst and E. Voogd for their excellent technical assistance in human milk sample preparation and HPAEC analysis. We would also like to express our gratitude to Bernadet Blijenberg who helped to improve the quality of the HMO sketches.
Compliance with ethical standards
The usage and analysis of human milk samples described in this study were performed in accordance with ethical standards and guidelines as laid down in the Declaration of Helsinki. Ethical approval and written consents of donors were given as stated in the publications by Thurl et al. [15, 60, 86]. The same samples were already subjected to HMOs analysis in these prior studies. They were now used for optimization of a new LC-MS method but for the same purpose of usage (HMO analysis) as stated in the former publications by Thurl et al. [60, 86] for which ethical approval was received.
Conflict of interest
Marko Mank and Bernd Stahl are employees of Nutricia Research B.V. Philipp Welsch was enrolled as a PhD student at the Technical University of Dresden during this study and performed the practical part of his PhD thesis at Danone Nutricia Research in Utrecht. Albert J.R. Heck is a professor at Utrecht University. The present research received no specific grant from any funding agency in the public, commercial, or not-for-profit sectors. None of the authors have further conflicts of interest with regard to the content of this manuscript.
Copyright information
© Springer-Verlag GmbH Germany, part of Springer Nature 2018