Quantitative mapping of specific proteins in biological tissues by laser ablation–ICP-MS using exogenous labels: aspects to be considered
Part of the following topical collections:
Abstract
Laser ablation (LA) coupled with inductively coupled plasma mass spectrometry (ICP-MS) is a versatile tool for direct trace elemental and isotopic analysis of solids. The development of new strategies for quantitative elemental mapping of biological tissues is one of the growing research areas in LA-ICP-MS. On the other hand, the latest advances are related to obtaining not only the elemental distribution of heteroatoms but also molecular information. In this vein, mapping of specific proteins in biological tissues can be done with LA-ICP-MS by use of metal-labelled immunoprobes. However, although LA-ICP-MS is, in principle, a quantitative technique, critical requirements should be met for absolute quantification of protein distribution. In this review, progress based on the use of metal-labelled antibodies for LA-ICP-MS mapping of specific proteins is reported. Critical requirements to obtain absolute quantitative mapping of specific proteins by LA-ICP-MS are highlighted. Additionally, illustrative examples of the advances made so far with LA-ICP-MS are provided.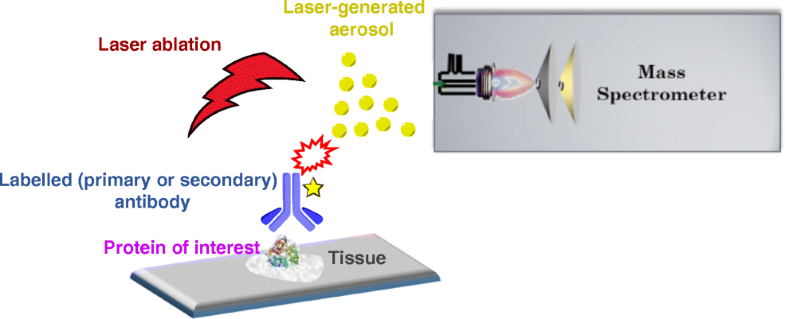 Keywords
Immunohistochemistry 
Antibody labelling 
Laser ablation 
Inductively coupled plasm mass spectrometry 
Protein quantification 
Notes
Acknowledgements
This work was supported through the project CTQ2016-79015-R by Agencia Estatal de Investigación (Spain) and FEDER. B.F. acknowledges her contract RYC-2014-14985 with the Spanish Ministry of Economy and Competitiveness through the Ramón y Cajal programme. The Instituto Oftalmológico Fernández-Vega and Fundación de Investigación Oftalmológica acknowledge support from Cátedra Rafael del Pino (Fundación Rafael del Pino), and Instituto de Desarrollo Económico del Principado de Asturias of Principado de Asturias and FEDER (project IDE/2016/000214).
Compliance with ethical standards
Conflict of interest
The authors declare that they have no competing interests.
Copyright information
© Springer-Verlag GmbH Germany, part of Springer Nature 2018