Toehold integrated molecular beacon system for a versatile non-enzymatic application
Abstract
A molecular beacon (MB) is an oligonucleotide hybridization probe with a hairpin-shaped structure that leads to specific and instantaneous nucleic acid hybridization, enabling a variety of applications. However, integration of additional module sequences interferes with the performance of MBs and increases the complexity of sequence design. Herein, we develop and characterize a toehold integrated molecular beacon (ToMB) strategy for nucleic acid hybridization, where the reaction rate can be flexibly regulated by a target-induced MB conformational switch. Using this basic mechanism, the ToMB is capable of identifying nucleic acids with high specificity and a wider linearity range compared with the conventional molecular beacon system. We further applied the ToMB to the construction of a hybridization chain reaction system and a basic OR logic gate VJHto explore its programmability and versatility. Our results strongly suggest that the novel ToMB can act as a powerful nano-module to construct universal and multifunctional biosensors or molecular computations.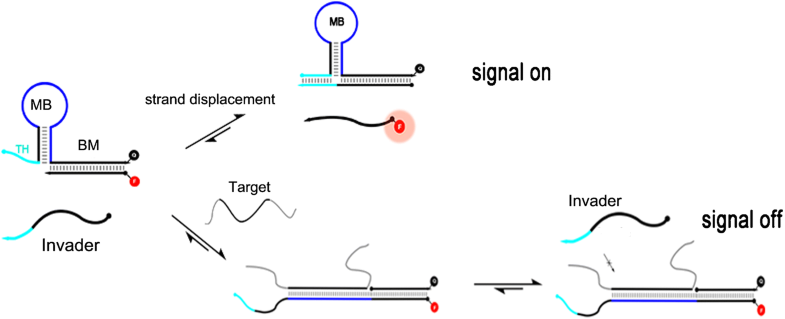 Keywords
Molecular beacon 
Toehold-mediated strand displacement reaction 
Nucleic acid hybridization 
Notes
Acknowledgments
We thank the Clinical Research Center from the Second Affiliated Hospital of Zhejiang University School of Medicine for essential technical supports. We thank the American Journal Experts (AJE) for English language editing.
Funding
This study was supported by grant from Natural Science Foundation of Zhejiang Province (Grant nos. LY14H200002, LY15H200002, and LY16H160023).
Compliance with ethical standards
Conflicts of interest
The authors declare that they have no conflicts of interest.
Copyright information
© Springer-Verlag GmbH Germany, part of Springer Nature 2018