Fluorescence polarization immunoassay for rapid screening of the pesticides thiabendazole and tetraconazole in wheat
Abstract
Fluorescence polarization immunoassays (FPIAs) for thiabendazole and tetraconazole were first developed. Tracers for FPIAs of thiabendazole and tetraconazole were synthesized and the tracers' structures were confirmed by HPLC-MS/MS. The 4-aminomethylfluorescein-labeled tracers allowed achieving the best assay sensitivity and minimum reagent consumption in comparison with aminofluorescein-labeled and alkyldiaminefluoresceinthiocarbamyl-labeled tracers. Measurements of fluorescence polarization were performed using a portable device. The developed FPIA methods were applied for the analysis of wheat. Fast and simple sample preparation technique earlier developed by authors for pesticides was adapted for thiabendazole and tetraconazole. The limits of detection of thiabendazole and tetraconazole in wheat were 20 and 200 μg/kg, and the lower limits of quantification were 40 and 600 μg/kg, respectively. The recovery test was performed by two methods—FPIA and HPLC-MS/MS. The results obtained by FPIA correlated well with those obtained by HPLC-MS/MS (r2 = 0.9985 for thiabendazole, r2 = 0.9952 for tetraconazole). Average recoveries of thiabendazole and tetraconazole were 74 ± 4% and 72 ± 3% by FPIA, and average recoveries of thiabendazole and tetraconazole were 86 ± 2% and 74 ± 1% by HPLC-MS/MS (n = 15).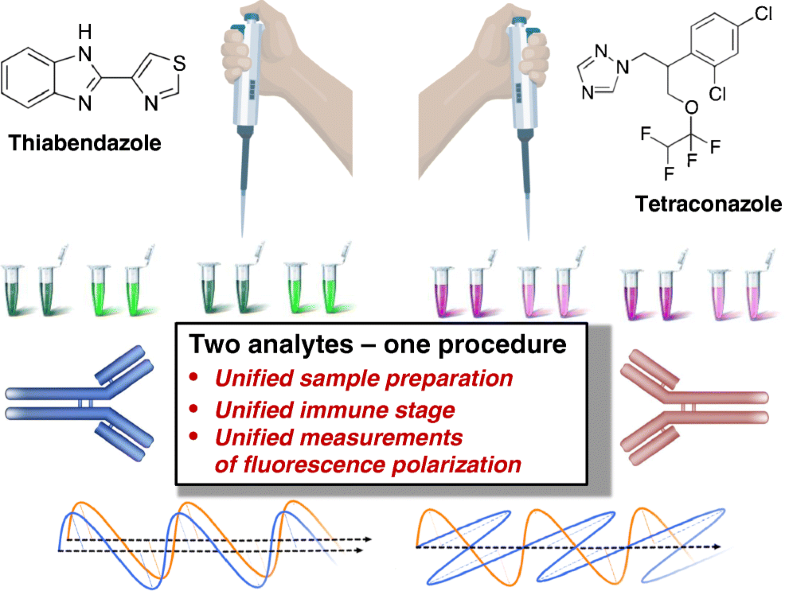 Keywords
Fungicides 
Thiabendazole 
Tetraconazole 
Fluorescence polarization immunoassay 
Wheat 
Abbreviations
(CH2)4DF

Butylenediaminefluoresceinthiocarbamyl

(CH2)6DF

Hexamethylenediaminefluoresceinthiocarbamyl

AF

Aminofluorescein

AMF

4-Aminomethylfluorescein

BSA

Bovine serum albumin

CR

Cross-reactivity

DCC

Dicyclohexylcarbodiimide

EDF

Ethylenediaminefluoresceinthiocarbamyl

ELISA

Enzyme-linked immunosorbent assay

FI

Fluorescence intensity

FITC

Fluorescein isothiocyanate isomer I

FPIA

Fluorescence polarization immunoassay

HPLC-MS/MS

High-performance liquid chromatography coupled with tandem mass spectrometry

LOD

Limit of detection

MRL

Maximum residue level

NHS

N-hydroxysuccinimide

SD

Standard deviation

TLC

Thin-layer chromatography
Notes
Acknowledgments
The authors are thankful to Dr. A.V. Zherdev and Dr. E.A. Zvereva (Federal Research Centre "Fundamentals of Biotechnology" of the Russian Academy of Sciences) for useful discussion of the obtained results.
Funding information
The work was financially supported by the Russian Science Foundation (project No. 14-16-00149).
Compliance with ethical standards
Conflict of interest
The authors declare that they have no conflict of interest.
Copyright information
© Springer-Verlag GmbH Germany, part of Springer Nature 2018