Application of polyethyleneimine-modified attapulgite for the solid-phase extraction of chlorophenols at trace levels in environmental water samples
Abstract
A polyethyleneimine (PEI)-modified attapulgite was employed as a new adsorbent for solid-phase extraction (SPE) of chlorophenols (CPs) from environmental water samples. Key factors pivotal to extraction efficiency, such as organic additive, pH, salt, sample loading volume, elution volume, and sample loading flow rate, were investigated. The maximum adsorption capacity of CPs reached 38 mg/g, and the adsorption behavior could be described with the Langmuir isotherm model. The developed SPE procedure was then tested on river water samples. Of this cartridge, 0.4 g could be used to treat up to 100 mL of the water sample, with high recoveries achieved. The limit of detection (S/N = 3) and the limit of quantification (S/N = 10) were in range of 0.08–0.56 and 0.27–1.88 ng/mL, respectively. The mean recoveries of CPs spiked in river water samples ranged from 84.4 to 96.8% with relative standard deviations for the intra-day and inter-day less than 6.30%. The developed SPE method exhibited high sensitivity, high selectivity, excellent accuracy, and good repeatability to the analysis of trace CPs in complicated aqueous matrices.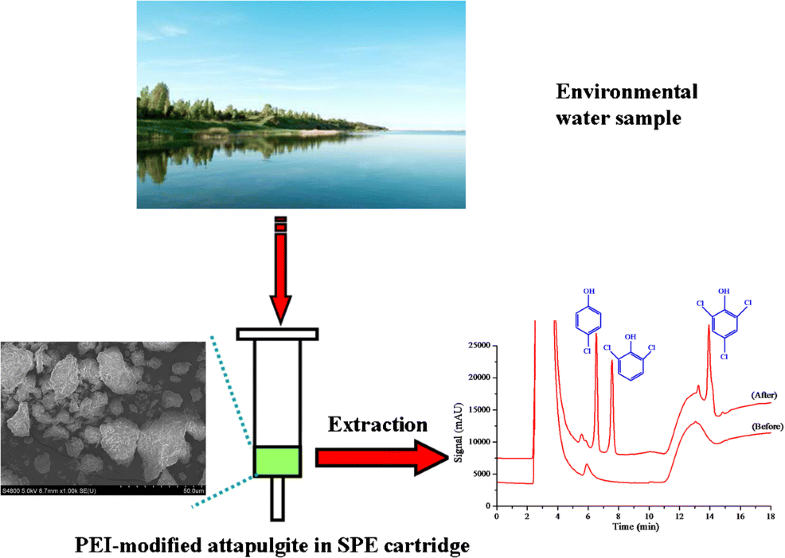 Keywords
Attapulgite 
Chlorophenols 
Environmental water samples 
Solid-phase extraction 
Notes
Acknowledgements
The project is supported by the National Natural Science Foundation of China (21405085), the Public Applied Research Programs of Technology of Zhejiang Province (2015C37015, LGN18B060002), the Zhejiang Provincial Natural Science Foundation of China (LQ12B05001), and the Key Laboratory of Separation Sciences for Analytical Chemistry, Dalian Institute of Chemical Physics, Chinese Academy of Sciences (KL-1701).
Compliance with ethical standards
Conflict of interest
The authors declare that they have no competing interests.
Copyright information
© Springer-Verlag GmbH Germany, part of Springer Nature 2018