Measurement of human serum unconjugated estriol without derivatization using liquid chromatography-tandem mass spectrometry candidate reference method and compared with two immunoassays
Abstract
A candidate reference measurement procedure (RMP) for measurement of unconjugated estriol in human serum has been developed and validated. The proposed method is highly reliable and uses isotope dilution coupled with liquid chromatography-tandem mass spectrometry (ID-LC-MS/MS) and requires no derivatization. An appropriate amount of serum was accurately weighed and spiked with an isotopically labeled internal standard. Unconjugated estriol and its internal standard were extracted from serum matrix using liquid-liquid extraction prior to reversed-phase LC-MS/MS. Calibrator bracketing was used to give higher specificity and accuracy for assigning serum level. The accuracy of the candidate RMP was validated by split-sample comparison to established RMPs. The lowest limit of detection (LLoD) and lowest limit of quantification (LLoQ) for developed RMP was estimated to be 0.14 nmol/L and 0.35 nmol/L, respectively. Both intra- and inter-assay imprecisions were ≤2.19% at 1.39, 17.34 and 69.35 nmol/L, respectively. Recoveries were 98.54% to 100.34% and linear response ranged from 0.35 to 173.38 nmol/L. No interference was observed. Biases were 5.6% and 2.8% against the targets of RELA2015A (3.87 nmol/L) and RELA2015B (40.62 nmol/L), respectively. Moreover, the candidate RMP was successfully applied to measure level of unconjugated estriol in serum samples of pregnant women (n = 3) and compared with two immunoassays in clinical laboratory. Our developed method is simple, accurate, and can be used as a candidate RMP to determine total unconjugated estriol level in human serum. Further improvement of certain immunoassays in accuracy and precision is needed.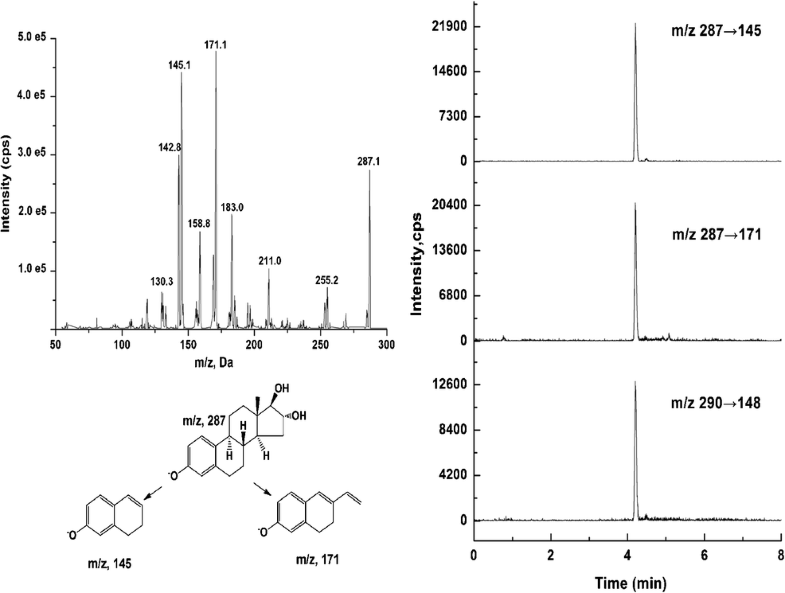 Keywords
Estriol 
Reference method 
Tandem mass spectrometry 
Immunoassay 
Abbreviations
uE3

unconjugated estriol

LC-MS/MS

liquid chromatography/tandem mass spectrometry

MRM

multiple reaction monitoring

RMP

reference measurement procedure

JCTLM

Joint Committee for Traceability in Laboratory Medicine

PT

proficiency testing

RELA

Reference Laboratories in Laboratory Medicine

IFCC

International Federation of Clinical Chemistry and Laboratory Medicine
Notes
Acknowledgements
The authors thank Prof. Zhiguo Wang for sharing information on the uE3 results of the PT event 2016 conducted by China National Center for Clinical Laboratory.
Financial support
This work was supported by the National Natural Science Foundation of China (81572088), the Natural Science Foundation of Guangdong Province (2015A030313340), the Specific Research Fund for TCM Science and Technology of Guangdong Provincial Hospital of Chinese Medicine (YN2014ZHR204 and YN2016QJ15), and Administration of Traditional Chinese Medicine Bureau of Guangdong Province (20172063).
Compliance with ethical standards
Conflicts of interest
All authors declare that they have no conflict of interest.
The research involved human participants and/or animals
The research involves serum samples taken from pregnant women and this study is approved by Ethics Committee of Guangdong Provincial Hospital of Chinese Medicine (the other name: Second Affiliated Hospital of Guangzhou University of Chinese Medicine). The number of this Review is: B2016-159-01.
Informed consent
Ethics committee approved the exemption of informed consent.
Copyright information
© Springer-Verlag GmbH Germany, part of Springer Nature 2018