Hits and misses in research trends to monitor contaminants in foods
Part of the following topical collections:
Abstract
Monitoring of chemicals of toxicological concern in food is commonly needed for many purposes, which include (in part) food safety, regulatory enforcement, risk assessment, international food trade, label claims, environmental protection, industry needs, academic research, and consumer confidence. Chemicals of current concern include a variety of toxins, pesticides, veterinary drugs, growth promoters, environmental contaminants, toxic metals, allergens, endocrine disruptors, genetically modified organisms, melamine, acrylamide, furans, nitrosamines, food additives, packaging components, and miscellaneous other chemicals. In light of past crises, the potential harm from known or unknown chemicals not currently monitored are a source of additional concern by the food industry, regulators, scientists, and consumers. As global food trade has expanded and detection techniques have improved, chemical contaminant analysis of foods has also increased in importance and activity. This critical review article is aimed to highlight current trends in the literature, including neglected research needs, on the analysis of chemicals of toxicological concern in foods.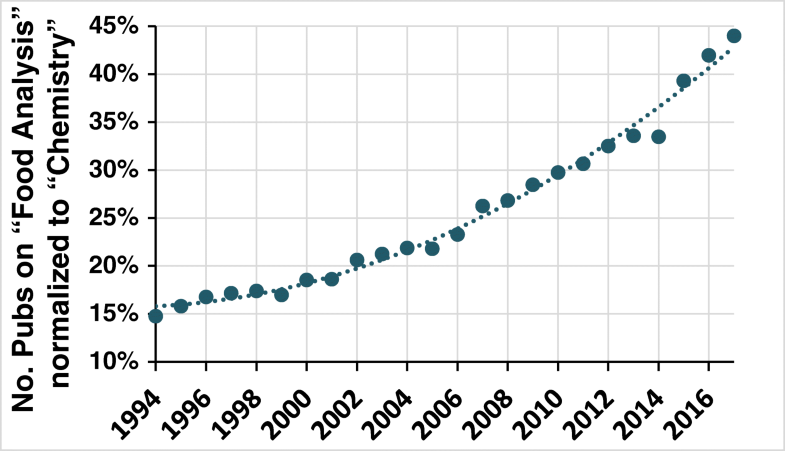 Keywords
Review 
Food safety analysis 
Chemical residues 
Contaminants 
Regulatory monitoring 
Notes
Disclaimer
The opinions expressed in this article are those of the authors and do not reflect the views of the US Dept. of Agriculture (USDA). Mention of brand or firm name does not constitute an endorsement by the USDA above others of a similar nature not mentioned.
Funding information
This project was supported in part by a subaward from the University of Kentucky Research Foundation (UKRF) in grant no. 3048108028-11-342 from the National Institute for Hometown Security.
Compliance with ethical standards
Conflict of interest
The authors declare that they have no conflict of interest.
Copyright information
© Springer-Verlag GmbH Germany, part of Springer Nature 2018