Inter-laboratory validation of an inexpensive streamlined method to measure inorganic arsenic in rice grain
Part of the following topical collections:
Abstract
With the establishment by CODEX of a 200 ng/g limit of inorganic arsenic (iAs) in polished rice grain, more analyses of iAs will be necessary to ensure compliance in regulatory and trade applications, to assess quality control in commercial rice production, and to conduct research involving iAs in rice crops. Although analytical methods using high-performance liquid chromatography-inductively coupled plasma-mass spectrometry (HPLC-ICP-MS) have been demonstrated for full speciation of As, this expensive and time-consuming approach is excessive when regulations are based only on iAs. We report a streamlined sample preparation and analysis of iAs in powdered rice based on heated extraction with 0.28 M HNO3 followed by hydride generation (HG) under control of acidity and other simple conditions. Analysis of iAs is then conducted using flow-injection HG and inexpensive ICP-atomic emission spectroscopy (AES) or other detection means. A key innovation compared with previous methods was to increase the acidity of the reagent solution with 4 M HCl (prior to reduction of As5+ to As3+), which minimized interferences from dimethylarsinic acid. An inter-laboratory method validation was conducted among 12 laboratories worldwide in the analysis of six shared blind duplicates and a NIST Standard Reference Material involving different types of rice and iAs levels. Also, four laboratories used the standard HPLC-ICP-MS method to analyze the samples. The results between the methods were not significantly different, and the Horwitz ratio averaged 0.52 for the new method, which meets official method validation criteria. Thus, the simpler, more versatile, and less expensive method may be used by laboratories for several purposes to accurately determine iAs in rice grain.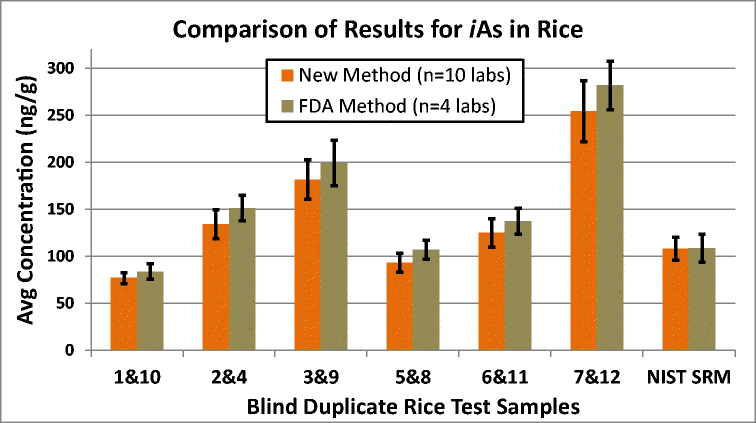 Keywords
Inorganic arsenic (iAs) analysis 
Rice 
Inter-laboratory validation 
Hydride generation (HG) 
Inductively coupled plasma-atomic emission spectroscopy (ICP-AES) 
ICP-MS 
Notes
Acknowledgments
We thank Anna McClung for providing the rice samples grown with traditional flood irrigation vs. alternative wetting and drying irrigation for the study. We also thank Amy Poet and Julie Napolitano for their extensive and careful work which was critical to the project. We very much appreciate the scientists and their laboratory colleagues who participated in the inter-laboratory validation study: (analysis by HG-ICP-AES) Amy Poet and Julie Napolitano, Adaptive Cropping Systems Laboratory, USDA-ARS, Beltsville, MD, USA; Tomohito Arao and Koji Baba, National Institute for Agro-Environmental Sciences, Tskuba, Ibaraki, Japan; Philip Moore, USDA-ARS, University of Arkansas, Fayetteville, AR, USA; Trenton Roberts, Dept. of Crop, Soil, and Environmental Sciences, Fayetteville, AR, USA; Eri Matsumoto, Tama Laboratory, Japan Food Research Laboratories, Tokyo, Japan; (by HG-AFS) Fangjie Zhao, College of Resources and Environmental Sciences, Nanjing Agricultural University, Nanjing, China; (by HG-ICP-MS) Michael Bukowski (and by HG-AAS), USDA-ARS-GFHNRL, Grand Forks, ND, USA; Jörg Feldmann and Andrea Raab (by HPLC-ICP-MS), Trace Element Speciation Laboratory, University of Aberdeen, Scotland, UK; Anitha Kunhikrishnan, Won-Il Kim, and Ji-Hyock Yoo, Dept. of Agro-Food Safety, National Institute of Agricultural Sciences, Republic of Korea; Cheryl Stephenson and Marvin Boyd, Jr., Eurofins Central Analytical Laboratories, New Orleans, LA, USA; Yong-Guan Zhu and Guo-Xin Sun, Research Center for Eco-Environmental Sciences, Chinese Academy of Sciences, Beijing, China; (by HPLC-ICP-MS) Sean Conklin, Chemical Contaminants Branch, US Food and Drug Administration, Center for Food Safety and Applied Nutrition, College Park, MD, USA; Kent Lanclos and James Krest, Technology and Science Division, USDA Grain Inspection, Packers, and Stockyards Administration, National Grain Center, Kansas City, MO, USA; and Andrew Meharg and Manus Carey, Institute for Global Food Security, Queen's University Belfast, Northern Ireland, UK.
Funding information
Funding for this research was provided by The Rice Foundation.
Compliance with ethical standards
Conflict of interest
The authors declare that they have no conflict of interest.
Copyright information
© This is a U.S. Government work and not under copyright protection in the US; foreign copyright protection may apply 2018