Simultaneous determination of amantadine and rimantadine in feed by liquid chromatography-Qtrap mass spectrometry with information-dependent acquisition
Part of the following topical collections:
Abstract
A sensitive method for simultaneous determination of amantadine and rimantadine in feed was developed using an ultra-high-performance liquid chromatography-triple quadrupole linear ion trap mass spectrometry (UHPLC-Qtrap-MS) in the multiple reaction monitoring information-dependent acquisition-enhanced product ion (MRM-IDA-EPI) mode, and employing the mixed cation exchange (MCX) solid-phase extraction column as sample cleanup and amantadine-d15 and rimantadine-d4 as internal standards, respectively. Compared to traditional MRM mode, for the targeted drugs in feed simultaneously both the secondary mass spectra and MRM information can be obtained using UHPLC-Qtrap-MS with MRM-IDA-EPI mode, and thus more accurate qualitative confirmation results achieved even at lower concentration of 0.2 μg/L in acceptable purity fit values. After optimization of sample preparation, good linearities (R > 0.9994) were obtained over the concentration range from 1 to 200 μg/L for amantadine and rimantadine. The precision was validated by intra-day and inter-day, and the relative standard deviations were all within 9.61%. Mean recoveries ranged from 76.1 to 112% at spiked concentrations of 0.5–100 μg/kg in three types of feed samples, including formula feed and complex concentrated feed for pigs and premix feed for chicken. The limits of detection (LODs) and quantification (LOQs) were 0.2 and 0.5 μg/kg for both drugs, respectively. The application in real feed samples further proved the accuracy and reliability of the developed method. This method provides an important tool to detect illegal uses of amantadine and rimantadine in feed.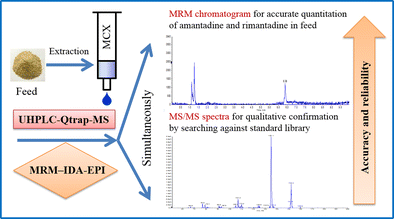 Keywords
Amantadine 
Rimantadine 
Feed 
Solid-phase extraction 
Liquid chromatography-triple Qtrap mass spectrometry 
Notes
Acknowledgements
This work was supported by Central Public-interest Scientific Institution Basal Research Fund (Nos. Y2017JC46 and 1610072016003) and the Special Fund for Agro-scientific Research in the Public Interest (201203023).
Compliance with ethical standards
Conflict of interest
The authors declare that they have no conflict of interest.
Copyright information
© Springer-Verlag GmbH Germany, part of Springer Nature 2018