Application and evaluation of a high-resolution mass spectrometry screening method for veterinary drug residues in incurred fish and imported aquaculture samples
Part of the following topical collections:
Abstract
The ability to detect chemical contaminants, including veterinary drug residues in animal products such as fish, is an important example of food safety analysis. In this paper, a liquid chromatography high-resolution mass spectrometry (LC-HRMS) screening method using a quadrupole-Orbitrap instrument was applied to the analysis of veterinary drug residues in incurred tissues from aquacultured channel catfish, rainbow trout, and Atlantic salmon and imported aquacultured products including European eel, yellow croaker, and tilapia. Compared to traditional MS methods, the use of HRMS with nontargeted data acquisition and exact mass measurement capability greatly increased the scope of compounds that could be monitored simultaneously. The fish samples were prepared for analysis using a simple efficient procedure that consisted of an acidic acetonitrile extraction followed by solid phase extraction cleanup. Two different HRMS acquisition programs were used to analyze the fish extracts. This method detected and identified veterinary drugs including quinolones, fluoroquinolones, avermectins, dyes, and aminopenicillins at residue levels in fish that had been dosed with those compounds. A metabolite of amoxicillin, amoxicillin diketone, was also found at high levels in catfish, trout, and salmon. The method was also used to characterize drug residues in imported fish. In addition to confirming findings of fluoroquinolone and sulfonamide residues that were found by traditional targeted MS methods, several new compounds including 2-amino mebendazole in eel and ofloxacin in croaker were detected and identified.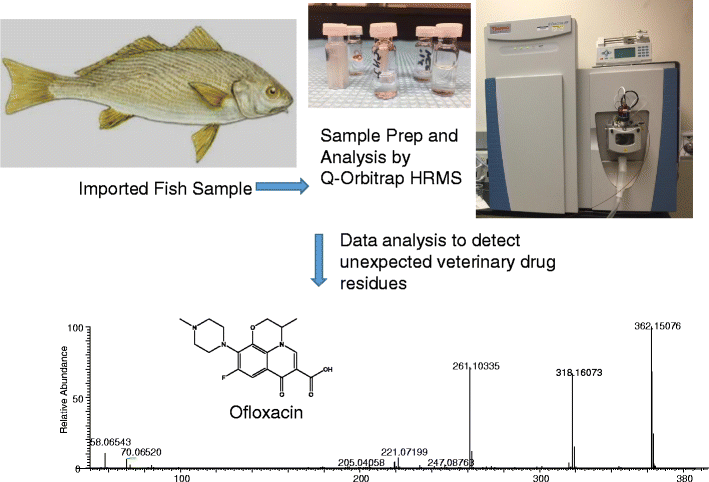 Keywords
High-resolution mass spectrometry 
Screening method 
Veterinary drug residues 
Notes
Acknowledgements
The authors would like to acknowledge chemists in the Denver Regulatory Laboratory who assisted in sample preparation and analysis, Dr. Cynthia Stine for assisting with generation of the incurred samples, as well as helpful discussions with Thermo Fisher scientists.
Compliance with ethical standards
Reference to any commercial materials, equipment, or process does not, in any way, constitute approval, endorsement, or recommendation by the U.S. Food and Drug Administration. In addition, the views expressed in this article are those of the author(s) and may not reflect the official policy of the Department of Health and Human Services, the U.S. Food and Drug Administration, or the U.S. Government.
The experimental protocol to generate the incurred samples was approved by the Animal Care and Use Committee at the FDA/CVM/OR, and all procedures were conducted in accordance with the principles stated in the Guide for the Care and Use of Laboratory Animals (2011) and the Animal Welfare Act of 1966 (P.L. 89-544), as amended.
Conflict of interest
The authors declare they have no conflict of interest.
Copyright information
© This is a U.S. Government work and not under copyright protection in the US; foreign copyright protection may apply 2018