Synthesis and purification of biotinylated oligodeoxynucleotides containing single TpT dimeric pyrimidine (6-4) pyrimidone lesion
Part of the following topical collections:
Abstract
Ultraviolet (UV) radiation could induce pyrimidine-related dimeric lesions in genomic DNA. Though the cyclobutane pyrimidine dimers (CPDs) are the most abundant UV-induced lesions, the pyrimidine (6-4) pyrimidone photoproducts (6-4PPs) may have more serious, potentially lethal, and mutagenic effects. It is important to have 6-4PP-containing oligodeoxynucleotides to be prepared for studying their adverse biological effects. Here, we developed a UV-irradiated water droplet method for the preparation of a biotinylated, 6-4PP-containing 10-mer oligodeoxynucleotide. By the use of HPLC purification and enrichment twice, the final yield is estimated to be about 8.1%. In contrast, without applying droplet technique, the direct UV irradiation against oligonucleotide-containing aqueous solution, the product yield is very low. The enzymatic hydrolyzation of the obtained product shows a 6-4PP characteristic ion transition of 545.12 → 432.13 in negative ion mode UHPLC-Q-TOF/MS. The established procedure for the preparation of 6-4PP-containing oligonucleotides is convenient with an improved yield.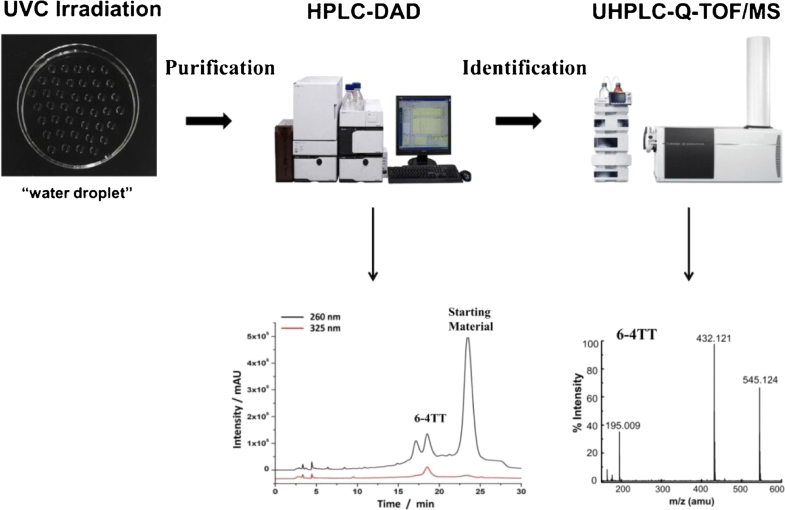 Keywords
UV irradiation 
Pyrimidine (6-4) pyrimidone (6-4PP) 
HPLC 
UHPLC-Q-TOF/MS 
Notes
Funding information
This work is supported by the National Natural Science Foundation of China (21435008, 9174321, and 21527901), Sanming Project of Medicine in Shenzhen (SZsm201811070), the Key Research Program of Frontier Sciences, CAS (QYZDJ-SSW-DQC017), and the K.C. Wong Education Foundation.
Compliance with ethical standards
Conflict of interest
The authors declare that there is no conflict of interest.
Copyright information
© Springer-Verlag GmbH Germany, part of Springer Nature 2019