Silver nanoflowers-enhanced Tb(III)/La(III) co-luminescence for the sensitive detection of dopamine
Abstract
A sensitive fluorescent analytical method for the detection of dopamine (DA) was developed based on surface-enhanced Tb(III)/La(III) co-luminescence using silver nanoflowers (AgNFs). Anisotropic AgNFs show strong surface-enhanced fluorescence effect owing to the abundant sharp tips. Tb(III)/La(III)-DA complexes mainly bind to the sharp tips of AgNFs and thus shorten the distance between the complexes. The shortened distance gives rise to obvious surface-enhanced Tb(III)/La(III) co-luminescence effect. In this work, AgNFs offer many superior properties, such as enhanced intrinsic green fluorescence of Tb(III) (λex/λem = 310/546 nm), increased fluorescence lifetime, and improved energy transfer efficiency. Under the optimum conditions, the fluorescence intensity is linearly correlated with the concentration of DA in the range of 0.80–10 nM (R2 = 0.9970), and the detection limit is 0.34 nM (S/N = 3). The fluorescent nanoprobe was successfully applied to the determination of DA in human serum samples with recoveries ranging from 99.1 to 102.6%.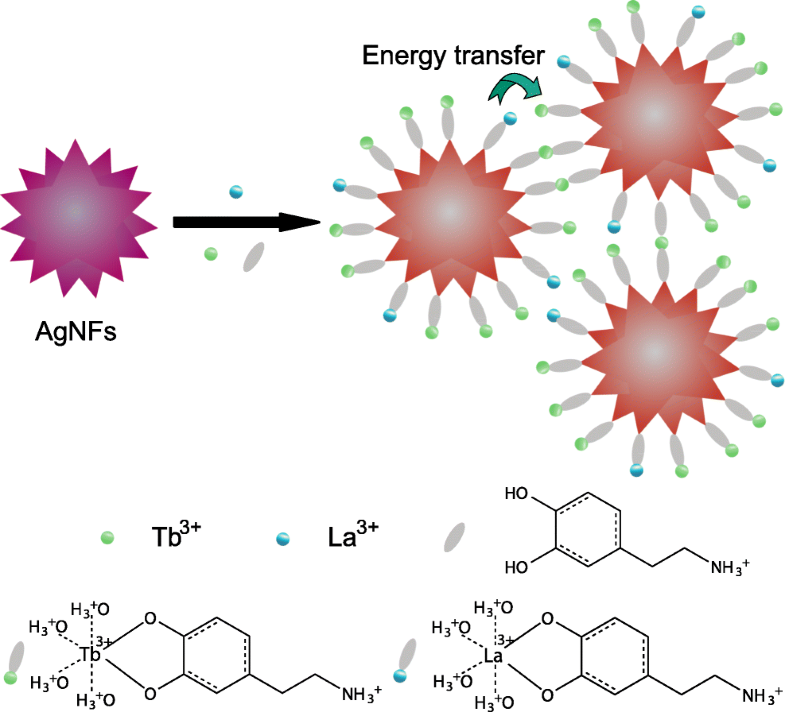 Keywords
Silver nanoflowers 
Anisotropic nanoparticles 
Surface-enhanced fluorescence 
Rare earth elements 
Co-luminescence 
Dopamine 
Notes
Funding information
This work was financially supported by National Natural Science Foundation of China (No. 21545001) and Shandong Provincial Natural Science Foundation, China (No. ZR2018MB031). The authors gratefully acknoweledge Prof. Xiaowen Che from the Second Hospital of Shandong University for her help in this work.
Compliance with ethical standards
Conflict of interest
The authors declare that they have no conflict of interest.
Ethical approval
The study was approved by the ethics committee of the Second Hospital of Shandong University and was performed in accordance with the ethical standards. Informed consent was obtained from all individual participants included in the study.
Copyright information
© Springer-Verlag GmbH Germany, part of Springer Nature 2019