Abstract
Simultaneous washing and concentration of magnetic microparticles was demonstrated using a rotational magnetic system under a continuous-flow condition. The rotation of periodically arranged permanent magnets close to a fluidic channel carrying a suspension of magnetic particles allows the trapping and releasing of particles along the fluidic channel in a periodic manner. Each trapping and releasing event resembles one washing cycle in conventional biological assays. Concentration efficiencies of 99.75 ± 0.083% at a flow rate of 200 µl/min and 88.10 ± 3.17% at a flow rate of 1,000 µl/min and a purification efficiency of 99.10 ± 4.3% at a flow rate of 900 µl/min were achieved.
This is a preview of subscription content, log in to check access.
Access options
Buy single article
Instant unlimited access to the full article PDF.
US$ 39.95
Price includes VAT for USA
Subscribe to journal
Immediate online access to all issues from 2019. Subscription will auto renew annually.
US$ 157
This is the net price. Taxes to be calculated in checkout.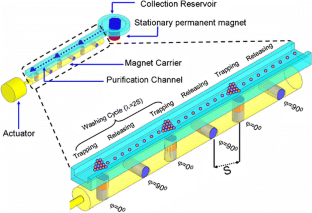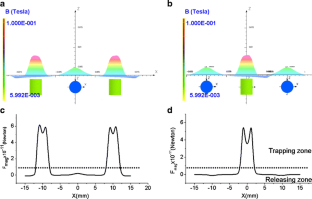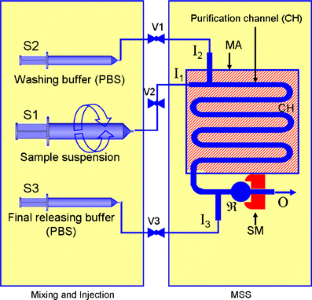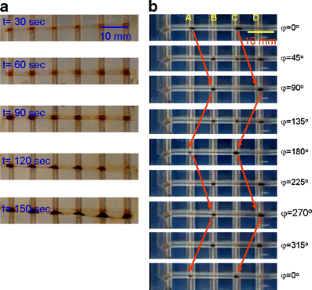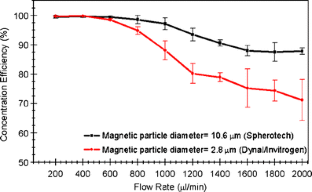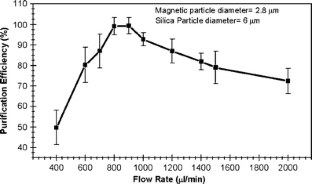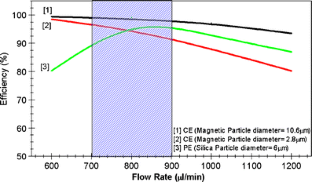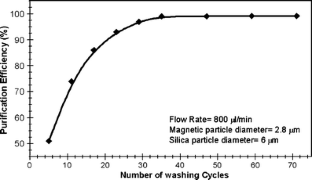 References
1.

Gijs MAM (2004) Microfluid Nanofluid 1:22–40

2.

Nicole P (2006) Lab Chip 6:24–38

3.

Yavuz CT, Prakash A, Mayo JT, Colvin V (2009) Chem Eng Sci 64:2510–2521

4.

Invitrogen (2008) Dynabeads® CD4. http://tools.invitrogen.com/content/sfs/manuals/111.45_Dynabeads%20CD4.(rev003).pdf

5.

Carpino F, Moore LR, Zborowski M, Chalmers J, Williams S (2005) J Magn Magn Mater 293:546–552

6.

Augusto PA, Grande TC, Augusto P (2005) Chem Eng J 111:85–90

7.

Rotariu O, Ogden ID, MacRae M, Udrea LE, Strachan NJC (2005) Phys Med Biol 50:2967–2977

8.

Barbic M, Mock JJ, Gray AP, Schultz S (2001) Appl Phys Lett 79:1399–1401

9.

Inglis D, Riehn R, Austin RH (2004) Appl Phys Lett 85:5093–5095

10.

Lee H, Purdon AM, Westervelt RM (2004) Appl Phys Lett 85:1063–1065

11.

Ramadan Q, Samper V, Poenar DP, Chen Y (2006) J Microelectromech Syst 15:624–638

12.

Sinha A, Ganguly R, Puri K (2009) J Magn Magn Mater 321:2251–2256

13.

Rida A, Fernandez V, Gijs MAM (2003) Appl Phys Lett 83:2396–2398

14.

Ramadan Q, Samper V, Chen Y, Poenar DP (2006) Appl Phys Lett 88:032501–032503

15.

Hatch GP, Stelter RE (2001) J Magn Magn Mater 225:262–276

16.

Zborowski M, Chalmers JJ, Williams PS (2005) In: Cazes J (ed) Encyclopedia of chromatography. CRC, Boca Raton

17.

Deng T, Prentiss M, Whitesides GM (2002) Appl Phys Lett 80:461–463

18.

Ritter JA, Ebner AD, Daniel KD, Stewart KL (2004) J Magn Magn Mater 280:184–201
Acknowledgements
This research was supported by A star-Exploit Technologies (ETPL) under Flagship grant no. F07/E/013. The authors thank ETPL and the Institute of Microelectronics for their support.
About this article
Cite this article
Ramadan, Q., Lau, T.T. & Ho, S.B. Magnetic-based purification system with simultaneous sample washing and concentration. Anal Bioanal Chem 396, 707–714 (2010) doi:10.1007/s00216-009-3276-9
Received:

Revised:

Accepted:

Published:

Issue Date:
Keywords
Continuous flow

Washing

Separation

Magnetic particles