This is a preview of subscription content, log in to check access.
Access options
Buy single article
Instant unlimited access to the full article PDF.
US$ 39.95
Price includes VAT for USA
Subscribe to journal
Immediate online access to all issues from 2019. Subscription will auto renew annually.
US$ 157
This is the net price. Taxes to be calculated in checkout.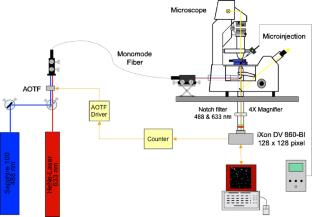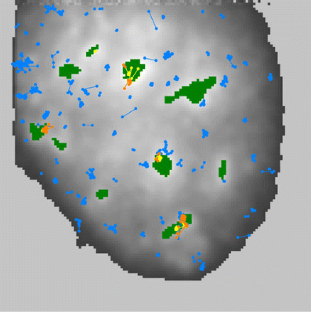 References
1.

Sako Y, Yanagida T (2003) Nat Cell Biol Ss1–Ss5

2.

Tinnefeld P, Sauer M (2005) Angew Chem Int Ed Engl 44:2642–2671

3.

Kues T, Peters R, Kubitscheck U (2001) Biophys J 80:2954–2967

4.

Michalet X, Pinaud FF, Bentolila LA, Tsay JM, Doose S, Li JJ, Sundaresan G, Wu AM, Gambhir SS, Weiss S (2005) Science 307:538–544

5.

Harms GS, Cognet L, Lommerse PH, Blab GA, Schmidt T (2001) Biophys J 80:2396–2408

6.

Steinmeyer R, Noskov A, Krasel C, Weber I, Dees C, Harms GS (2005) J Fluoresc 15:707–721

7.

Thompson RE, Larson DR, Webb WW (2002) Biophys J 82:2775–2783

8.

Sage D, Neumann FR, Hediger F, Gasser SM, Unser M (2005) IEEE Trans Image Process 14:1372–1383

9.

Bausinger R, von Gersdorff K, Braeckmans K, Ogris M, Wagner E, Brauchle C, Zumbusch A (2006) Angew Chem Int Ed Engl 45:1568–1572

10.

Saxton MJ, Jacobson K (1997) Ann Rev Biophys Biomol Struct 26:373–399

11.

Shav-Tal Y, Darzacq X, Shenoy SM, Fusco D, Janicki SM, Spector DL, Singer RH (2004) Science 304:1797–1800

12.

Kubitscheck U, Grunwald D, Hoekstra A, Rohleder D, Kues T, Siebrasse JP, Peters R (2005) J Cell Biol 168:233–243

13.

Goulian M, Simon SM (2000) Biophys J 79:2188–2198

14.

Grunwald D, Spottke B, Buschmann V, Kubitscheck U (2006) Mol Biol Cell (in press)
Acknowledgements
U.K. gratefully acknowledges financial support by the Volkswagen Foundation (Grant I/78852) and the German Research Foundation (Grant Ku 1507/1-2).
Electronic supplementary material
Below is the link to the electronic supplementary material.
Single U1 snRNPs diffusing and binding within a living HeLa cell nucleus. Left hand side original but contrast-enhanced data. Right hand side movie data was filtered using a spot-enhancing filter (3-pixel diameter, see ref. [8]) to improve U1 snRNP visibility. The movie was recorded at 200 Hz, the total object field corresponded to an area of 12.2×12.2 μm2 (AVI 3.78 mb)
Single U1 snRNPs diffusing and binding within a living HeLa cell nucleus. Left hand side original but contrast-enhanced data. Right hand side movie data was filtered using a spot-enhancing filter (3-pixel diameter, see ref. [8]) to improve U1 snRNP visibility. The movie was recorded at 200 Hz, the total object field corresponded to an area of 12.2×12.2 μm2 (AVI 3.78 mb)
About this article
Cite this article
Siebrasse, J.P., Grünwald, D. & Kubitscheck, U. Single-molecule tracking in eukaryotic cell nuclei. Anal Bioanal Chem 387, 41–44 (2007). https://doi.org/10.1007/s00216-006-0763-0
Received:

Revised:

Accepted:

Published:

Issue Date:
Keywords
Splice Factor

Fluorescence Correlation Spectroscopy

Supramolecular Complex

Single Fluorescent Molecule

Small Nuclear Ribonucleoprotein Particle