Abstract
Borometallic molecular wheel is a special class of clusters with a planar ring of boron atoms surrounding a transition metal center, and its distinctive geometry and atypical electronic structure make this class of clusters an interesting target for theoretical analysis. Previous adaptive natural density partitioning analyses have provided a bonding picture for them. In this work, we take a slightly different perspective on their bonding, by considering such clusters as coordination complexes. We find that these clusters can be understood through a simple modular bonding picture, which could be applied to a number of related complexes/clusters.
This is a preview of subscription content, log in to check access.
Access options
Buy single article
Instant unlimited access to the full article PDF.
US$ 39.95
Price includes VAT for USA
Subscribe to journal
Immediate online access to all issues from 2019. Subscription will auto renew annually.
US$ 199
This is the net price. Taxes to be calculated in checkout.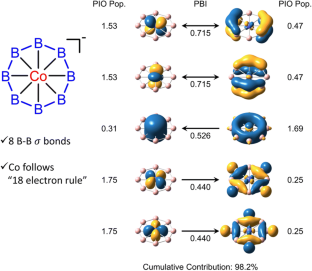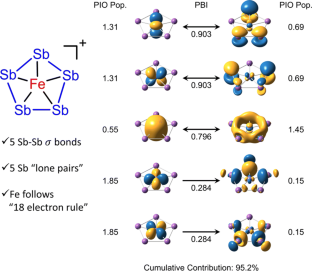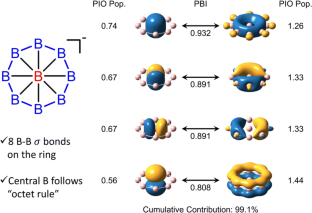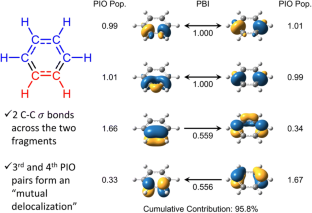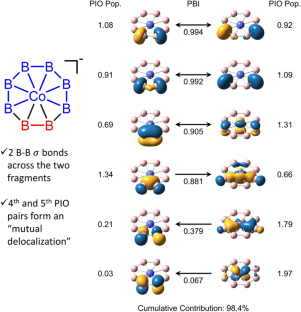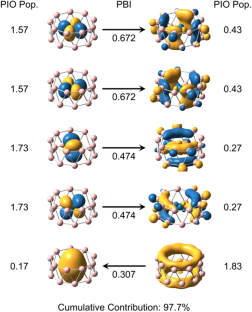 References
1.

Wade K (1971) The structural significance of the number of skeletal bonding electron-pairs in carboranes, the higher boranes and borane anions, and various transition-metal carbonyl cluster compounds. J Chem Soc Chem Commun. https://doi.org/10.1039/C29710000792

2.

Welch AJ (2013) The significance and impact of Wade's rules. Chem Commun 49:3615. https://doi.org/10.1039/c3cc00069a

3.

Mingos DMP (1984) Polyhedral skeletal electron pair approach. Acc Chem Res 17:311–319. https://doi.org/10.1021/ar00105a003

4.

Mingos DMP, Wales DJ (1990) Introduction to cluster chemistry. Prentice Hall, Upper Saddle River

5.

Amgoune A, Bourissou D (2010) σ-Acceptor, Z-type ligands for transition metals. Chem Commun 47:859–871. https://doi.org/10.1039/C0CC04109B

6.

Romanescu C, Galeev TR, Li W-L et al (2013) Transition-metal-centered monocyclic boron wheel clusters (M©Bn): a new class of aromatic borometallic compounds. Acc Chem Res 46:350–358. https://doi.org/10.1021/ar300149a

7.

Li W-L, Chen X, Jian T et al (2017) From planar boron clusters to borophenes and metalloborophenes. Nat Rev Chem 1:0071. https://doi.org/10.1038/s41570-017-0071

8.

Boldyrev AI, Wang L-S (2016) Beyond organic chemistry: aromaticity in atomic clusters. Phys Chem Chem Phys 18:11589–11605. https://doi.org/10.1039/C5CP07465G

9.

Zubarev DY, Boldyrev AI (2008) Developing paradigms of chemical bonding: adaptive natural density partitioning. Phys Chem Chem Phys 10:5207–5217. https://doi.org/10.1039/B804083D

10.

Tkachenko NV, Boldyrev AI (2019) Chemical bonding analysis of excited states using the adaptive natural density partitioning method. Phys Chem Chem Phys 21:9590–9596. https://doi.org/10.1039/C9CP00379G

11.

Zhang J-X, Sheong FK, Lin Z (2018) Unravelling chemical interactions with principal interacting orbital analysis. Chem Eur J 24:9639–9650. https://doi.org/10.1002/chem.201801220

12.

Frisch MJ, Trucks GW, Schlegel HB et al. Gaussian~09 Revision D.01

13.

Adamo C, Barone V (1999) Toward reliable density functional methods without adjustable parameters: the PBE0 model. J Chem Phys 110:6158–6170. https://doi.org/10.1063/1.478522

14.

Weigend F, Ahlrichs R (2005) Balanced basis sets of split valence, triple zeta valence and quadruple zeta valence quality for H to Rn: design and assessment of accuracy. Phys Chem Chem Phys 7:3297–3305. https://doi.org/10.1039/B508541A

15.

Glendening ED, Landis CR, Weinhold F (2013) NBO 6.0: natural bond orbital analysis program. J Comput Chem 34:1429–1437. https://doi.org/10.1002/jcc.23266

16.

Luo Q (2008) Boron rings containing planar octa-and enneacoordinate cobalt, iron and nickel metal elements. Sci China Ser B Chem 51:607–613. https://doi.org/10.1007/s11426-008-0073-9

17.

Ito K, Pu Z, Li Q-S, von Schleyer P (2008) Cyclic boron clusters enclosing planar hypercoordinate cobalt, iron, and nickel. Inorg Chem 47:10906–10910. https://doi.org/10.1021/ic800993b

18.

Romanescu C, Galeev TR, Li W-L et al (2011) Aromatic metal-centered monocyclic boron rings: Co©B8 − and Ru©B9 −. Angew Chem Int Ed 50:9334–9337. https://doi.org/10.1002/anie.201104166

19.

Li W-L, Romanescu C, Galeev TR et al (2012) Transition-metal-centered nine-membered boron rings: MⓒB9 and MⓒB9 – (M = Rh, Ir). J Am Chem Soc 134:165–168. https://doi.org/10.1021/ja209808k

20.

Lein M, Frunzke J, Frenking G (2003) A novel class of aromatic compounds: metal-centered planar cations [Fe(Sb5)]+ and [Fe(Bi5)]+. Angew Chem Int Ed 42:1303–1306. https://doi.org/10.1002/anie.200390336

21.

Zhai H-J, Alexandrova AN, Birch KA et al (2003) Hepta- and octacoordinate boron in molecular wheels of eight- and nine-atom boron clusters: observation and confirmation. Angew Chem Int Ed 42:6004–6008. https://doi.org/10.1002/anie.200351874

22.

Jian T, Li W-L, Chen X et al (2016) Competition between drum and quasi-planar structures in RhB18 −: motifs for metallo-boronanotubes and metallo-borophenes. Chem Sci 7:7020–7027. https://doi.org/10.1039/C6SC02623K
Acknowledgements
This work was supported by the Research Grants Council of Hong Kong (HKUST 16305119 and 16304017).
Additional information
Publisher's Note
Springer Nature remains neutral with regard to jurisdictional claims in published maps and institutional affiliations.
Published as part of the special collection of articles derived from the Chemical Concepts from Theory and Computation.
Electronic supplementary material
Below is the link to the electronic supplementary material.
About this article
Cite this article
Sheong, F.K., Zhang, J. & Lin, Z. Modular bonding picture for aromatic borometallic molecular wheels. Theor Chem Acc 139, 14 (2020) doi:10.1007/s00214-019-2536-9
Received:

Accepted:

Published:
Keywords
Aromaticity

Bonding model

Borometallic molecular wheels

Boron clusters

Principal interacting orbital analysis