Abstract
Structural, electronic and magnetic properties of the neutral and ionic Nin−1X (X = C, Si, Ge, Sn, Pb; n = 19–23) clusters have been investigated using the density functional theory calculations with the PBE exchange–correlation energy functional. The calculations have shown that for the most stable structures of all Nin−1X clusters, only Si atom prefers to locate in the center position, while for the other atoms, the impurity usually adopts the surface position. Based on the most stable Nin−1X clusters, the properties including binding energy per atom, embedding energy, charge transfer, ionization potentials, electron affinities and especially magnetic properties have been discussed.
This is a preview of subscription content, log in to check access.
Access options
Buy single article
Instant access to the full article PDF.
US$ 39.95
Price includes VAT for USA
Subscribe to journal
Immediate online access to all issues from 2019. Subscription will auto renew annually.
US$ 199
This is the net price. Taxes to be calculated in checkout.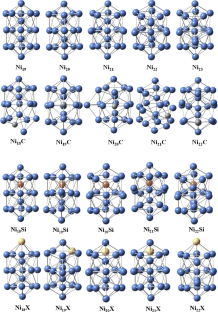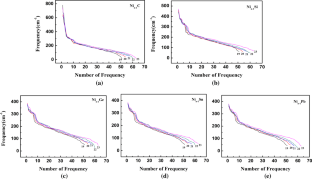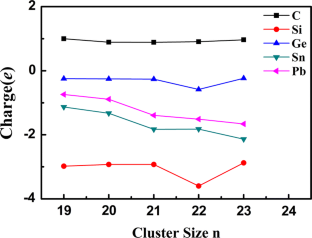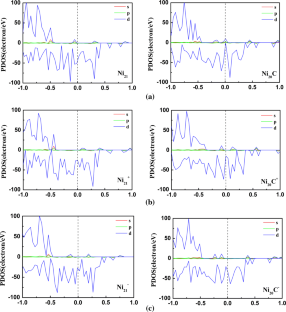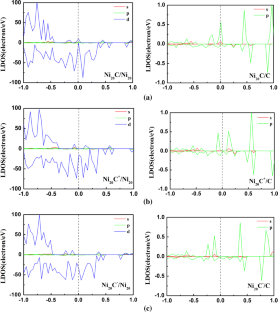 References
1.

Ortiz-Roldan JM, Ruiz-Salvador AR, Calero S, Montero-Chacon F, Garcia-Perez E, Segurado J, Martin-Bragado I, Hamad S (2015) Phys Chem Chem Phys 17:15912

2.

Nady H, Negem HM (2017) Z Phys Chem 231:1159

3.

Li X, Wang XX, Liu MC, Liu HY, Chen Q, Yin YD, Jin MS (2018) Nano Res 11:780

4.

Teeriniemi J, Taskinen P, Laasonen K (2015) Intermetallics 57:41

5.

Negem M, Nady H (2017) Int J Hydrogen Energy 42:28386

6.

Datta S, Raychaudhuri AK, Saha-Dasgupta T (2017) J Chem Phys 146:164301

7.

Zhu B, Die D, Li RC, Lan H, Zheng BX, Li ZQ (2017) J Alloy Compd 696:402

8.

Mukhtar A, Tun M, Hu H, Liu LP, Mehmood T, Khan BS (2018) J Nanosci Nanotechno 18:1296

9.

Wu LS, Dai HB, Wen XP, Wang P (2017) Chemelectrochem 4:1944

10.

Li S, Yang YP, Huang SP (2017) Comput. Theor Chem 1107:94

11.

Wang BR, Han HY, Xie Z (2014) J Mol Struct 1062:174

12.

Singh RK, Iwasa T, Taketsugu T (2018) J Comput Chem 39:1878

13.

Aguilera-Granja F, Longo RC, Gallego LJ, Vega A (2010) J Chem Phys 132:184507

14.

Rey C, Alemany MMG, Diéguez O, Gallego LJ (2010) Phys Rev B 62:12640

15.

Bandyopadhyay D, Sen P (2010) J Phys Chem A 114:1835

16.

Feng CJ, Cai LL (2014) Comput Theor Chem 1042:57

17.

Li S, Ren JC, Ao ZM, Liu W (2018) Chem Phys Lett 706:202

18.

Myung JH, Kim SD, Shin TH, Lee D, Irvine JTS, Moon J, Hyun SH (2015) J Mater Chem A 3:13801

19.

El Maalam K, Ben Ali M, El Moussaoui H, Mounkachi O, Hamedoun M, Masrour R, Hlil EK, Benyoussef A (2015) J Alloy Compd 622:761

20.

Schoendorff G, Morris AR, Hu ED, Wilson AKA (2015) J Phys Chem A 119:9630

21.

Lin X, Ni J (2012) Phys Rev B 86:075440

22.

Sahin H, Peeters FM (2013) Phys Rev B 87:125415

23.

Johll H, Lee MD, Ng SP, Kang HC, Tok ES (2014) Sci Rep 4:7594

24.

Manjanath A, Kumar V, Singh AK (2014) Phys Chem Chem Phys 16:1667

25.

Roy G, Chattopadhyay AP (2019) N J Chem 43:11363

26.

Gao ZY, Li A, Liu XS, Ma CZ, Li X, Yang WJ, Ding XL (2019) Appl Surf Sci 481:940

27.

Boulbazine M, Boudjahem AG, Bettahar M (2017) Mol Phys 115:2495

28.

Sun HQ, Xu N (2017) J Phys Chem Solids 99:92

29.

Wen JQ, Zhang JM, Chen GX, Mang CJ, Wen ZY (2016) Comput Theor Chem 1088:44

30.

Yu SQ, Ye HN (2016) Adv Mater 10:437

31.

Ma ZW, Li BX (2015) Comput Theor Chem 1068:88

32.

Song W, Wang B, Wang JL, Fu L, Pu CY, Xu XM, Zhu YS, He CZ, Li GQ (2017) J Clust Sci 28:2575

33.

Song W, Fu Z, Liu TH, Wang JL, Wang B, Zhang W, Yuan Y (2019) J Clust Sci 30:131

34.

Song W, Kuang T, Fu Z, Wang JL, Zhang W, Ma PF (2019) Comput Theor Chem 1152:32

35.

Song W, Fu Z, Wang JL, Zhang W (2019) J Mol Struct 1197:147

36.

Kresse G, Hafner J (1993) Phys Rev B 47:558

37.

Kresse G, Furthmuller J (1996) Phys Rev B 54:11169

38.

Blochl PE (1994) Phys Rev B 50:17953

39.

Perdew JP, Burke K, Ernzerhof M (1996) Phys Rev Lett 77:3865

40.

Song W, Lu WC, Zang QJ, Wang CZ, Ho KM (2012) Int J Quantum Chem 112:1717

41.

Abreu MB, Reber AC, Khanna SN (2014) J Phys Chem Lett 5:3492

42.

Trivedi R, Dhaka K, Bandyopadhyay D (2014) RSC Adv 4:64825
Acknowledgements
The authors thank National Natural Science Foundation of China for financial support (Grant Nos: 11705157 and 21673220). This work is also supported by Natural Science Foundation of He'nan Department of Education (Grant No: 18B430012) and the ninth group of key disciplines in He'nan province (Grant No. 2018119). We are grateful to Computing Center of Jilin Province for essential support.
Ethics declarations
Conflict of interest
The authors declared that they have no conflicts of interest in this work.
Additional information
Publisher's Note
Springer Nature remains neutral with regard to jurisdictional claims in published maps and institutional affiliations.
Electronic supplementary material
Below is the link to the electronic supplementary material.
About this article
Cite this article
Song, W., Ma, P., Fu, Z. et al. First-principles study of medium-scale X-atoms-doped nickel clusters Nin−1X (X = C, Si, Ge, Sn, Pb; n = 19–23). Theor Chem Acc 139, 28 (2020). https://doi.org/10.1007/s00214-019-2533-z
Received:

Accepted:

Published:
Keywords
Density functional theory

Magnetic moment

Charge transfer

Electronic property

Stability