Abstract
Rationale
In order to understand mechanisms underlying tolerance and dependence following chronic benzodiazepine treatments, quantitative and reproducible behavioral models of these phenomena are required.
Objectives
This research evaluated the ability of chronic treatment with a commonly prescribed benzodiazepine, alprazolam, to induce tolerance to sedative effects and physical dependence using a novel set of behavioral measurements in rhesus monkeys.
Methods
Four female rhesus monkeys (Macaca mulatta) were implanted with chronic intravenous catheters and administered i.v. alprazolam (1.0 mg/kg every 4 h, 38 days total). Quantitative observation measures were obtained during the 38 days of treatment. Acute administration of the benzodiazepine receptor antagonist flumazenil (0.1, 0.3 mg/kg, i.v.) was given to assess precipitated withdrawal. On day 39, saline was substituted for alprazolam and withdrawal signs were assessed for 7 days.
Results
Maximal sedation ("deep sedation") was evident on day 1 but was not significantly different from baseline levels by day 4 and was absent for the remainder of the 38 days of treatment. A milder form of sedation, "rest/sleep posture," emerged by day 3 and did not decline over 38 days. Cessation of alprazolam treatment resulted in significant withdrawal signs (nose rub, vomit, procumbent posture, tremor/jerk, rigid posture) that dissipated by day 3. These signs also were observed with flumazenil (0.3 mg/kg).
Conclusions
Chronic alprazolam treatment resulted in rapid tolerance to some behaviors (e.g., deep sedation) but no tolerance to others (e.g., rest/sleep posture). Physical dependence was observed via both spontaneous and precipitated withdrawal. Based on previous research, these phenomena may reflect differential plasticity at GABAA receptor subtypes.
This is a preview of subscription content, log in to check access.
We're sorry, something doesn't seem to be working properly.
Please try refreshing the page. If that doesn't work, please contact support so we can address the problem.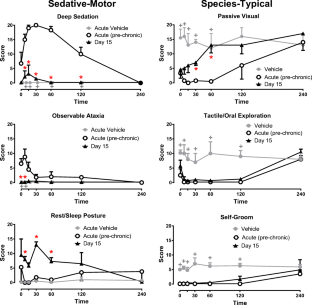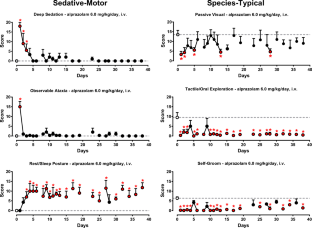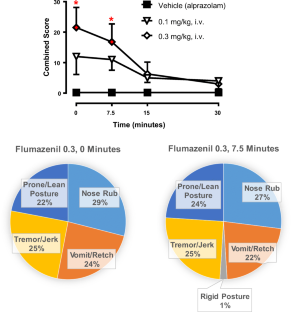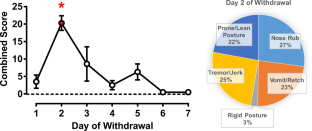 References
Airagnes G, Pelissolo A, Lavallée M, Flament M, Limosin F (2016) Benzodiazepine misuse in the elderly: risk factors, consequences, and management. Curr Psychiatry Rep 89:89. https://doi.org/10.1007/s11920-016-0727-9

Ator NA, Atack JR, Hargreaves RJ, Burns HD, Dawson GR (2010) Reducing abuse liability of GABAA/benzodiazepine ligands via selective partial agonist efficacy at α1 and α2/3 subtypes. J Pharmacol Exp Ther 332:4–16

Behlke LM, Foster RA, Liu J, Benke D, Benham RS, Nathanson AJ, Yee BK, Zeilhofer HU, Engin E, Rudolph U (2016) A pharmacogenetic 'restriction-of-function' approach reveals evidence for anxiolytic-like actions mediated by α5-containing GABAA receptors in mice. Neuropsychopharmacology 41:2492–2501

Cowley DS, Roy-Burne PP, Radant A, Ritchie JC, Greenblatt DJ, Nemeroff CB, Hommer DW (1995) Benzodiazepine sensitivity in panic disorder: effects of chronic alprazolam treatment. Neuropsychopharmacology 12:147–157

Duke AN, Meng Z, Platt DM, Atack JR, Dawson GR, Reynolds DS, Tiruveedhula VVNPB, Li G, Stephen MR, Sieghart W, Cook JM, Rowlett JK (2018) Evidence that sedative effects of benzodiazepines involve unexpected GABAA receptor subtypes: quantitative observation studies in rhesus monkeys. J Pharmacol Exp Ther 366:145–157

Fernandes C, File SE, Berry D (1996) Evidence against oppositional and pharmacokinetic mechanisms of tolerance to diazepam's sedative effects. Brain Res 734:236–242

Ferreri MC, Gutierrez ML, Gravielle MC (2015) Tolerance to the sedative and anxiolytic effects of diazepam is associated with different alterations of GABAA receptors in rat cerebral cortex. Neuroscience 310:152–162

Fischer BD, Teixeira LP, van Linn ML, Namjoshi OA, Cook JM, Rowlett JK (2013) Role of gamma-aminobutyric acid type A (GABAA) receptor subtypes in acute benzodiazepine physical dependence-like effects: evidence from squirrel monkeys responding under a schedule of food presentation. Psychopharmacology 227:347–354

Gravielle MC (2016) Activation-induced regulation of GABAA receptors: is there a link with the molecular basis of benzodiazepine tolerance? Pharmacol Res 109:92–100

Greenblatt DJ, Javaid JI, Lockniskar A, Harmatz JS, Shader RI (1990) Gas chromatographic analysis of alprazolam in plasma: replicability, stability and specificity. J Chromatogr 534:202–207

Griffiths RR, Weerts EM (1997) Benzodiazepine self-administration in humans and laboratory animals – implications for problems of long-term use and abuse. Psychopharmacology 134:1–37

Lamb RJ, Griffiths RR (1984) Precipitated and spontaneous withdrawal in baboons after chronic dosing with lorazepam and CGS 9896. Drug Alcohol Depend 14:11–17

Licata SC, Rowlett JK (2008) Abuse and dependence liability of benzodiazepine-type drugs: GABAA receptor modulation and beyond. Pharmacol Biochem Behav 90:74–89

Lukas SE, Griffiths RR (1982) Precipitated withdrawal by a benzodiazepine receptor antagonist (Ro 15-1788) after 7 days of diazepam. Science 217:1161–1163

Meng Z, Berro LF, Sawyer EK, Rüedi-Bettschen D, Cook JE, Li G, Platt DM, Cook JM, Rowlett JK (2019) Evaluation of the anti-conflict, reinforcing, and sedative effects of YT-III-31, a ligand functionally selective for α3 subunit-containing GABAA receptors. J Psychopharmacol in press, available online. https://doi.org/10.1177/0269881119882803

Mirza NO, Nielsen EØ (2006) Do subtype-selective γ-aminobutyric acidA receptor modulators have a reduced propensity to induce physical dependence in mice? J Pharmacol Exp Ther 316:1378–1385

O'Brien CP (2005) Benzodiazepine use, abuse, and dependence. J Clin Psychiatry 66(Suppl 2):28–33

Platt DM, Carey G, Spealman RD (2011) Models of neurological disease (substance abuse): self-administration in monkeys. Curr Protoc Pharmacol 56:10.5.1–10.5.17

Skolnick P (2012) Anxioselective anxiolytics: on a quest for the holy grail. Trends Pharmacol Sci 33:611–620

Spealman RD (1986) Disruption of schedule-controlled behavior by Ro 15-1788 one day after acute treatment with benzodiazepines. Psychopharmacology 88:398–400

Substance Abuse and Mental Health Services Administration (2013) Drug abuse warning network, 2011: national estimates of drug-related emergency department visits. HHS Publication No. (SMA) 13-4760, DAWN Series D-39. Rockville, MD: Substance Abuse and Mental Health Services Administration

van Rijnsoever C, Tauber M, Choulli MK, Keist R, Rudolph U, Möhler H, Fritschy JM, Crestani F (2004) Requirement of α5-GABAA receptors for the development of tolerance to the sedative action of diazepam in mice. J Neurosci 24:6785–6790

Vinkers CH, van Oorschot R, Nielsen EO, Cook JM, Hansen HH, Groenink L, Olivier B, Mirza NR (2012) GABAA receptor a subunits differentially contribute to diazepam tolerance after chronic treatment. PLoS One 7:e43054

Wafford KA (2005) GABAA receptor subtypes: any clues to the mechanism of benzodiazepine dependence? Curr Opin Pharmacol 5:47–52

Weerts EM, Ator NA, Grech DM, Griffiths RR (1998) Zolpidem physical dependence assessed across increasing doses under a once-daily dosing regimen in baboons. J Pharmacol Exp Ther 285:41–53

Weerts EM, Ator NA, Kaminski BJ, Griffiths RR (2005) Comparison of the behavioral effects of bretazenil and flumazenil in triazolam-dependent and non-dependent baboons. Eur J Pharmacol 519:103–113

Yanagita T, Takahashi S (1973) Dependence liability of several sedative-hypnotic agents evaluated in monkeys. J Pharmacol Exp Ther 185:307–316
Ethics declarations
Research protocols were approved by the Institutional Animal Care and Use Committee at Harvard Medical School.
Conflict of interest
The authors declare that they have no conflict of interest.
Additional information
Publisher's note
Springer Nature remains neutral with regard to jurisdictional claims in published maps and institutional affiliations.
About this article
Cite this article
Duke, A.N., Platt, D.M. & Rowlett, J.K. Tolerance and dependence following chronic alprazolam treatment: quantitative observation studies in female rhesus monkeys. Psychopharmacology (2020). https://doi.org/10.1007/s00213-019-05447-1
Received:

Accepted:

Published:
Keywords
Benzodiazepine

Tolerance

Dependence

Alprazolam

Primate

Sedation