Abstract
Polycystic ovarian syndrome (PCOS) is a complex endocrine disease among women of reproductive age and is one of the main causes of infertility. Non-alcoholic fatty liver disease (NAFLD), the most prominent chronic liver disease in adults, is characterized by excess hepatic triglyceride (TG) accumulation. PCOS women have increased risk of NAFLD and uric acid has been documented to have a positive correlation with subclinical tissue damage and might be the link in the cystic. Spironolactone (SPL) is a mineralocorticoid receptor (MR) blocker that has been in wide clinical use for some decades. In this research, we investigated the effects of SPL on ovarian and hepatic tissue damage in experimental PCOS rats induced by letrozole (LET). A total of eighteen adult female Wistar rats were used for this study and the animals divided into 3 groups are treated with vehicle, LET (1 mg/kg), and LET+SPL (SPL; 0.25 mg/kg), p.o. once daily respectively for 21 uninterrupted days. Results showed that LET treatment induced features of PCOS characterized by increased plasma testosterone (T) and luteinizing hormone (LH) together with increased body weight. Abnormal ovarian and hepatic histomorphological changes were also observed with elevated uric acid (UA) and TG accumulation in both tissues respectively. Treatment with SPL however attenuated the elevated testosterone in the LET-induced PCOS model accompanied with a reversal in the observed ovarian and hepatic UA, TG accumulation, and altered histomorphological changes. Taken together, spironolactone reversed the PCOS-induced ovarian and hepatic tissue damage by suppressing tissue UA and TG accumulation.
This is a preview of subscription content, log in to check access.
Access options
Buy single article
Instant unlimited access to the full article PDF.
US$ 39.95
Price includes VAT for USA
Subscribe to journal
Immediate online access to all issues from 2019. Subscription will auto renew annually.
US$ 199
This is the net price. Taxes to be calculated in checkout.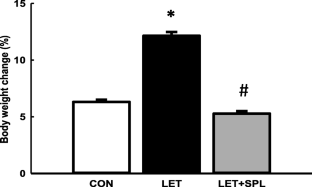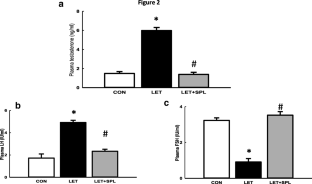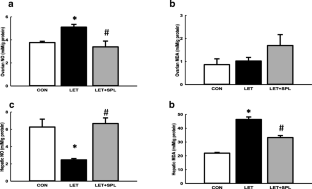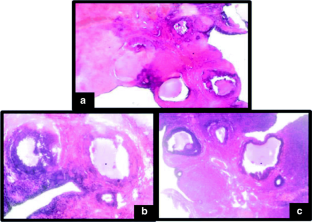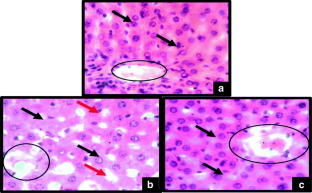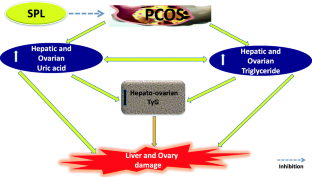 References
Abbott DH, Bacha F (2013) Ontogeny of polycystic ovary syndrome and insulin resistance in utero and early childhood. Fertil Steril 100:2–11

Abdulghani M, Hussin AH, Sulaiman SA, Chan KL (2012) The ameliorative effects of Eurycoma longifolia Jack on testosterone-induced reproductive disorders in female rats. Reprod Biol 12:247–255

Adeyanju OA, Michael OS, Soladoye AO, Olatunji LA (2018) Blockade of mineralocorticoid receptor ameliorates oral contraceptive-induced insulin resistance by suppressing elevated uric acid and glycogen synthase kinase-3 instead of circulating mineralocorticoid. Arch Phyiol Biochem:1–10. https://doi.org/10.1080/13813455.2018.1509220

Adel H, Taye A, Khalifa MM (2014) Spironolactone improves endothelial dysfunction in streptozotocin-induced diabetic rats. Naunyn Schmiedebergs Arch Pharmacol 387(12):1187–1197

Adiels M, Westerbacka J, Soro-Paavonen A, Hakkinen AM, Vehkavaara S, Caslake MJ et al (2007) Acute suppression of VLDL1 secretion rate by insulin is associated with hepatic fat content and insulin resistance. Diabetologia 50:2356–2365

Aghaie F, Khazali H, Hedayati M, Akbarnejad A (2018) The effects of exercise on expression of CYP19 and StAR mRNA in steroid induced polycystic ovaries of female rats. Int J Fertil Steril 11:298–303

Amato MC, Vesco R, Vigneri E, Ciresi A, Giordano C (2015) Hyperinsulinism and polycystic ovary syndrome (PCOS): rol eof insulin clearance. J Endocrinol Investig 38:1319–1326. https://doi.org/10.1007/s40618-015-0372-x

Anderson AD, Solorzano CM, McCartney CR (2014) Childhood obesity and its impact on the development of adolescent PCOS. Semin Reprod Med 32:202–213

Andrisse S, Billings K, Xue P, Wu S (2018) Insulin signaling displayed a differential tissue-specific response to low-dose dihydrotestosterone in female mice. American Journal of Physiology-Endocrinology and Metabolism 314(4):E353–E365

Armanini D, Andrisani A, Bordin L, Sabbadin C (2016) Spironolactone in the treatment of polycystic ovary syndrome. Expert Opin Pharmacother:1713–1715

Azziz R, Carmina E, Chen Z, Dunaif A, Laven JS, Legro RS, Lizneva D, Natterson-Horowtiz B, Teede HJ, Yildiz BO (2016) Polycystic ovary syndrome. Nat Rev Dis Prim 2:16057. https://doi.org/10.1038/nrdp.2016.57

Babio N, Martinez-Gonzalez MA, Estruch R et al (2015) Associations between serum uric acid concentrations and metabolic syndrome and its components in the PREDIMED study. Nutr Metab Cardiovasc Dis 25:173–180

Balen AH, Tan SL, Jacobs HS (1993) Hypersecretion of luteinising hormone: a significant cause of infertility and miscarriage. Br J Obstet Gynaecol 100:1082–1089

Bedogni G, Miglioli L, Masutti F, Tiribelli C, Marchesini G, Bellentani S (2005) Prevalence of and risk factors for non-alcoholic fatty liver disease: the Dionysos nutrition and liver study. Hepatology 42:44–52

Boomsma CM, Eijkemans MJ, Hughes EG, Visser GH, Fauser BC, Macklon NS (2006) A meta-analysis of pregnancy outcomes in women with polycystic ovary syndrome. Hum Reprod Update 12:673–683

Bos MJ, Koudstaal PJ, Hofman A, Witteman JC, Breteler MM (2006) Uric acid is a risk factor for myocardial infarction and stroke: the Rotterdam study. Stroke 37:1503–1507. https://doi.org/10.1161/01.STR.0000221716.55088.d4

Council NR (2010) Guide for the care and use of laboratory animals. National Academies Press, Washington

Desai P, Malhotra N, Shah D (2008) Principles and practice of obstetrics and gynecology for postgraduates, 3rd edn. Jaypee Brothers Medical Publishers Private Limited, New Delhi, pp 676–683

Despres JP, Lemieux I, Bergeron J, Pibarot P, Mathieu P, Larose E et al (2008) Abdominal obesity and the metabolic syndrome: contribution to global cardiometabolic risk. Arterioscler Thromb Vasc Biol 28:1039–1049

Gersch C, Palii SP, Kim KM, Angerhofer A, Johnson RJ, Henderson GN (2008) Inactivation of nitric oxide by uric acid. Nucleosides Nucleotides Nucleic Acids 27:967–978

Gottschau M, Kjaer SK, Jensen A, Munk C, Mellemkjaer L (2015) Risk of cancer among women with polycystic ovary syndrome: a Danish cohort study. Gynecol Oncol 136:99–103

Guerrero-Romero F, Simental-Mendia LE, Gonzalez-Ortiz M, Martinez-Abundis E, Ramos-Zavala MG, Hernandez-Gonzalez SO et al (2010) The product of triglycerides and glucose, a simple measure of insulin sensitivity. Comparison with the euglycemic-hyperinsulinemic clamp. J Clin Endocrinol Metab 95:3347–3351

Hecker PA, Leopold JA, Gupte SA, Recchia FA, Stanley WC (2013) Impact of glucose-6 phosphate dehydrogenase deficiency on the pathophysiology of cardiovascular disease. Am J Physiol Heart Circ Physiol 304:H491–H500

Iqbal M, Sharma SD, Rezazadeh H, Hasan N, Abdulla M, Athar MJ (1996) Glutathione metabolizing enzymes and oxidative stress in ferric nitrilotriacetate mediated hepatic injury. Redox Rep 2:385–391

Jahan S, Munir F, Razak S, Mehboob A, Ain QU, Ullah H, Afsar T, Shaheen G, Almajwal (2016) Ameliorative effects of rutin against metabolic, biochemical and hormonal disturbances in polycystic ovary syndrome in rats. J Ovar Res 9:86

Johnson RJ, Kang DH, Feig D, Kivlighn S, Kanellis J, Watanabe S, Tuttle KR, Rodriguez-Iturbe B, Herrera-Acosta J, Mazzali M (2003) Is there a pathogenetic role for uric acid in hypertension and cardiovascular and renal disease? Hypertension 41:1183–1190. https://doi.org/10.1161/01.HYP.0000069700.62727.C5

Kafali H, Iriadam M, Ozardali I, Demir N (2004) Letrozole-induced polycystic ovaries in the rat: a new model for cystic ovarian disease. Arch Med Res 35:103–108

Kravariti M, Naka KK, Kalantaridou SN, Kazakos N, Katsouras CS, Makrigiannakis A, Paraskevaidis EA, Chrousos GP, Tsatsoulis A, Michalis LK (2005) Predictors of endothelial dysfunction in young women with polycystic ovary syndrome. J Clin Endocrinol Metab 90:5088–5095

Kauffman AS, Thackray VG, Ryan GE, Tolson KP, Glidewell-Kenney CA, Semaan SJ, Poling MC, Iwata N, Breen KM, Duleba AJ et al (2015) A novel letrozole model recapitulates both the reproductive and metabolic phenotypes of polycystic ovary syndrome in female mice. Biol Reprod 93:69

Kawano K, Cohen DE (2013) Mechanisms of hepatic triglyceride accumulation in non-alcoholic fatty liver disease. J Gastroenterol 48:434–441

Kelley EE, Khoo NK, Hundley NJ, Malik UZ, Freeman BA, Tarpey MM (2010) Hydrogen peroxide is the major oxidant product of xanthine oxidase. Free Radic Biol Med 48:493–498

Kodama S, Saito K, Yachi Y, Asumi M, Sugawara A, Totsuka K, Saito A, Sone H (2009) Association between serum uric acid and development of type 2 diabetes. Diabetes Care 32:1737–1742

Kucukaydin Z, Duran C, Basaran M, Camlica F, Erdem SS, Basaran A, Kutlu O, Burnik FS, Elmas H, Gonen MS (2016) Plasma total oxidant and antioxidant status after oral glucose tolerance and mixed meal tests in patients with polycystic ovarysyndrome. J Endocrinol Investig 39:1139–1148

Kuhlbrandt W (2015) Structure and function of mitochondrial membrane protein complexes. BMC Biol 13:015–0201

Lambert EA, Hachem M, Hemmes R, Straznicky NE, Eikelis N, Sari CI, Schlaich MP, Lambert GW, Dixon JB (2017) Serum uric acid and the relationship with subclinical organ damage in adults. J Hypertens 35:745–752

Lanaspa MA, Sanchez-Lozada LG, Choi YJ, Cicerchi C, Kanbay M, Roncal-Jimenez CA, Ishimoto T, Li N, Marek G, Duranay M, Schreiner G, Rodriguez-Iturbe B, Nakagawa T, Kang DH, Sautin YY, Johnson RJ (2012) Uric acid induces hepatic steatosis by generation of mitochondrial oxidative stress: potential role in fructose-dependent and -independent fatty liver. J Biol Chem 287:40732–40744

Li C, Chen L, Zhao Y, Chen S, Fu L, Jiang Y, Gao S, Liu Z, Wang F, Zhu X, Rao J, Zhang J, Zhou X (2017) Altered expression of miRNAs in the uterus from a letrozole-induced rat PCOS model. Gene 598:20–26

Li S, Tan HY, Wang N, Zhang ZJ, Lao L, Wong CW, Feng Y (2015) The role of oxidative stress and antioxidants in liver diseases. Int J Mol Sci 16:26087–26124

Macut D, Simic T, Lissounov A, Pljesa-Ercegovac M, Bozic I, Djukic T, Bjekic-Macut J, Matic M, Petakov M, Suvakov S, Damjanovic S, Savic-Radojevic A (2011) Insulin resistance in non-obese women with polycystic ovary syndrome: relation to by-products of oxidative stress. Exp Clin Endocrinol Diabetes 119:451–455

Maliqueo M, Benrick A, Stener-Victorin E (2014) Rodent models of polycystic ovary syndrome: phenotypic presentation, pathophysiology, and the effects of different interventions. Semin Reprod Med 32:183–193

Mantena SK, King AL, Andringa KK, Eccleston HB, Bailey SM (2008) Mitochondrial dysfunction and oxidative stress in the pathogenesis of alcohol- and obesity-induced fatty liver diseases. Free Radic Biol Med 44:1259–1272

Maruhashi T, Hisatome I, Kihara Y, Higashi Y (2018) Hyperuricemia and endothelial function: from molecular background to clinical perspectives. Atherosclerosis 278:226–231

Mazidi M, Katsiki N, Mikhailidis DP, Banach M (2018) The link between insulin resistance parameters and serum uric acid is mediated by adiposity. Atherosclerosis 270:180–186

Mota M, Banini BA, Cazanave SC, Sanyal AJ (2016) Molecular mechanisms of lipotoxicity and glucotoxicity in nonalcoholic fatty liver disease. Metabolism 65:1049–1061

Mumford SL, Dasharathy SS, Pollack AZ, Perkins NJ, Mattison DR, Cole SR, Wactawski-Wende J, Schisterman EF (2013) Serum uric acid in relation to endogenous reproductive hormones during the menstrual cycle: findings from the Bio Cycle study. Hum Reprod 28:1853–1862

Mumford SL, Schisterman EF, Siega-Riz AM, Gaskins AJ, Steiner AZ, Daniels JL, Olshan AF, Hediger ML, Hovey K, Wactawski-Wende J, Trevisan M, Bloom MS (2011) Cholesterol, endocrine and metabolic disturbances in sporadic anovulatory women with regular menstruation. Hum Reprod 26:423–430

Nakagawa T, Hu H, Zharikov S, Tuttle KR, Short RA, Glushakova O, Ouyang X, Feig DI, Block ER, Herrera-Acosta J, Patel JM, Johnson RJ (2006) A causal role for uric acid in fructose-induced metabolic syndrome. Am J Physiol Renal Physiol 290:F625–F631

Noguchi H, Tazawa Y, Nishinomiya F, Takada G (1995) The relationship between serum transaminase activities and fatty liver in children with simple obesity. Acta Paediatr Jpn 37:621–625

Olatunji LA, Adeyanju OA, Michael OS, Usman TO, Tostes RC, Soladoye AO (2019) Ameliorative effect of low-dose spironolactone on obesity and insulin resistance is through replenishment of estrogen in ovariectomized rats. Can J Physiol Pharmacol 97:65–74

Olatunji LA, Usman TO, Akinade AI, Adeyanju OA, Kim I, Soladoye AO (2017) Low-dose spironolactone ameliorates insulin resistance and suppresses elevated plasminogen activator inhibitor-1 during gestational testosterone exposure. Arch Physiol Biochem 123:286–292

Omolekulo TE, Olugbenga SM, Lawrence AO (2019) Dipeptidyl peptidase-4 inhibition protects the liver of insulin-resistant female rats against triglyceride accumulation by suppressing uric acid. Biomed Pharmacother 110:869–877

Orio F, Muscogiuri G, Nese C, Palomba S, Savastano S, Tafuri D, Colarieti G, La Sala G, Colao A, Yildiz BO (2016) Obesity, type 2 diabetes mellitus and cardiovascular disease risk: an upto date in the management of polycystic ovary syndrome. Eur J Obstet Gynecol Reprod Biol. https://doi.org/10.1016/j.ejogrb.2016.08.026

Ortiz L, Nakamura B, Li X, Blumberg B, Luderer U (2013) In utero exposure to benzo [a] pyrene increases adiposity and causes hepatic steatosis in female mice, and glutathione deficiency is protective. Toxicol Lett 223:260–267

Park SY, Cho YJ, Lee SR, Chung H, Jeong K (2015) Triglyceride is a useful surrogate marker for insulin resistance in Korean women with polycystic ovary syndrome. Yonsei Med J 56:785–792

Pitocco D, Tesauro M, Alessandro R, Ghirlanda G, Cardillo C (2013) Oxidative stress in diabetes: implications for vascular and other complications. Int J Mol Sci 14:21525–21550

Polak K, Czyzyk A, Simoncini T, Meczekalski B (2016) New markers of insulin resistance in polycystic ovary syndrome. J Endocrinol Investig. https://doi.org/10.1007/s40618-016-0523-8

Postic C, Girard J (2008) Contribution of de novo fatty acid synthesis to hepatic steatosis and insulin resistance: lessons from genetically engineered mice. J Clin Invest 118:829–838

Pugeat M, Cousin P, Baret C, Lejeune H, Forest MG (2000) Sex hormone-binding globulin during puberty in normal and hyperandrogenic girls. J Pediatr Endocrinol Metab 13:1277–1279

Rajan RK, Balaji B (2017) Soy isoflavones exert beneficial effects on letrozole-induced rat polycystic ovary syndrome (PCOS) model through anti-androgenic mechanism. Pharm Biol 55:242–251

Rojas J, Chávez M, Olivar L, Rojas M, Morillo J, Mejías J et al (2014) Polycystic ovary syndrome, insulin resistance, and obesity: navigating the pathophysiologic labyrinth. Int J Reprod Med:1–17

Sanchez-Lozada LG, Tapia E, Santamaria J, Avila-Casado C, Soto V, Nepomuceno T et al (2005) Mild hyperuricemia induces vasoconstriction and maintains glomerular hypertension in normal and remnant kidney rats. Kidney Int 67:237–247

Saugstad OD (1996) Role of xanthine oxidase and its inhibitor in hypoxia: reoxygenation injury. Pediatrics 98:103–107

Sautin YY, Nakagawa T, Zharikov S et al (2007) Adverse effects of the classic antioxidant uric acid in adipocytes: NADPH oxidase-mediated oxidative/nitrosative stress. Am J Physiol Cell Physiol 293:C584–C596

Simental-Mendia LE, Rodriguez-Moran M, Guerrero-Romero F (2008) The product of fasting glucose and triglycerides as surrogate for identifying insulin resistance in apparently healthy subjects. Metab Syndr Relat Disord 6:299–304

Simental-Mendia LE, Simental-Mendia E, Rodriguez-Hernandez H, Rodriguez-Moran M, Guerrero-Romero F (2016) The product of triglycerides and glucose as biomarker for screening simple steatosis and NASH in asymptomatic women. Ann Hepatol 15:715–720

Skarra DV, Hernandez-Carretero A, Rivera AJ, Anvar AR, Thackray VG (2017) Hyperandrogenemia induced by Letrozole treatment of pubertal female mice results in hyperinsulinemia prior to weight gain and insulin resistance. Endocrinology 158:2988–3003

Sprung VS, Atkinson G, Cuthbertson DJ, Pugh CJA, Aziz N, Green DJ et al (2013) Endothelial function measured using flow-mediated dilation in polycystic ovary syndrome: a meta-analysis of the observational studies. Clin Endocrinol 78:438–446

Studen KB, Sebestjen M, Pfeifer M, Prezelj J (2011) Influence of spironolactone treatment on endothelial function in non-obese women with polycystic ovary syndrome. Eur J Endocrinol 164:389–395

Swiglo BA, Cosma M, Flynn DN, Kurtz DM, Labella ML, Mullan RJ, Erwin PJ, Montori VM (2008) Clinical review: antiandrogens for the treatment of hirsutism: a systematic review and metaanalyses of randomized controlled trials. J Clin Endocrinol Metab 93:1153–1160

Usman TO, Areola ED, Badmus OO, Kim I, Olatunji LA (2018) Sodium acetate and androgen receptor blockade improve gestational androgen excess-induced deteriorated glucose homeostasis and antioxidant defenses in rats: roles of adenosine deaminase and xanthine oxidase activities. J Nutr Biochem 62:65–75. https://doi.org/10.1016/j.jnutbio.2018.08.018

Vanhoutte PM (2009) Endothelial Dysfunction. Circulation Journal 73(4):595–601

Vernon G, Baranova A, Younossi ZM (2011) Systematic review: the epidemiology and natural history of nonalcoholic fatty liver disease and nonalcoholic steatohepatitis in adults. Ailment Pharmacol Ther 34:274–285

Williams AC, Ford WCL (2005) Relationship between reactive oxygen species production and lipid peroxidation in human sperm suspensions and their association with sperm function. Fertil Steril 83:929–936

Yuan H, Yu C, Li X, Sun L, Zhu X, Zhao C, Zhang Z, Yang Z (2015) Serum uric acid levels and risk of metabolic syndrome: a dose-response meta-analysis of prospective studies. J Clin Endocrinol Metab 100:4198–4207

Zharikov S, Krotova K, Hu H, Baylis C, Johnson RJ, Block ER et al (2008) Uric acid decreases NO production and increases arginase activity in cultured pulmonary artery endothelial cells. Am J Physiol Cell Physiol 295:C1183–C1190

Zheng R, Chen C, Yang T, Chen Q, Lu R, Mao Y (2017) Serum uric acid levels and the risk of obesity: a longitudinal population-based epidemiological study. Clin Lab 63:1581–1587
Acknowledgements
The authors acknowledge the technical support of Dr. Oniyide and Mrs. Olaiya Oluranti of Department of Physiology, Afe Babalola University. Mr. Adebowale of Bridge Biotech is also appreciated for the laboratory analysis.
Ethics declarations
The investigation was conducted in accordance with the National Institute of Health Guide for the Care and Use of Laboratory Animals and was approved by the University ethical review committee, with protocol identification number NHREC29/10/2019, and every effort was made to minimize both the number of animals used and their sufferings.
Conflict of interest
The authors declare that they have no conflicts of interest.
Additional information
Publisher's note
Springer Nature remains neutral with regard to jurisdictional claims in published maps and institutional affiliations.
About this article
Cite this article
Adeyanju, O.A., Falodun, T.O., Michael, O.S. et al. Spironolactone reversed hepato-ovarian triglyceride accumulation caused by letrozole-induced polycystic ovarian syndrome: tissue uric acid—a familiar foe. Naunyn-Schmiedeberg's Arch Pharmacol (2020). https://doi.org/10.1007/s00210-020-01809-1
Received:

Accepted:

Published:
Keywords
Triglyceride accumulation

PCOS

Spironolactone

NAFLD

Uric acid