In vitro study of the cytotoxicity of thymoquinone/curcumin fluorescent liposomes
Abstract
In the present study, thymoquinone-loaded liposomes (Lip (TQ)), curcumin-encapsulated liposome (Lip (CUR)), and thymoquinone/curcumin-encapsulated liposome (Lip (TQ + CUR)) in addition to rhodamine-labeled thymoquinone/curcumin liposome (Lip (TQ + CUR + ROD)) were prepared with encapsulation efficiency exceeding 99%. The aim of the present study was to evaluate the effect of the different prepared formulations either labeled with the fluorescent dye (rhodamine B) or not on A549 lung cancer cells. Cytotoxicity of different formulations was assessed by MTT assay. Proliferation of A549 cells was significantly inhibited by the different formulations in a concentration-dependent manner in 72 h. The Lip (TQ + CUR + ROD) formulation demonstrated the lowest IC50 value. To investigate its mechanism of action on A549 lung cancer cells, the Comet assay (for DNA damage) was done, the measurement of some oxidative stress parameters in addition to performing inverted fluorescence microscopy imaging. The results of the present study demonstrated the increased DNA damage, oxidative stress damage, and cell apoptosis in A549 treated with TQ, CUR, and rhodamine-encapsulated fluorescent liposome formulation as compared to untreated cells. The results obtained from the present study demonstrate the significant role of the TQ/CUR fluorescent liposomes on decreasing the viability of A549 lung cancer cells.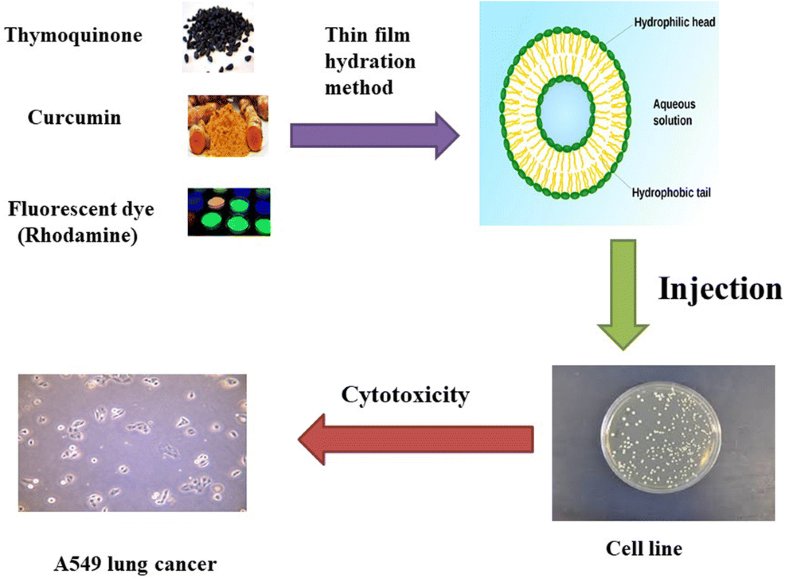 Keywords
Thymoquinone 
Curcumin 
Rhodamine B 
Liposome 
Fluorescent microscope 
Comet assay 
Notes
Acknowledgments
The author would like to thank Sahar El Sayed Ahmed and Heba Ahmed Rashed for their help during the practical part of the work.
Author contribution statement
HMF conceived and designed research, conducted experiments, analyzed data, and wrote the manuscript. HMF read and approved the manuscript.
Compliance with ethical standards
Conflict of interest
The authors declare that there is no conflict of interest.
Copyright information
© Springer-Verlag GmbH Germany, part of Springer Nature 2019