Abstract
Amoxicillin-resistant bacteria were isolated using selective enrichment procedure. The morphological, biochemical and molecular characterization based on 16S rRNA gene sequencing and phylogenetic analysis of the bacterial strain WA5 confirmed that the strain belongs to the genus Stenotrophomonas. The bacteria were named as Stenotrophomonas sp. strain WA5 (MK110499). Substantial growth was seen in M9 minimal media supplemented with 5 mg L−1 of amoxicillin as a sole source of carbon and energy. RNA yield was also observed to be decreased in the presence of amoxicillin. Amoxicillin (5 mg L−1)-induced alteration is seen on bacterial protein profile and unique polypeptide bands were seen to be induced in the presence of amoxicillin, the bands were subjected to trypsin digestion, and LC–MS/MS analysis showed that the bands belong to the family of DNA-dependent RNA polymerase subunit β (rpoC). Plasmid DNA isolation indicated the presence of antibiotic-resistant genes being harboured by the plasmid.
This is a preview of subscription content, log in to check access.
Access options
Buy single article
Instant access to the full article PDF.
US$ 39.95
Price includes VAT for USA
Subscribe to journal
Immediate online access to all issues from 2019. Subscription will auto renew annually.
US$ 199
This is the net price. Taxes to be calculated in checkout.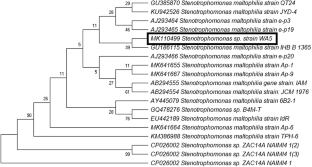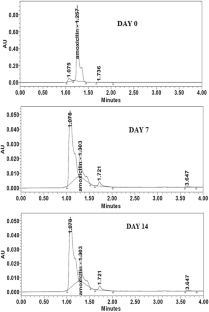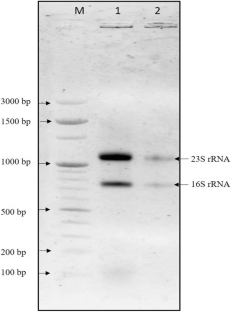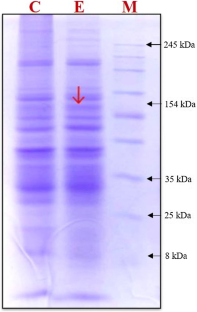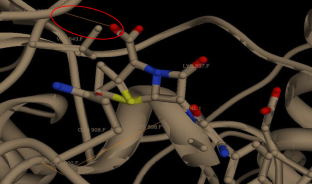 References
Baquero F, Martínez JL, Cantón R (2008) Antibiotics and antibiotic resistance in water environments. Curr Opin Biotechnol 19:260–265

Berendonk TU, Manaia CM, Merlin C, Fatta-Kassinos D, Cytryn E, Walsh F, Bürgmann H, Sørum H, Norström M, Pons MN, Kreuzinger N (2015) Tackling antibiotic resistance: the environmental framework. Nat Rev Microbiol 13:307–310

Bovio E, Gnavi G, Prigione V, Spina F, Denaro R, Yakimov M, Calogero R, Crisafi F, Varese GC (2017) The culturable mycobiota of a mediterranean marine site after an oil spill: isolation, identification and potential application in bioremediation. Sci Total Environ 576:310–318

Fair RJ, Tor Y (2014) Antibiotics and bacterial resistance in the 21st century. Perspect Med Chem 6:25–64

Felsenstein J (1985) Confidence limits on phylogenies: an approach using the bootstrap. Evolution 39:783–791

Forni C, Cascone A, Cozzolino S, Migliore L (2001) Drugs uptake and degradation by aquatic plants as a bioremediation technique. Minerva Biotecnologica 13:151–152

Ghauch A, Tuqan A, Assi HA (2009) Antibiotic removal from water: elimination of amoxicillin and ampicillin by microscale and nanoscale iron particles. Environ Pollut 157:1626–1635

Goldstein BP (2014) Resistance to rifampicin: a review. J Antibiot 67:625–630

Kumar S, Stecher G, Li M, Knyaz C, Tamura K (2018) MEGA X: molecular evolutionary genetics analysis across computing platforms. Mol Biol Evol 35:1547–1549

Kumar M, Jaiswal S, Sodhi KK, Shree P, Singh DK, Agrawal PK, Shukla P (2019a) Antibiotics bioremediation: perspectives on its ecotoxicity and resistance. Environ Int 124:448–461

Kumar M, Sodhi KK, Singh P, Agrawal PK, Singh DK (2019b) Synthesis and characterization of antibiotic-metal complexes [FeCl3 (L1) 2H2O and Ni (NO3) 2 (L2) 2H2O] and enhanced antibacterial activity. Environ Nanotechnol Monit Manage 11:100209

Oteo J, Saez D, Bautista V, Fernández-Romero S, Hernández-Molina JM, Pérez-Vázquez M, Campos J (2013) Carbapenemase-producing Enterobacteriaceae in Spain in 2012. Antimicrob Agents Chemother 57:6344–6347

Reddy AVB, Yusop Z, Jaafar J, Reddy YVM, Aris AB, Majid ZA, Talib J, Madhavi G (2016) Recent progress on Fe-based nanoparticles: Synthesis, properties, characterization and environmental applications. J Environ Chem Eng 4:3537–3553

Sambrook J, Russell DW (2001) Molecular cloning: a laboratory manual, 3rd edn

Saitou N, Nei M (1987) The neighbor-joining method: a new method for reconstructing phylogenetic trees. Mol Biol Evol 4:406–425

Sharma S, Bhattacharya A (2017) Drinking water contamination and treatment techniques. Appl Water Sci 7:1043–1067

Singer AC, Shaw H, Rhodes V, Hart A (2016) Review of antimicrobial resistance in the environment and its relevance to environmental regulators. Front microbiol 7:1728

Singh H, Rathore RS, Singh S, Cheema PS (2011) Comparative analysis of cultural isolation and PCR based assay for detection of Campylobacter jejuni in food and faecal samples. Braz J Microbiol 42:181–186

Tamura K, Nei M, Kumar S (2004) Prospects for inferring very large phylogenies by using the neighbor-joining method. Proc Natl Acad Sci 101:11030–11035

Williams ST, Sharpe ME, Holt JG (eds) (1989) Bergey's Manual of Systematic Bacteriology, 1st edn, vol 4. Williams and Wilkins, Baltimore

Xu M, Zhou YN, Goldstein BP, Jin DJ (2005) Cross-resistance of Escherichia coli RNA polymerases conferring rifampin resistance to different antibiotics. J Bacteriol 187:2783–2792
Acknowledgements
Financial assistance provided by NASF research grant (project entitled "Bioremediation of chemical contaminants and their complexes present in drainage water with high dynamic flux used for irrigation in urban and peri urban agriculture"), sanction no. NASF/CA-6030/2017-18 is highly acknowledged. The authors Kushneet Kaur Sodhi and Mohit Kumar highly acknowledges the University Grant Commission (UGC), Government of India for providing the stipend.
Funding
This study was supported by the funding agency, National Agricultural Science Fund, Indian Council of Agricultural Research, Delhi, India.
Ethics declarations
Conflict of interest
No conflicts of interest.
Human and animals rights
The study is not related with animals or humans.
Informed consent
Not applicable.
Additional information
Publisher's Note
Springer Nature remains neutral with regard to jurisdictional claims in published maps and institutional affiliations.
Communicated by Erko Stackebrandt.
Electronic supplementary material
Below is the link to the electronic supplementary material.
About this article
Cite this article
Sodhi, K.K., Kumar, M., Balan, B. et al. Isolation and characterization of amoxicillin-resistant bacteria and amoxicillin-induced alteration in its protein profiling and RNA yield. Arch Microbiol 202, 225–232 (2020). https://doi.org/10.1007/s00203-019-01737-6
Received:

Revised:

Accepted:

Published:

Issue Date:
Keywords
Amoxicillin

16S rRNA gene

Stenotrophomonas

LC–MS/MS

Bioremediation