Comparative analysis of single-phase self-excited induction generators of various rotor cages
Open Access
Original Paper
Abstract
The paper deals with a simulation study of influence of conductive material of the rotor squirrel cage on output characteristics of single-phase self-excited induction generators. For calculation of performance characteristics, two-dimensional field-circuit model of the single-phase induction generator was applied. A comparison of self-excitation waveforms of terminal voltage and load characteristics of the generators for rotor bars of the same shape, made of aluminium and copper, was presented. The obtained simulation results by the field-circuit model and analysis may be utilized for designing new constructions of single-phase self-excited induction generators as well for modifying construction of the generators designing on the base of general-purpose single-phase induction motors.
Keywords
Rotor cage 
Induction generators 
Single-phase 
Self-excitation 
Performance characteristics 
1

Introduction

For production of low-power single-phase electrical energy, self-excited induction generators (SP-SEIGs) driven by a micro-hydro or micro-wind turbine may be applied. Usually, for single-phase power generation as an auxiliary energy source at household, single phase of two separate stator windings' induction machines of power up to 3 kW will be sufficient operating as an autonomous single-phase self-excited induction generator [1, 2, 3, 4, 5, 6]. When larger electrical power is needed, a three-phase stator winding self-excited induction generator with single-phase output should be employed for feeding single-phase loads [7, 8, 9]. Theoretically, any induction machine designed for motor operation may be directly utilized as induction generator, but its performance will be not satisfactory since, for example, problems with self-excitation of the generator may be occurred and terminal voltage regulation as well as the maximum output power at desired speed of rotation will be not sufficient. To obtain satisfactory performance of the induction generator, some reconstruction of stator windings [3, 5], rotor cage and magnetic core are necessary to improve the performance characteristics of the generator. Multiple papers have been reported on the use of copper squirrel rotor cage in induction motors [10, 11, 12], but only a few dealt with induction machines operating as self-excited induction generators [13, 14]. Boglietti et al. [10] compared three-phase induction motors with aluminium and copper rotor cage in terms of efficiency. The presented results show that the replacement of the aluminium cage by copper one increases the motor's rated efficiency, while the influence on motor currents and torque was not significant. The paper [11] presents the construction details of welded and die-cast rotor cages made of aluminium and copper and compares four designs in terms of efficiency and manufacturing costs. The authors in [12] presented the comparison of performance characteristics of induction motors with aluminium and copper rotor cages as well as for a double-cage copper rotor. Application of the copper cage resulted in increasing motor efficiency and the starting torque. The paper [13] presented a qualitative performance analysis of aluminium and copper rotor three-phase self-excited induction generator and was mostly devoted to circuit modelling. The dq model of an induction generator was expanded to include skin effect and temperature. The investigations showed that the voltage build-up time in the case of copper rotor is longer when compared with the aluminium rotor machine. Tudorache et al. [14] compared a three-phase induction machine with aluminium and copper cages, operating as motor and generator. Application of a copper cage resulted in increase in efficiency by 2.3% for motoring mode and by 1.8% for generator operation. Lowering of staring torque for motor was compensated by redesign of rotor slot shape and application of double-cage rotor.

The paper presents the qualitative investigation on utilizing copper as conductive material in rotor squirrel cage (i.e. for bars and rings) of single-phase self-excited induction generators instead of aluminium which is commonly used in general-purpose single-phase capacitor induction motors. Taking into account previously conducted study by the authors in [4], only three shapes of rotor bars, i.e. rounded trapezoidal, rectangular and round, have been considered in this paper for two different conductive materials.
2

Copper versus aluminium rotor cage design of the generator

Self-excitation waveforms and load characteristics of the SP-SEIG were computed for various shapes of squirrel cage rotor bars on the base of machine of aluminium rotor cage with rounded trapezoidal bars. The half-section of two-dimensional field-circuit model of the single-phase self-excited induction generator is shown in Fig. 

1

. In searching of better performance of the generator under load, the following modifications of the construction have been proposed: the squirrel rotor cage of the generator made of copper instead of aluminium and three various rotor bar shapes were taken into consideration. The dimensions of round and rectangular rotor bars were determined so as to maintain the tooth width close to the tooth width of the base model at the narrowest point.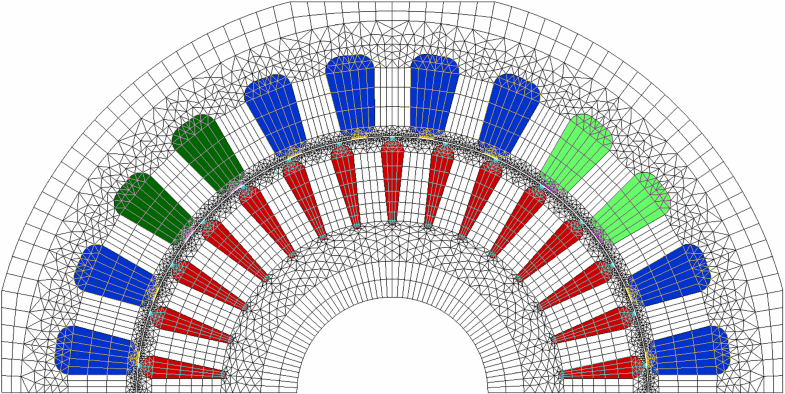 3

Field-circuit method of computation of performance characteristics of the SP-SEIGs
4

Conclusions

The copper and aluminium squirrel rotor cages with bars of three various shapes in a single-phase self-excited induction generator were investigated in the paper. The simulated self-excitation waveforms of terminal voltages, currents, as well as load characteristics of the single-phase induction generator feeding resistive load, were compared for two different conducting materials of the rotor cage. The obtained resultant characteristics of the generator showed that the application of copper rotor cages instead of aluminium ones lengthens twice in time self-excitation process in induction generator for rounded trapezoidal rotor bars and only by split second for the other bar shapes. The copper rotor bars have positive influence on stability of steady-state operation of the generator under resistive and inductive loads (Figs. 20, 22) as can be distinctly observed on the performance characteristics for rectangular rotor bars regardless of character of load. By employment of the simulation field-circuit model, an extension of the stable operating range of the SP-SEIG for copper rectangular rotor bars was obtained. As regards current density distribution in rotor bars, the current densities are almost the same for different shapes, except for rectangular rotor bars, where they are lower for copper rotor bars (Figs. 12, 18). Applying rectangular copper rotor bars, due to smaller damping of induced currents in the rotor cage, the widest stable steady-state operating range of the SP-SEIG may be obtained.
Copyright information
© The Author(s) 2019
Open AccessThis article is distributed under the terms of the Creative Commons Attribution 4.0 International License (http://creativecommons.org/licenses/by/4.0/), which permits unrestricted use, distribution, and reproduction in any medium, provided you give appropriate credit to the original author(s) and the source, provide a link to the Creative Commons license, and indicate if changes were made.