Abstract
Summary
In 50–79-year-olds who participated in the Tromsø Study (1994–1995), the risk of non-vertebral osteoporotic fractures during 15 years follow-up increased by 22% in men and 9% in women per 1 SD lower grip strength. The strongest association was observed in men aged 50–64 years.
Introduction
We aimed to explore whether low grip strength was associated with increased risk of non-vertebral osteoporotic fracture in the population-based Tromsø Study 1994–1995.
Methods
Grip strength (bar) was measured by a Martin Vigorimeter and fractures were retrieved from the X-ray archives at the University Hospital of North Norway between 1994 and 2010. At baseline, weight and height were measured, whereas information on the other covariates were obtained through self-reported questionnaires. Cox regression was used to estimate the hazard ratio (HR) of fracture in age- and gender-specific quintiles of grip-strength, and per 1 SD lower grip strength. Similar analyses were done solely for hip fractures. Adjustments were made for age, height, body mass index (BMI), marital status, education, smoking, physical activity, use of alcohol, self-perceived health, and self-reported diseases.
Results
In 2891 men and 4002 women aged 50–79 years, 1099 non-vertebral osteoporotic fractures—including 393 hip fractures—were sustained during the median 15 years follow-up. Risk of non-vertebral osteoporotic fracture increased with declining grip strength: hazard ratios per SD decline was 1.22 (95% CI 1.05–1.43) in men and 1.09 (95% CI 1.01–1.18) in women. HR for fracture in lower vs. upper quintile was 1.58 (95% CI 1.02–2.45) in men and 1.28 (95% CI 1.03–1.59) in women. The association was most pronounced in men aged 50–64 years with HR = 3.39 (95% CI 1.76–6.53) in the lower compared to the upper quintile.
Conclusions
The risk of non-vertebral osteoporotic fracture increased with declining grip-strength in both genders, particularly in men aged 50–64 years.
This is a preview of subscription content, log in to check access.
Access options
Buy single article
Instant access to the full article PDF.
US$ 39.95
Price includes VAT for USA
Subscribe to journal
Immediate online access to all issues from 2019. Subscription will auto renew annually.
US$ 199
This is the net price. Taxes to be calculated in checkout.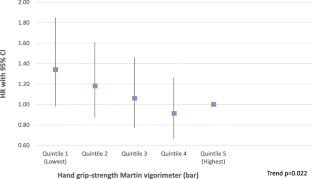 References
1.

Lofthus CM, Frihagen F, Meyer HE, Nordsletten L, Melhuus K, Falch JA (2008) Epidemiology of distal forearm fractures in Oslo, Norway. Osteoporos Int 19:781–786

2.

Cauley JA, Chalhoub D, Kassem AM, El-Hajj Fuleihan G (2014) Geographic and ethnic disparities in osteoporotic fractures. Nat Rev Endocrinol 10:338–351

3.

Søgaard AJ, Holvik K, Meyer HE, Tell GS, Gjesdal CG, Emaus N, Grimnes G, Schei B, Forsmo S, Omsland TK (2016) Continued decline in hip fracture incidence in Norway: a NOREPOS study. Osteoporos Int 27:2217–2222

4.

Cooper C, Cole ZA, Holroyd CR, Earl SC, Harvey NC, Dennison EM, Melton LJ, Cummings SR, Kanis JA, IOF CSA Working group on fracture epidemiology (2011) Secular trends in the incidence of hip and other osteoporotic fractures. Osteoporos Int 22:1277–1288

5.

Omsland TK, Magnus JH (2014) Forecasting the burden of future postmenopausal hip fractures. Osteoporos Int 25:2493–2496

6.

Kanis JA, Cooper C, Rizzoli R, Abrahamsen B, Al-Daghri NM, Brandi ML, Cannata-Andia J, Cortet B, Dimai HP, Ferrari S, Hadji P, Harvey NC, Kraenzlin M, Kurth A, McCloskey E, Minisola S, Thomas T, Reginster JY, European Society for Clinical and Economic aspects of osteoporosis, osteoarthritis and musculoskeletal diseases (ESCEO) (2017) identification and management of patients at increased risk of osteoporotic fracture: outcomes of an ESCEO expert consensus meeting. Osteoporos Int 28:2023–2034

7.

Veronese N, Maggi S (2018) Epidemiology and social costs of hip fracture. Injury 49:1458–1460

8.

Solbakken SM, Meyer HE, Stigum H, Søgaard AJ, Holvik K, Magnus JH, Omsland TK (2017) Excess mortality following hip fracture: impact of self-perceived health, smoking, and body mass index. A NOREPOS study. Osteoporos Int 28:881–887

9.

Kanis JA, McCloskey EV, Harvey NC, Johansson H, Leslie WD (2015) Intervention thresholds and the diagnosis of osteoporosis. J Bone Miner Res 30:1747–1753

10.

Järvinen TL, Michaëlsson K, Jokihaara J, Collins GS, Perry TL, Mintzes B, Musini V, Erviti J, Gorricho J, Wright JM, Sievänen H (2015) Overdiagnosis of bone fragility in the quest to prevent hip fracture. BMJ 350:h2088

11.

Stone KL, Seeley DG, Lui LY, Cauley JA, Ensrud K, Browner WS, Nevitt MC, Cummings SR, Osteoporotic fractures research group (2003) BMD at multiple sites and risk of fracture of multiple types: long-term results from the Study of Osteoporotic Fractures. J Bone Miner Res 18:1947–1954

12.

Kanis JA, Oden A, Johnell O, Johansson H, De Laet C, Brown J, Burckhardt P, Cooper C, Christiansen C, Cummings S, Eisman JA, Fujiwara S, Glüer C, Goltzman D, Hans D, Krieg MA, La Croix A, McCloskey E, Mellstrom D, Melton LJ 3rd, Pols H, Reeve J, Sanders K, Schott AM, Silman A, Torgerson D, van Staa T, Watts NB, Yoshimura N (2007) The use of clinical risk factors enhances the performance of BMD in the prediction of hip and osteoporotic fractures in men and women. Osteoporos Int 18:1033–1046

13.

Cooper R, Kuh D, Cooper C, Gale CR, Lawlor DA, Matthews F, Hardy R, FALCon and HALCyon Study Teams (2011) Objective measures of physical capability and subsequent health: a systematic review. Age Ageing 40:14–23

14.

Leong DP, Teo KK, Rangarajan S, Lopez-Jaramillo P, Avezum A Jr, Orlandini A, Seron P, Ahmed SH, Rosengren A, Kelishadi R, Rahman O, Swaminathan S, Iqbal R, Gupta R, Lear SA, Oguz A, Yusoff K, Zatonska K, Chifamba J, Igumbor E, Mohan V, Anjana RM, Gu H, Li W, Yusuf S, Prospective Urban Rural Epidemiology (PURE) Study investigators (2017) Prognostic value of grip strength: findings from the Prospective Urban Rural Epidemiology (PURE) study. Lancet 386:266–273

15.

Karlsen T, Nauman J, Dalen H, Langhammer A, Wisløff U (2017) The combined association of skeletal muscle strength and physical activity on mortality in older women: The HUNT2 Study. Mayo Clin Proc 92:710–718

16.

Celis-Morales CA, Welsh P, Lyall DM, Steell L, Petermann F, Anderson J, Iliodromiti S, Sillars A, Graham N, Mackay DF, Pell JP, Gill JMR, Sattar N, Gray SR (2018) Associations of grip strength with cardiovascular, respiratory, and cancer outcomes and all cause mortality: prospective cohort study of half a million UK Biobank participants. BMJ 361:k1651

17.

Denk K, Lennon S, Gordon S, Jaarsma RL (2018) The association between decreased hand grip strength and hip fracture in older people: A systematic review. Exp Gerontol 111:1–9

18.

Strand BH, Cooper R, Bergland A, Jørgensen L, Schirmer H, Skirbekk V, Emaus N (2016) The association of grip strength from midlife onwards with all-cause and cause-specific mortality over 17 years of follow-up in the Tromsø Study. J Epidemiol Community Health 70:1214–1221

19.

Yeung SSY, Reijnierse EM, Trappenburg MC, Hogrel JY, McPhee JS, Piasecki M, Sipila S, Salpakoski A, Butler-Browne G, Pääsuke M, Gapeyeva H, Narici MV, Meskers CGM, Maier AB (2018) Handgrip strength cannot be assumed a proxy for overall muscle strength. J Am Med Dir Assoc 19:703–709

20.

Clegg A, Young J, Iliffe S, Rikkert MO, Rockwood K (2013) Frailty in elderly people. Lancet 381:752–762

21.

Cöster ME, Karlsson M, Ohlsson C, Mellström D, Lorentzon M, Ribom E, Rosengren B (2018) Physical function tests predict incident falls: a prospective study of 2969 men in the Swedish Osteoporotic Fractures in Men study. Scand J Public Health 29:1403494818801628. https://doi.org/10.1177/1403494818801628

22.

Cruz-Jentoft AJ, Bahat G, Bauer J, Boirie Y, Bruyère O, Cederholm T, Cooper C, Landi F, Rolland Y, Sayer AA, Schneider SM, Sieber CC, Topinkova E, Vandewoude M, Visser M, Zamboni M, Writing Group for the European Working Group on Sarcopenia in Older People 2 (EWGSOP2), and the Extended Group for EWGSOP2 (2019) Sarcopenia: revised European consensus on definition and diagnosis. Age Ageing 48:16–31

23.

Meyer HE, Henriksen C, Falch JA, Pedersen JI, Tverdal A (1995) Risk factors for hip fracture in a high incidence area: a case-control study from Oslo, Norway. Osteoporos Int 5:239–246

24.

Harvey NC, Odén A, Orwoll E, Lapidus J, Kwok T, Karlsson MK, Rosengren BE, Ribom E, Cooper C, Cawthon PM, Kanis JA, Ohlsson C, Mellström D, Johansson H, McCloskey E (2018) Measures of physical performance and muscle strength as predictors of fracture risk independent of FRAX, falls, and aBMD: A meta-analysis of the Osteoporotic Fractures in Men (MrOS) Study. J Bone Miner Res 33:2150–2157

25.

Jacobsen BK, Eggen AE, Mathiesen EB, Wilsgaard T, Njølstad I (2012) Cohort profile: The Tromso Study. Int J Epidemiol 41:961–967

26.

Sipers WM, Verdijk LB, Sipers SJ, Schols JM, van Loon LJ (2016) The Martin Vigorimeter represents a reliable and more practical tool than the Jamar Dynamometer to assess handgrip strength in the geriatric patient. Am Med Dir Assoc 17:466.e1-7

27.

Strand BH, Bergland A, Jørgensen L, Schirmer H, Emaus N, Cooper R (2019) Do More Recent Born Generations of Older Adults Have Stronger Grip? A Comparison of Three Cohorts of 66- to 84-Year-Olds in the Tromsø Study. J Gerontol A Biol Sci Med Sci 74:528–533

28.

Ahmed LA, Schirmer H, Berntsen GK, Fønnebø V, Joakimsen RM (2006) Self-reported diseases and the risk of non-vertebral fractures: the Tromsø study. Osteoporos Int 17:46–53

29.

Joakimsen RM, Fønnebø V, Søgaard AJ, Tollan A, Størmer J, Magnus JH (2001) The Tromsø study: registration of fractures, how good are self-reports, a computerized radiographic register and a discharge register? Osteoporos Int 12:1001–1005

30.

Skirbekk V, Hardy M, Strand BH (2018) Women's spousal choices and a man's handshake: Evidence from a Norwegian study of cohort differences. SSM Popul Health 5:1–7

31.

WHO Collaborating Centre for Drug Statistics Methodology (2012) Guidelines for ATC classification and DDD assignment 2013, 16th edn. Oslo, Norwegian Institute of Public Health

32.

Robbins JA, Schott AM, Garnero P, Delmas PD, Hans D, Meunier PJ (2005) Risk factors for hip fracture in women with high BMD: EPIDOS study. Osteoporos Int 16:149–154

33.

Søgaard AJ, Ranhoff AH, Meyer HE, Omsland TK, Nystad W, Tell GS, Holvik K (2018) The association between alcohol consumption and risk of hip fracture differs by age and gender in Cohort of Norway: a NOREPOS study. Osteoporos Int 29:2457–2467

34.

Cawthon PM, Fullman RL, Marshall L, Mackey DC, Fink HA, Cauley JA, Cummings SR, Orwoll ES, Ensrud KE Osteoporotic fractures in Men (MrOS) research group (2008) Physical performance and risk of hip fractures in older men. J Bone Miner Res 23:1037–1044

35.

Roberts HC, Denison HJ, Martin HJ, Patel HP, Syddall H, Cooper C, Sayer AA (2011) A review of the measurement of grip strength in clinical and epidemiological studies: towards a standardised approach. Age Ageing 40:423–429

36.

Neumann S, Kwisda S, Krettek C, Gaulke R (2017) Comparison of the grip strength using the Martin-Vigorimeter and the JAMAR-dynamometer: establishment of normal values. In Vivo 31:917–924

37.

Lara J, Cooper R, Nissan J, Ginty AT, Khaw KT, Deary IJ, Lord JM, Kuh D, Mathers JC (2012) A proposed panel of biomarkers of healthy ageing. BMC Med 13:222

38.

Dodds R, Denison HJ, Ntani G, Cooper R, Cooper C, Sayer AA, Baird J (2012) Birth weight and muscle strength: a systematic review and meta-analysis. J Nutr Health Aging 16:609–615

39.

Syddall H, Cooper C, Martin F, Briggs R, Aihie Sayer A (2003) Is grip strength a useful single marker of frailty? Age Ageing 32:650–656

40.

Forrest KYZ, Williams AM, Leeds MJ, Robare JF, Bechard TJ (2018) Patterns and correlates of grip strength in older Americans. Curr Aging Sci 11:63–70

41.

Li YZ, Zhuang HF, Cai SQ, Lin CK, Wang PW, Yan LS, Lin JK, Yu HM (2018) Low grip strength is a strong risk factor of osteoporosis in postmenopausal women. Orthop Surg 10:17–22

42.

Hannan MT, Weycker D, McLean RR, Sahni S, Bornheimer R, Barron R, Travison TG, Kiel DP (2019) Predictors of imminent risk of nonvertebral fracture in older, high-risk women: the Framingham osteoporosis study. JBMR Plus 3:e10129

43.

Rosendahl-Riise H, Spielau U, Ranhoff AH, Gudbrandsen OA, Dierkes J (2017) Vitamin D supplementation and its influence on muscle strength and mobility in community-dwelling older persons: a systematic review and meta-analysis. J Hum Nutr Diet 30:3–1

44.

Ji HM, Han J, Bae HW, Won Y (2017) Combination of measures of handgrip strength and red cell distribution width can predict in-hospital complications better than the ASA grade after hip fracture surgery in the elderly. BMC Musculoskelet Disord 18:375

45.

Selakovic I, Dubljanin-Raspopovic E, Markovic-Denic L, Marusic V, Cirkovic A, Kadija M, Tomanovic-Vujadinovic S, Tulic G (2019) Can early assessment of hand grip strength in older hip fracture patients predict functional outcome? PLoS One 14:e0213223
Acknowledgements
We would like to thank Professor Vinjar Fønnebø, UiT The Arctic University of Norway; Dr Anne Tollan, MD PhD, Hoddles Creek, Victoria, Australia; Professor Ragnar Martin Joakimsen, University Hospital of North Norway, Tromsø, Norway; Professor Gro Rosvold Berntsen, Norwegian Centre for E-health Research, University Hospital of North Norway; Professor Lone Jørgensen, UiT The Arctic University of Norway; Associate Professor, Dr Luai A. Ahmed, Institute of Public Health, United Arab Emirates University, Al Ain, UAE; and the Tromsø Study for their priceless contributions in collection and quality assurance of the data used in this paper. We are also grateful to all the study participants. Without their support through the whole history of the Tromsø Study, there would have been nothing to report.
Funding
No external funding has been received to finance this project.
Ethics declarations
All participants in the Tromsø Study gave informed written signed consent. The study and the data linkages have been approved by the Norwegian Data Inspectorate, the Regional Committee for Medical and Health Research Ethics (North) (2011/1659/REK nord), UiT The Arctic University of Norway, and Norwegian Institute of Public Health. The study has been conducted in full accordance with the Helsinki Declaration of the World Medical Association.
Conflicts of interest
Anne Johanne Søgaard, Jeanette H Magnus, Åshild Bjørnerem, Kristin Holvik, Anette Hylen Ranhoff, Nina Emaus, Haakon E Meyer, and Bjørn Heine Strand declare that they have no conflict of interest.
Additional information
Publisher's note
Springer Nature remains neutral with regard to jurisdictional claims in published maps and institutional affiliations.
About this article
Cite this article
Søgaard, A.J., Magnus, J.H., Bjørnerem, Å. et al. Grip strength in men and women aged 50–79 years is associated with non-vertebral osteoporotic fracture during 15 years follow-up: The Tromsø Study 1994–1995. Osteoporos Int 31, 131–140 (2020). https://doi.org/10.1007/s00198-019-05191-4
Received:

Accepted:

Published:

Issue Date:
Keywords
Age

Cohort study

Gender

Grip strength

Hip fracture

Non-vertebral osteoporotic fracture