Zusammenfassung
Eine Frau gab gegenüber der Polizei an, sie sei von zwei Unbekannten an einen Holzstapel gefesselt und anschließend mit ihrem eigenen Smartphone fotografiert worden. Anlässlich einer Tatrekonstruktion vor Ort fertigte die Polizei mittels eines Smartphones zwei Fotos aus der von der Frau angegebenen damaligen Aufnahmeposition an. Eine photogrammetrische Auswertung und Berechnung der Aufnahmepositionen der Tat- und Vergleichsfotos ergab, dass sich die ermittelte Aufnahmeposition des Tatfotos signifikant von denen der Vergleichsfotos unterscheidet. Die Aufnahmeposition des Tatfotos legt nahe, dass sich das Smartphone näher über dem Waldboden befunden hat als von der Frau angegeben. Die hier beschrieben Methode zur photogrammetrischen Auswertung von Smartphone-Fotos ist einfach anzuwenden und vielseitig einsetzbar.
Abstract
A woman claimed to the police that she had been shackled to a pile of wood by two unknown persons and photographed with her own smartphone. During an on-site crime reconstruction, photographs were taken by the police with a smartphone from the position described by the woman. The photograph from the woman's smartphone and the comparison photographs were evaluated regarding the position from which they had been taken. It was concluded that the positions significantly differed. The position of the initial photograph indicated that the smartphone was positioned significantly closer to the ground of the forest than the woman had claimed. The method for the photogrammetric evaluation of smartphone photographs described in this article is easy to implement and versatile.
This is a preview of subscription content, log in to check access.
Access options
Buy single article
Instant access to the full article PDF.
US$ 39.95
Price includes VAT for USA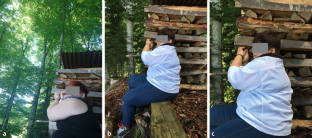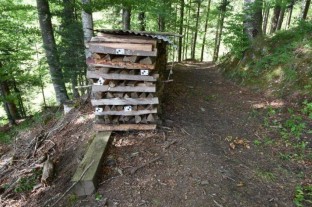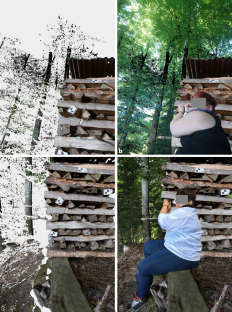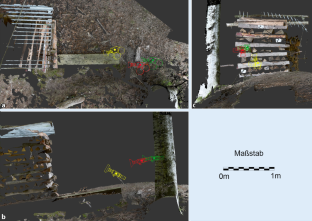 Literatur
1.

Agisoft LLC (2019) Agisoft metashape user manual: professional edition, version 1.5. https://www.agisoft.com/pdf/metashape-pro_1_5_en.pdf. Zugegriffen: 14. Nov. 2019

2.

Autodesk.Help (2016) 3ds Max: Dienstprogramm "Kamera-Anpassung". https://knowledge.autodesk.com/de/support/3ds-max/learn-explore/caas/CloudHelp/cloudhelp/2017/DEU/3DSMax-Archive/files/GUID-2C52CD7A-8FBF-4135-B677-2B49D21BC868-htm.html. Zugegriffen: 14. Nov. 2019

3.

Autodesk.Help (2017) 3ds Max: Eigenschaften von Kameras. https://knowledge.autodesk.com/de/support/3ds-max/learn-explore/caas/CloudHelp/cloudhelp/2018/DEU/3DSMax-Rendering/files/GUID-DD235AB4-FD21-47F8-9F1B-B5518F453EF3-htm.html. Zugegriffen: 14. Nov. 2019

4.

Buck U (2010) Laserscanning in der Kriminalistik. Z Geod Geoinf Landmanag 3:190–198

5.

Buck U, Naether S, Braun M et al (2009) Virtopsy as a multi-tool approach. In: Thali MJ, Dirnhofer R, Vock P (Hrsg) The virtopsy approach. CRC Press, Boca Raton, S 389–432

6.

Buck U, Naether S, Kreutz K et al (2011) Geometric facial comparisons in speed-check photographs. Int J Legal Med 125:785–790

7.

Buck U, Naether S, Rass B et al (2013) Accident or homicide—virtual crime scene reconstruction using 3D methods. Forensic Sci Int 225:75–84

8.

Hoogeboom B, Alberink I, Goos M (2009) Body height measurements in images. J Forensic Sci 54:1365–1375

9.

Maksymowicz K, Tunikowski W, Kosciuk J (2014) Crime event 3D reconstruction based on incomplete or fragmentary evidence material—case report. Forensic Sci Int 242:e6–e11
Ethics declarations
Interessenkonflikt
K. Buße, U. Buck, C. Schyma und C. Jackowski geben an, dass kein Interessenkonflikt besteht.
Die Untersuchungen erfolgten unter Einhaltung der Vorgaben der Zentralen Ethikkommission der Bundesärztekammer.
About this article
Cite this article
Buße, K., Buck, U., Schyma, C. et al. Aufnahmeposition von Smartphone-Fotos. Rechtsmedizin (2020). https://doi.org/10.1007/s00194-020-00374-4
Schlüsselwörter
Forensik

Photogrammetrie

3D-Rekonstruktion

Bildauswertung

Smartphone

Aufnahmeposition

3ds Max
Keywords
Forensic

Photogrammetry

3D reconstruction

Image evaluation

Smartphone

Recording position

3ds Max