Abstract
Introduction and hypothesis
There is little information on the impact that postoperative instructions have on physical activity to help guide physicians in providing these recommendations after surgery. Our study objective was to evaluate the impact of postoperative instructions on physical activity. We hypothesized that there would be no differential effect of instructions on activity.
Methods
In this randomized controlled trial, patients undergoing prolapse repair were randomized to receive either liberal or restricted postoperative activity instructions between February 2017 and February 2019. Physical activity was measured using the Activities Assessment Scale (AAS) and tri-axial accelerometers measured at baseline and 2 and 6 weeks after surgery. A sample size of 146 patients was planned to compare these activity measurements. AAS scores and accelerometer readings of the two groups were compared using separate variance t tests.
Results
A total of 157 women were recruited between February 2017 and February 2019, including 146 patients with completed study data (n = 72 liberal, n = 74 restricted). There was no difference in physical activity at 2 weeks between the liberal and the restricted instruction groups, as measured by AAS scores (70.47 ± 12.83, 69.54 ± 12.22, p = 0.66), total steps (4,582.20 ± 2,164.5, 5,014.47 ± 3,025.46, p = 0.32), active minutes (4.22 ± 6.17, 4.96 ± 9.65, p = 0.25), and 10-min intervals (0.76 ± 1.11, 0.77 ± 0.93, p = 0.95) respectively. Similarly, there was no difference in activity at 6 weeks between the liberal and the restricted instruction groups. as measured by AAS scores (81.86 ± 8.25, 81.31 ± 10.31, p = 0.72), total steps (6,316.25 ± 3,173.53, 6,589.94 ± 3,826.43, p = 0.64), active minutes (8.79 ± 10.5,11.36 ± 18.18, p = 0.98), and 10-min intervals (1.37 ± 1.34, 1.34 ± 1.40, p = 0.89) respectively.
Conclusion
Postoperative instructions do not have an impact on physical activity measures in patients who have undergone pelvic reconstructive surgery.
This is a preview of subscription content, log in to check access.
Access options
Buy single article
Instant access to the full article PDF.
US$ 39.95
Price includes VAT for USA
Subscribe to journal
Immediate online access to all issues from 2019. Subscription will auto renew annually.
US$ 199
This is the net price. Taxes to be calculated in checkout.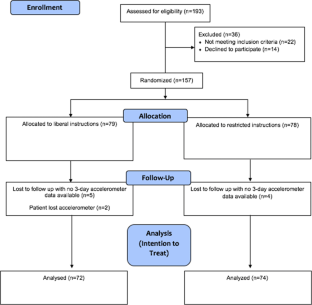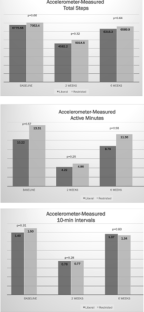 References
1.

Nygaard IE, Hamad NM, Shaw JM. Activity restrictions after gynecologic surgery: is there evidence? Int Urogynecol J. 2013;24(5):719–24. https://doi.org/10.1007/s00192-012-2026-2.

2.

Weir LF, Nygaard IE, Wilken J, Brandt D, Janz KF. Postoperative activity restrictions: any evidence? Obstet Gynecol. 2006;107(2 Pt 1):305–9. https://doi.org/10.1097/01.AOG.0000197069.57873.d6.

3.

Buckwalter JA. Activity vs. rest in the treatment of bone, soft tissue and joint injuries. Iowa Orthop J. 1995;15:29–42.

4.

Nygaard I, Handa VL, Brubaker L, Borello-France D, Wei J, Wells E, Goode P; Pelvic Floor Disorders Network. Changes in physical activity after abdominal sacrocolpopexy for advanced pelvic organ prolapse. Am J Obstet Gynecol. 2008;198(5):570.e1–5. https://doi.org/10.1016/j.ajog.2008.01.044.

5.

Sung VW, Rogers RG, Barber MD, Clark MA. Conceptual framework for patient-important treatment outcomes for pelvic organ prolapse. Neurourol Urodyn. 2014;33(4):414–9. https://doi.org/10.1002/nau.22397.

6.

Mueller MG, Lewicky-Gaupp C, Collins SA, Abernethy MG, Alverdy A, Kenton K. Activity restriction recommendations and outcomes after reconstructive pelvic surgery: a randomized controlled trial. Obstet Gynecol. 2017;129(4):608–14. https://doi.org/10.1097/AOG.0000000000001924.

7.

Harris PA, Taylor R, Thielke R, Payne J, Gonzalez N, Conde JG. Research electronic data capture (REDCap)—a metadata-driven methodology and workflow process for providing translational research informatics support. J Biomed Inform. 2009;42(2):377–81. https://doi.org/10.1016/j.jbi.2008.08.010.

8.

Harris PA, Taylor R, Minor BL, Elliott V, Fernandez M, O'Neal L, et al. The REDCap consortium: building an international community of software platform partners. J Biomed Inform 2019;95:103208. https://doi.org/10.1016/j.jbi.2019.103208.

9.

Dindo D, Demartines N, Clavien PA. Classification of surgical complications: a new proposal with evaluation in a cohort of 6336 patients and results of a survey. Ann Surg. 2004;240(2):205–13.

10.

McCarthy M Jr, Jonasson O, Chang CH, Pickard AS, Giobbie-Hurder A, Gibbs J, et al. Assessment of patient functional status after surgery. J Am Coll Surg. 2005;201(2):171–8. https://doi.org/10.1016/j.jamcollsurg.2005.03.035.

11.

Barber MD, Kenton K, Janz NK, Hsu Y, Dyer KY, Greer WJ, et al. Validation of the activities assessment scale in women undergoing pelvic reconstructive surgery. Female Pelvic Med Reconstr Surg. 2012;18(4):205–10. https://doi.org/10.1097/SPV.0b013e31825e6422.

12.

Carpenter JS, Heit M, Chen CX, Stewart R, Hamner J, Rand KL. Validating the Postdischarge Surgical Recovery Scale 13 as a measure of perceived postoperative recovery after laparoscopic sacrocolpopexy. Female Pelvic Med Reconstr Surg. 2017;23(2):86–9. https://doi.org/10.1097/SPV.0000000000000352.

13.

Van der Meij E, van der Ploeg HP, van den Heuvel B, Dwars BJ, Meijerink W, Bonjer HJ, et al. Assessing pre- and postoperative activity levels with an accelerometer: a proof of concept study. BMC Surg. 2017;17(1):56. https://doi.org/10.1186/s12893-017-0223-0.

14.

Collins SA, Tulikangas PK, O'Sullivan DM. Effect of surgical approach on physical activity and pain control after sacral colpopexy. Am J Obstet Gynecol. 2012;206(5):438.e1–6. https://doi.org/10.1016/j.ajog.2012.01.036.

15.

Crouter SE, Schneider PL, Karabulut M, Bassett DR Jr. Validity of 10 electronic pedometers for measuring steps, distance, and energy cost. Med Sci Sports Exerc. 2003;35(8):1455–60. https://doi.org/10.1249/01.MSS.0000078932.61440.A2.

16.

Gomersall SR, Ng N, Burton NW, Pavey TG, Gilson ND, Brown WJ. Estimating physical activity and sedentary behavior in a free-living context: a pragmatic comparison of consumer-based activity trackers and ActiGraph Accelerometry. J Med Internet Res. 2016;18(9):e239. https://doi.org/10.2196/jmir.5531.

17.

Mobbs RJ, Phan K, Maharaj M, Rao PJ. Physical activity measured with accelerometer and self-rated disability in lumbar spine surgery: a prospective study. Global Spine J. 2016;6(5):459–64. https://doi.org/10.1055/s-0035-1565259.

18.

Bisgaard T, Kjaersgaard M, Bernhard A, Kehlet H, Rosenberg J. Computerized monitoring of physical activity and sleep in postoperative abdominal surgery patients. J Clin Monit Comput. 1999;15(1):1–8.

19.

Trost SG, McIver KL, Pate RR. Conducting accelerometer-based activity assessments in field-based research. Med Sci Sports Exerc. 2005;37(11 Suppl):S531–43.

20.

Yaffe K, Barnes D, Nevitt M, Lui LY, Covinsky K. A prospective study of physical activity and cognitive decline in elderly women: women who walk. Arch Intern Med. 2001;161(14):1703–8.

21.

Kushi LH, Fee RM, Folsom AR, Mink PJ, Anderson KE, Sellers TA. Physical activity and mortality in postmenopausal women. JAMA. 1997;277(16):1287–92.

22.

Culligan PJ, Scherer J, Dyer K, Priestley JL, Guingon-White G, Delvecchio D, et al. A randomized clinical trial comparing pelvic floor muscle training to a Pilates exercise program for improving pelvic muscle strength. Int Urogynecol J. 2010;21(4):401–8. https://doi.org/10.1007/s00192-009-1046-z.

23.

Nygaard IE, Shaw JM. Physical activity and the pelvic floor. Am J Obstet Gynecol. 2016;214(2):164–71. https://doi.org/10.1016/j.ajog.2015.08.067.

24.

Enoka RM, Enoka RM. Neuromechanics of human movement. 3rd ed. Champaign, IL: Human Kinetics; 2002.

25.

De Gennaro JD, de Gennaro CK, Shaw JM, Petelenz TJ, Nygaard IE, Hitchcock RW. The relationship between intra-abdominal pressure and body acceleration during exercise. Female Pelvic Med Reconstr Surg. 2019;25(3):231–7. https://doi.org/10.1097/SPV.0000000000000523.
Ethics declarations
Conflicts of interest
None.
Additional information
Publisher's note
Springer Nature remains neutral with regard to jurisdictional claims in published maps and institutional affiliations.
About this article
Cite this article
Arunachalam, D., Heit, M.H. Impact of postoperative instructions on physical activity following pelvic reconstructive surgery: a randomized controlled trial. Int Urogynecol J (2020). https://doi.org/10.1007/s00192-020-04239-y
Received:

Accepted:

Published:
Keywords
Accelerometer

Anatomical outcomes

Physical activity

Postoperative instructions