Abstract
Introduction and hypothesis
Robotic sacrocolpopexy is an effective and durable technique for pelvic organ prolapse repair. However, the learning curve for this procedure has underscored the need for an effective surgical training module. Given the cost, infection risk, poor tissue compliance, and scarcity of human cadavers, the live porcine model represents a realistic, available, and cost-effective alternative. This article describes a live porcine model for teaching robotic sacrocolpopexy to determine whether it teaches key aspects of live human robotic sacrocolpopexy to the learner.
Methods
This robotic sacrocolpopexy model was created using the Da Vinci Xi or Si robotic system on domestic pigs under general anesthesia. The main steps of the model include: (1) creating the porcine "cervix" and (2) performing robotic sacrocolpopexy. The model was evaluated with a survey given to 18 board-certified surgeons who attended the training course between December 2016 and April 2018.
Results
All of the participants reported improvements in their economy of motion, tissue handling ability, suturing efficiency, and overall performance of robotic sacrocolpopexy. Furthermore, a majority of participants were likely to incorporate aspects of the model into their practice (88.8%) and recommend the model to colleagues (94.2%).
Conclusions
The porcine model provides a feasible tool for teaching robotic sacrocolpopexy to physicians.
This is a preview of subscription content, log in to check access.
Access options
Buy single article
Instant unlimited access to the full article PDF.
US$ 39.95
Price includes VAT for USA
Subscribe to journal
Immediate online access to all issues from 2019. Subscription will auto renew annually.
US$ 199
This is the net price. Taxes to be calculated in checkout.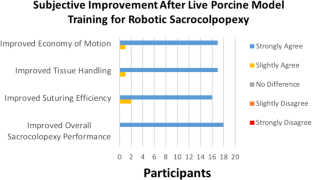 References
1.

Serati M, Bogani G, Sorice P, et al. Robot-assisted sacrocolpopexy for pelvic organ prolapse: a systematic review and meta-analysis of comparative studies. Eur Urol. 2014;66(2):303–18.

2.

Linder BJ, Anand M, Weaver AL, et al. Assessing the learning curve of robotic sacrocolpopexy. Int Urogynecol J. 2016;27(2):239–46.

3.

Hayashi S, Naito M, Kawata S, et al. History and future of human cadaver preservation for surgical training: from formalin to saturated salt solution method. Anat Sci Int. 2016;91(1):1–7.

4.

Hoffman MS, Ondrovic LE, Wenham RM, et al. Evaluation of the porcine model to teach various ancillary procedures to gynecologic oncology fellows. Am J Obstet Gynecol. 2009;201(1):116 e1-3.

5.

Vaughan MH, Kim-Fine S, Hullfish KL, et al. Validation of the simulated vaginal hysterectomy trainer. J Minim Invasive Gynecol. 2018.

6.

Chahine EB, Han CH, Auguste T. Construct validity of a simple laparoscopic ovarian cystectomy model using a validated objective structured assessment of technical skills. J Minim Invasive Gynecol. 2017;24(5):850–4.

7.

Malacarne DR, Escobar CM, Lam CJ, et al. Teaching vaginal hysterectomy via simulation: creation and validation of the objective skills assessment tool for simulated vaginal hysterectomy on a task trainer and performance among different levels of trainees. Female Pelvic Med Reconstr Surg. 2018. https://doi.org/10.1097/SPV.0000000000000558.
Ethics declarations
Consent
No patients were part of this work—there were only the pig used in the video and the surgeons who filled out anonymous ratings of the model.
Conflicts of interest
Patrick Culligan is a consultant and paid instructor for Intuitive Surgical and Coloplast and a stockholder in Origami Surgical. The remaining authors, Khushabu Kasabwala and Ramy Goeuli, have no disclosures.
Additional information
Publisher's note
Springer Nature remains neutral with regard to jurisdictional claims in published maps and institutional affiliations.
Electronic supplementary material
Appendix
Appendix
Robotic sacrocolpopexy training course (post-test)
Thank you for attending our robotic training course. The goal of this course was to improve your surgical technique for the robotic sacrocolpopexy using a live pig model. With regards to this model for the robotic sacrocolpopexy, please answer the following questions.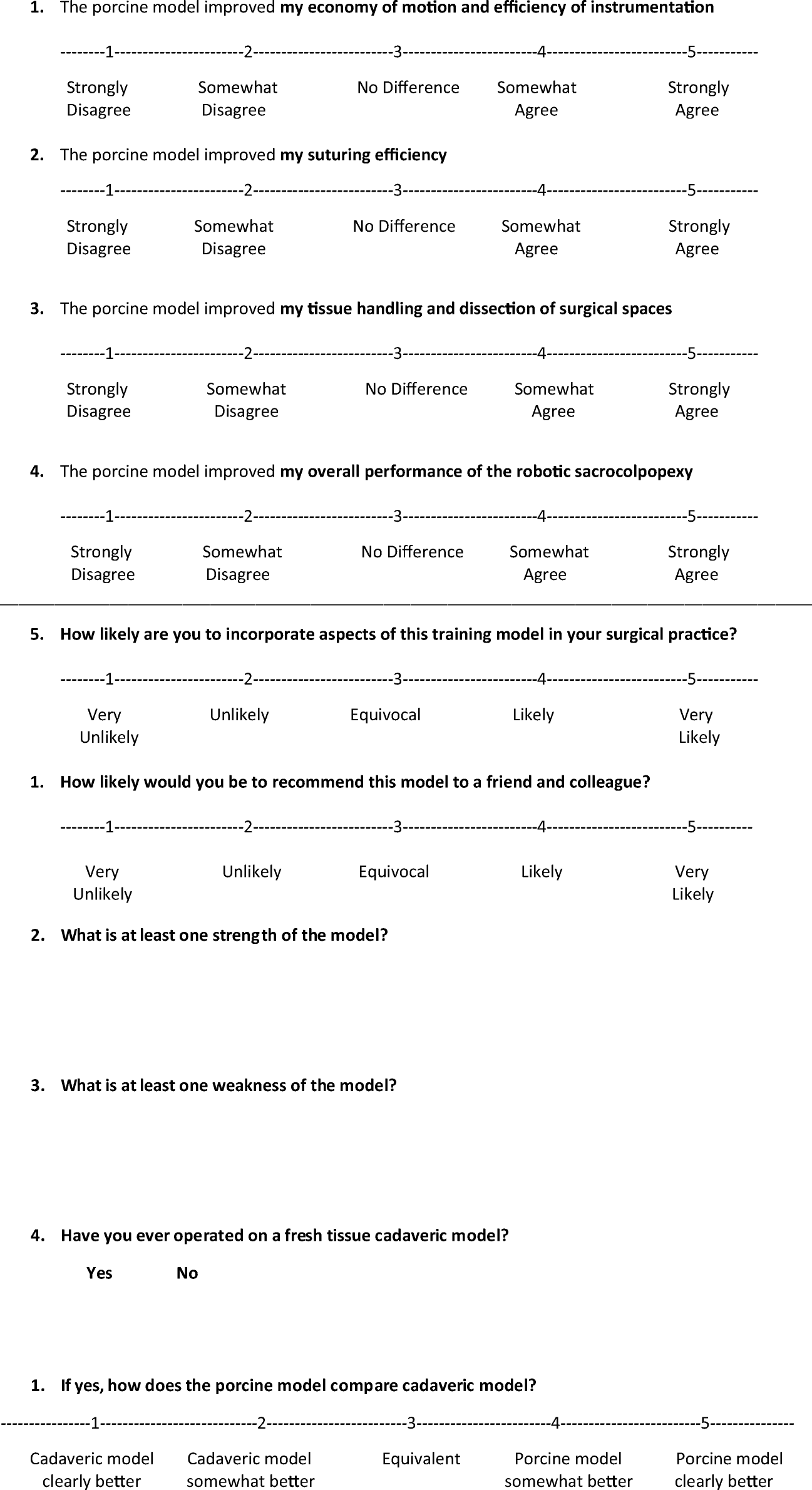 About this article
Cite this article
Kasabwala, K., Goueli, R. & Culligan, P.J. A live porcine model for robotic sacrocolpopexy training. Int Urogynecol J 30, 1371–1375 (2019). https://doi.org/10.1007/s00192-019-03936-7
Received:

Accepted:

Published:

Issue Date:
Keywords
Pelvic organ prolapse

Porcine model

Robotic sacrocolpopexy

Robotic surgery

Surgical training